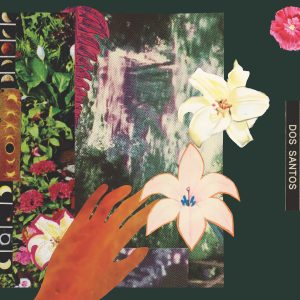 Review
Dos Santos – City of Mirrors
If ever an album called for the convention of half stars, this is it. At times glorious and at others seemingly a little lacking in direction, City of Mirrors is almost very good, but ultimately it leaves one with a niggling reservation or two, minor though they may be. This Chicago-based Latinx five-piece start and conclude things brilliantly: the opening "A Shot in the Dark", the lead-off single, sounds like the mescaline-fuelled music to accompany some mystical, quasi-religious ceremony. An utterly compelling lead voice soars majestically above the spacey vocal chorus and leaves you wanting more. None of the other dozen numbers here are even remotely like it. Sui generis and all that. The album closer, "Lejos de Ti", sung partly in English and partly in Spanish, like the similarly engaging "Palo Santo", is a deliciously tuneful song that wouldn't be out of place on one of the idiosyncratic solo releases of the Brazilian minstrel, Rodrigo Amarante. Otherwise, the title track with another fine vocal, a memorable clarinet hook and tremolo-rich guitar sound redolent of the Tex-Mex border also stands out.
That tumbleweed guitar sound, indeed, is one of the album's abiding characteristics, lending "Alma Cósmica' especially and one or two of the other numbers, a distinct feel of Calexico and their allied Orkesta Mendoza. If the music sounds rooted in the borderlands, bandleader Alex Chavez suggests that, for Dos Santos, "the border is no metaphor – too much real staring back at us. We embody the border. We (our families) have crossed it. We (our stories) are coated with its residues."
Chavez's themes and narratives have been described as "compelling" and "poetic" in their explorations of social justice, migration and human struggle. The title track, for example, was inspired by Gabriel Garcia Marquez's 100 Years of Solitude, and Chavez describes it as a love song to Puerto Rico and its enduring story of "beauty and trauma, of struggle and triumph." Clearly, this is classy, literate stuff and the band sought to add an extra dimension by recruiting long-term friend of the band, Elliot Bergman, as producer to help them "step outside of ourselves." "We wanted someone to provide us with a different perspective on what we're doing, what we want to do, and to push us in different ways," Chavez continues.
The production is certainly first class: the percussion sound alone makes you sit up and take immediate note. Together, band and producer have pared down these 13 disparate tracks to their bare essentials. Nothing breaks the four-minute mark and if Dos Santos recall anyone, then maybe (at least on the brief, urgent "Cages and Palaces") it's the dB's, a quartet of yesteryear built around the pithy song-writing talents of Pete Holsapple and Chris Stamey. All good, then. So what's the problem? Nothing really, maybe it's simply that their pal the producer pushed them in too many different ways at once. So "good to very good," remains this particular fence-sitter's appraisal. But keep a close watch on this fine band of expatriates from the Windy City.
City of Mirrors is out now on International Anthem

Follow Sounds and Colours: Facebook / Twitter / Instagram / Mixcloud / Soundcloud / Bandcamp

Subscribe to the Sounds and Colours Newsletter for regular updates, news and competitions bringing the best of Latin American culture direct to your Inbox.
Share: