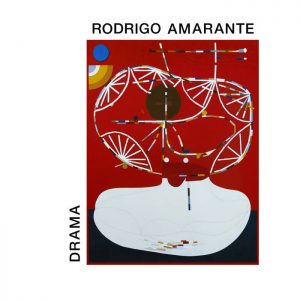 Review
Rodrigo Amarante – Drama
When the LA-based Brazilian singer-songwriter and multi-instrumentalist, Rodrigo Amarante, delivered his first solo album Cavalo in 2014, it announced a new and genuinely original talent. Amarante had been a part of the rock group Los Hermanos, the samba big band, Orquestra Imperial, and the American trio Little Joy, but Cavalo made a more international audience really sit up and take notice. An NPR Music review pinpointed its impact in noting how "every instrument breathes and every sound blends, yet every moment is distinct". If anyone missed the album, Amarante's theme tune 'Tuyo' for the following year's Netflix series, Narcos, would underline this former journalist's ability to write a memorable song.
Drama, his sophomore release is packed with memorable melodic songs. It's an apt title, since together, these 11 bittersweet numbers could serve as the soundtrack for something as exquisitely melancholic as, say, Hector Babenco's Kiss Of The Spider Woman. As a fitting prelude, the opening title track's strings, and disembodied sounds of audience appreciation, underline such theatrical associations. The melodies that follow are so catchy and deceptively simple that you could categorise Amarante's songs as pop music of the highest class. But they are more than this: it's enough to listen to the second track, the single "Maré". On the face of it, an upbeat singalong song for pop-pickers everywhere, it's actually based on the Spanish proverb that the tide will fetch what the ebb brings. "Things that arrive in your hand by destiny," Amarante explains, "they are just as easily swept away."
Roughly half of the songs are in Portuguese and half are in English, and he writes with equal fluency about the haphazard drama of existence. As he puts it, "Staring at the absurd while remaining kind, being open to the gifts of confusion, that's why we create these tools that are stories and songs, to help us see each other."
While "Maré" conjures up the best of Britpop from the 1980s – Orange Juice's "Rip It Up", say, or The La's "There She Goes" – a darker side is always a mere scratch beneath the surface and Amarante's song-writing sensibility seems (to these ears at least) similar to that double-edged songster's, John Cale. There are faint shades of, say, "The Man Who Couldn't Afford to Orgy" in the delicious "Tango", for example, with its jaunty beat and sweet "ooh-ahh" chorus. The following "Tara" reminds you that this current denizen of LA is still at heart a native of Brazil: the gentle bossa feel is underscored by the entrance of a tenor sax, evoking a certain cool American saxophonist on the classic Getz/Gilberto. Next up, "Tanto" marries the ever-inherent quality of saudade in Amarante's affecting vocals with some mournful horns and delicate strings. Subtle shuffling bossa-like percussion gently pushes the gorgeous, understated "Um Milhão" towards an ethereal climax. And in "Eu Com Você", the trusty cuíca makes an appearance on a song that amounts to one continuous melodic vamp. Two of the English-language songs, "I Can't Wait" and "The End", hark back to "Fall Asleep", "Tardei" and similar world-weary numbers that stood out so strikingly on Cavalo: the former using a repetitive guitar motif and ponderous percussion to create an effect reminiscent of a slow-moving goods train; the latter employing a trademark piano sound, seemingly tuned to sound like a pianist playing after hours in an empty club, to hint at "The End" of Abbey Road.
Every song, in fact, hits the mark and none outstays its welcome. This is an album full of beautifully crafted songs, all beautifully sung, performed and produced. Drama is drop-dead gorgeous; my album of the year so far.

Follow Sounds and Colours: Facebook / Twitter / Instagram / Mixcloud / Soundcloud / Bandcamp

Subscribe to the Sounds and Colours Newsletter for regular updates, news and competitions bringing the best of Latin American culture direct to your Inbox.
Share: