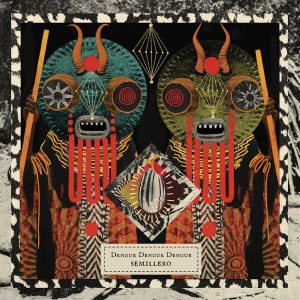 Review
Dengue Dengue Dengue – Semillero
"Semillero is music that moves souls, allows imaginations to flourish and the feet to follow". As Pete Buckenham's African-inspired electronic label On the Corner state, this album is a joy to listen to, sonically, mentally and physically.
Semillero (meaning both seed and incubator) symbolises the sacred music nurtured on this record and the developments Dengue Dengue Dengue have made to traditional rhythms and instruments throughout their musical journey.
"Pua" sets the record off, an online collaboration with Afro-Latin group, Penya. A beat which keeps the listener rolling as it trips over itself with kinetic sound, also offering the satisfaction of a deep bassy warning call reminiscent of British dubstep. Like all of the tracks on this release, the listener is taken to other worlds. For me, "Pua" resembles a circling dance of domination.
"Aye Acucho" features instrumental recordings from Mikongo (a.k.a. Miki Gonzales). These harp and charango recordings were made in the historical city of Ayacucho, in the Peruvian sierra of rich musical traditions.
"Habu Raminibu" features progressive techno percussion accompanying the eerie and delicate healing chant of the Huni Kuin Amazonian people (sung by Ayani Huni Kuin on the track). DDD and On the Corner are taking guardianship of this song, sharing with the world its cultural and musical heritage. It is, perhaps, the treasure of this release.
This said, "Semillero", the title track, is a gem fusing Andean flutes, electronica and Afro-Peruvian music. DDD here tell the story of Andean migration to the coast of Peru, where African influence continues to evolve.
"Dikele" samples celebratory chants from East Africa and synthetic atmospheric pads. It brings together their signature cumbia sound with hip hop sampled from Zocalo square in Mexico DF.
"HAARP" is a beautiful track to end on. Made as an homage to experimental British musician, Muslimgauze, who created ambient noise inspired by the conflicts and history of the Muslim world, "HAARP" is a more calmly reflective track which keeps the brain wandering. The human voice and an animal call are mirrored and connected. Claps are no longer a part of public concrete auditoriums, but are returned to a more open space where they form the music of the natural world's rhythms, habits and clocks.
Having sold out all pre-order copies in only 5 days, topping Bandcamp's Best Selling chart, Dengue Dengue Dengue's Semillero release from the British On The Corner label will be repressed, but there will only be an additional 300 exclusive, superlative wax copies available! With multi-textured and cross-discipline artwork from Victoria Topping, who's created vibrant, eye-catching sleeves for the likes of Sun Ra and Penya, this is one for the wall as well as the turntables.
Semillero, according to On The Corner, will be shipping 'on or around' 5th October.

Follow Sounds and Colours: Facebook / Twitter / Instagram / Mixcloud / Soundcloud / Bandcamp

Subscribe to the Sounds and Colours Newsletter for regular updates, news and competitions bringing the best of Latin American culture direct to your Inbox.
Share: