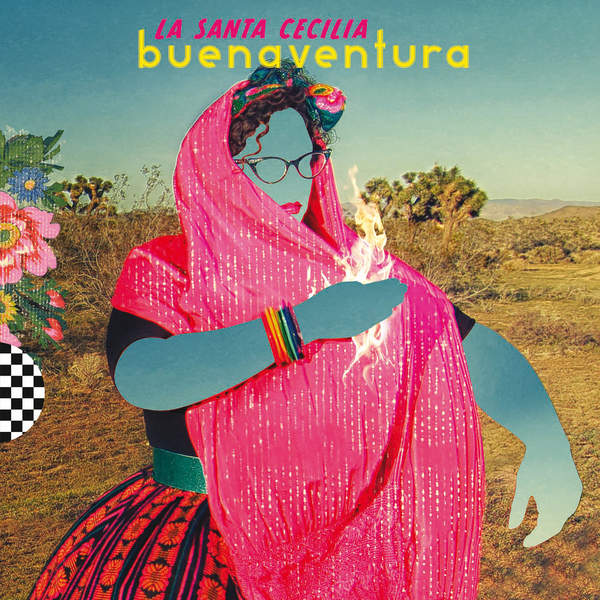 La Santa Cecila's new album, Buenaventura, is a beaming and vibrant road trip through America. Imagine a journey starting in American Dixieland, passing through vivid and colourful Andean towns before reaching the pampa grasslands of the southern cone. Now close your eyes. Put the album on. There you go.
Heart-warming, energetic, eclectic but still rooted in tradition; these are the adjectives that describe La Santa Cecilia's sound. Their new album is clearly the fruit of long hours spent on the road, stopping now and then to play in front of a joyful crowd before packing their instruments again and leaving for the next show: the wandering artist's life 
The quartet seem to have reached maturity, this album is the story of a new phase in their lives, one of travelling, getting married, having kids. This voyage they were on for the past few years doesn't sound like mechanical and impersonal band promoting and tours; it's actually the contrary, they seem to have brought, alongside their many memories, some precious influences. Colombia, Argentina, Mexico are omnipresent throughout the album. 
There is a challenge when it comes to mixing different styles: coherence. Yet, the twist is that La Santa Cecilia's music would be incoherent if they did not. A product of the Pan-American melting pot, a beautiful patchwork, with rich textures, bright brass layers and oaky percussions; their album cleverly combines melancholic country ballads ("Here We Go Again"), canciones norteñas which sounds like they are coming straight out of a cantina ("Tragos de Amargo Licor", a cover of Ramon Ayala's song), Colombian vallenatos ("Caminante Nocturno") and more upbeat-pop songs ("Calaverita"). This bilingual album has a lot to offer stylistically but not only that… did I mention the featured guests? Argentine rock legend Fito Paez and Spanish singer-songwriter Enrique Bunbury.
Talented songwriters and impassioned performers, La Santa Cecilia are also a band with a message. When they won a Grammy award for their immigration-focused song "Ice El Hielo" they dedicated it to the "11 million undocumented people that live and work really hard in this country and that still need to lead a more dignified life". L.A.-based and of Mexican descent, they could not keep silent after what happened a year ago in Ayotzinapa. To honour the 43 students' memory as well as expressing their disgust towards the intensity of violence, discrimination and unnecessary blood shed, they wrote the song "Nunca Más", a hymn to peace ("Solo recuerda que mi cara tiene un nombre, y nunca más se callará")
The voice of a community, La Santa Cecilia are an authentic, generous, and jovial band, and we honestly cannot wait to hear more.
Buenaventura is available from Amazon UK, Amazon US and iTunes

Follow Sounds and Colours: Facebook / Twitter / Instagram / Mixcloud / Soundcloud / Bandcamp

Subscribe to the Sounds and Colours Newsletter for regular updates, news and competitions bringing the best of Latin American culture direct to your Inbox.
Share: