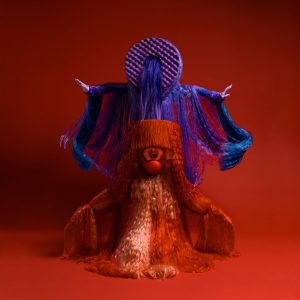 Review
Sotomayor – Orígenes
The rising pop-duo Sotomayor (aka siblings Raul and Paulina [née] Sotomayor) have delivered an ambitious and fulfilling offering to Latinx dance music with their third studio album, Orígenes.
The Mexico-City based siblings first made headway as a musical project just five years ago, following their respective stints in Mexico's indie scene (Jefes del Desierto and Beat Buffet). They ascended to success with their debut album Salvaje, which took home Mexico's IMAS award for Best Album in 2016 and was ranked one of the top 25 albums of the year by numerous global platforms, including MTV Iggy.
It has been two years since the release of the more mature Conquistador in 2018, and expanding their sound, the highly anticipated Origenes feels as though Sotomayor are breathing a new lease of life into their music.
The duo sought to make a more upbeat, danceable album with an international sound, and you can immediately tell the time away has really allowed for this new sense of purpose. The album also marks Sotomayor's newest venture since their move to independent label Wonderwheel Recordings, which supports international artists, DJs and producers including Quantic, Lido Pimienta and Nickodemus.
Orígenes blends an array of sounds emanating from across Latin America and the Caribbean to produce a kaleidoscope of rhythms ranging from afrobeat, cumbia and dancehall, to Peruvian chicha and merengue.
Employing batás, bongos, congas and timpani, the percussion is energetic and heavy throughout. You can undeniably hear how the artists have incorporated transcultural influences from across the region, stretching far beyond the borders of Mexico and Puerto Rico, where the album was produced. The overall effect is a rich and eclectically energetic mix of rhythms and instrumentation.
The album was produced by 28-time Latin Grammy winner Eduardo Cabra, also known as Visitante (Calle 13), who has recently worked with the likes of Jorge Drexler, iLe and Vicente Garcia.
Orígines fuses familiar melodies from the pan-Latinx folk genre to develop dynamic electronic music, while retaining a Latin pulse. Their unique talent for synthesizing worldly sounds to produce bold, new music is creative and full of expression, symbolic of much of the sound emerging from New Latin Wave.
Certain tracks are unapologetically commercial, but the female-led bubblegum pop choruses, together with their electronic production, make for playful, vibrant and contagious sounds.
Bass heavy lead single "Quema" is accompanied by the guiro and other traditional musical elements from Latin America's streets, blending them together with the more modern musical components and forms that are defining global club scenes. Reaffirming Sotomayor's production-know-how and knack for melody, the beat and mood are sensual but also guaranteed to get you off your seat.
What is immediately recognisable is that this is cumbia at its core. The hot rhythm is reworked with electronic drums, topped by Raul's synth riffs and Paulina's sultry vocals. The cumbia rhythm is strengthened by the later introduction of Puerto Rican bomba icon, Totin "Arará" who adds a layer of texture, faithfully deepening the familiar sounds.
Combining elements of merengue and house, Menéate Pa' Mi is full of energy and viva. Strong and sultry half-sung pop vocals from Paulina are partnered with her rap, and paired with the electronic beat produced by brother Raul makes for a club-friendly and infectious sound. While the overarching upbeat pop sound provided by the song's concomitant lyrics may not be cliche-free, they make for a perfect contemporary dance anthem.
"Latin History Month" is a gorgeous ode to Latin heritage and identity. The song opens with sounds emanating from the tierra that unites the many people's and communities across the continent and the Afro-Indigenous influence that defines its versatility. Reaffirming the albums Afro-Latin essence, it is not only a reflection of the continent's history, but a powerful and faithful statement, echoing calls for Latin unity. It's a fun and uplifting burst of dance music, also capturing the tone of the wider activism that is erupting across the continent. It leaves a visceral impression. In contrast, the more hypnotic "Esta Vez" offers intimate and almost ethereal beats, highlighting how the album moves between high and low-energy tracks.
Orígenes roots back, joining together diverse Afro-Caribbean rhythms, electronic sounds and catchy pop hooks to create something that is diverse in origins and shamelessly upbeat. It is this accessible pop-sound that makes Orígenes an album that embodies the Latinx dance floor's unifying potential.
Orígenes is released by Wonderwheel Recordings and available via Bandcamp, Spotify and other platforms.

Follow Sounds and Colours: Facebook / Twitter / Instagram / Mixcloud / Soundcloud / Bandcamp

Subscribe to the Sounds and Colours Newsletter for regular updates, news and competitions bringing the best of Latin American culture direct to your Inbox.
Share: