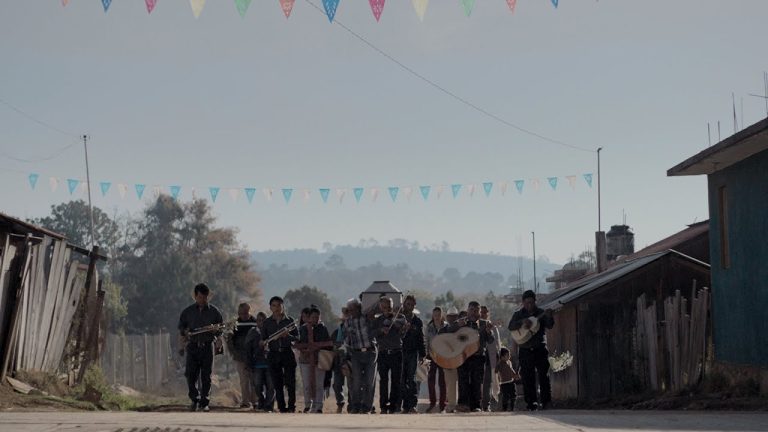 Angeles Cruz's Nudo Mixteco at the 65th BFI London Film Festival
'Nudo Mixteco' Unravels the Experiences of Three Women in a Traditional Mixtec village
11 October, 2021
Morality is a rocky terrain; messy and tangled. Unravelling the very 'Mexican Knot' that the film is named after, actor-cum writer/director Angeles Cruz opens a portal into a rural Mixtec village in Oaxaca, southern Mexico, in her debut feature film. Through a triptych of intersecting women's histories, Cruz sensitively explores experiences of prejudice, cyclical abuse, love and poverty.
In dusty San Mateo, where the film is set, community members often leave their small town in search of better futures. In this filmic snapshot, three individuals return during the annual San Mateo celebrations, each for their own reasons.
María (Sonia Couoh – Norteado) must say goodbye to her deceased mother and write the next chapter of her unfinished love story with an old flame. Esteban (Noé Hernández – We Are the Flesh, Miss Bala) hasn't seen his wife or kids in four years, though he sends a fraction of what he earns back to them from the city. He returns to win his wife back and play his new clarinet with his old band at the carnival. Toña (Myriam Bravo – Alfalfa, Tiempo de Lluvia) receives a concerned phone call about her daughter's mental health and decides it's time to set the record straight for both of them . On returning to the heartland, these three San Mateans find the root of their pain has not faded in their search for economic security or personal freedom.
Told from a woman's perspective, Cruz bases San Mateo on her own natal village and incorporates everyday injustices into many scenes: 'casual' sexual harassment by police in the city market where Toña trades; mothers defending their badly behaved sons out of blind loyalty; a son gifted a musical instrument and a daughter, a pink jewellery box; the lasting mental and physical effects of sexual violence.
The women leading each of these three stories are resilient in pushing for change: María, though she can't sway her father's views towards whom she decides to love, manages to show him what forgiveness looks like and say goodbye to her deceased mother though she is excluded from the ceremony. Chabela wins the confidence of her community and gains the right to be able to live with her new partner, through convincing the local assembly of her body's needs. Though Toña's daughter tells her 'you don't even know me,' she listens to her daughter and believes in her pain. Together they demand justice for the abuses committed against them.
Cruz, rather than placing blame, offers opportunities for reconciliation and a chance to discuss morality in practical terms. Through the village assemblies, where the fate of inhabitants is democratically debated, Cruz creates a kind of Greek chorus reflecting typical morays and alternative views. The community together decide what's right and wrong, so, as Cruz depicts, there is potency in speaking up and living your truth.
At times a slow-moving drama, Nudo Mixteco is thoughtful and also has moments of fun, in the musical revelry of the festival and sometimes farcical funeral procession which appears to encircle the village and act as the driving timeline through which the stories intersect.
A pensive and often sombre film, Nudo Mixteco offers a unique insight into women's experiences in a traditional Mixtec village and upholds the power of listening for understanding one another and building better futures for the whole of society.
Nudo mixteco will screen on the 21st, 24th and 27th March 2022 as part of the forthcoming 28th ¡Viva! Spanish and Latin American Festival

Follow Sounds and Colours: Facebook / Twitter / Instagram / Mixcloud / Soundcloud / Bandcamp

Subscribe to the Sounds and Colours Newsletter for regular updates, news and competitions bringing the best of Latin American culture direct to your Inbox.
Share: