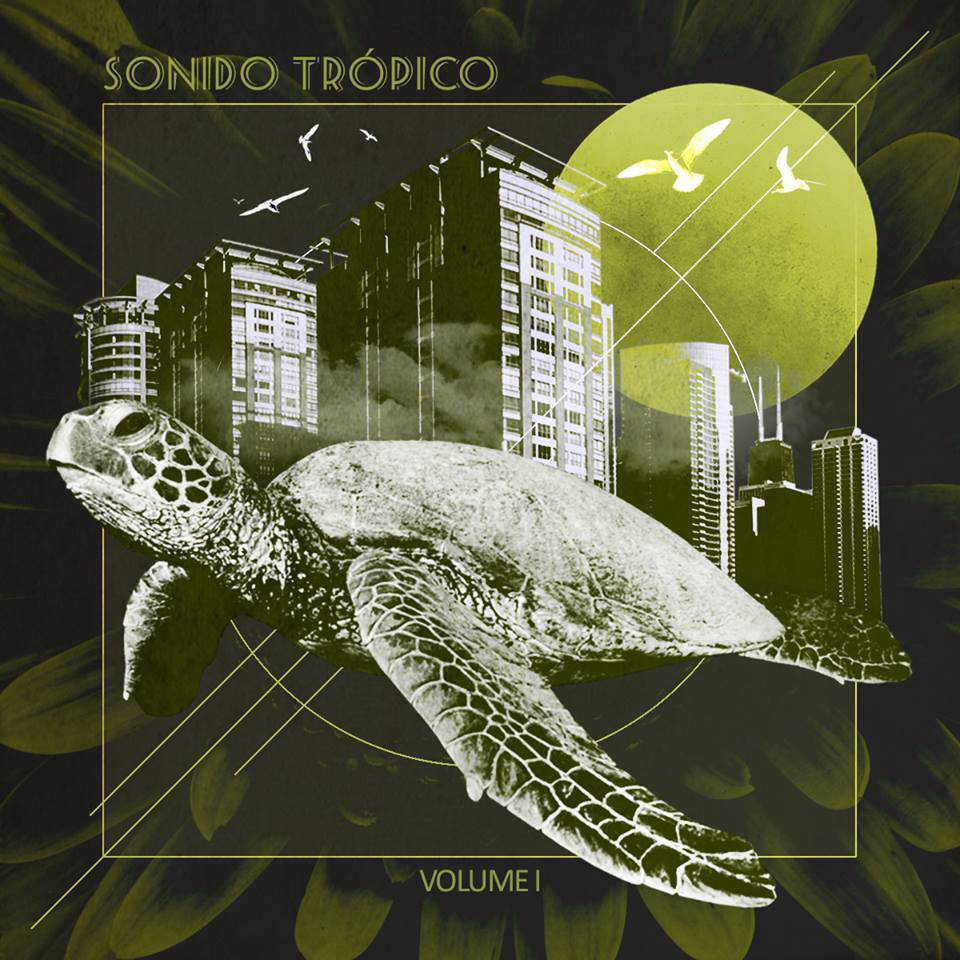 Review
Various Artists – Sonido Trópico Volume 1
With an admirable amount of exports to the rest of the world, Brazil seems to have one of the strongest musical ecosystems. Respecting their roots and creating fresh blends, bossa nova, samba, funk carioca and even rasterinha are visible examples of a culture that puts more value in national production than international imports.
Maybe that's the first reason they were not quickly affiliated with the noise that the digital cumbia movement has been making over the past ten years. However, their new found interest has them now connecting with local scenes from Argentina, Chile and Peru. Labels like Frente Bolivarista and Tropical Twista Records have quickly established themselves and parties like Sonido Trópico in São Paulo, started putting Andean and southern Amazonian beats on hype, with international guests such as Barrio Lindo, Tribilin Sound, Nicola Cruz, El Remolón, Murúa and King Coya, playing for the first time in Brazil.
Now, the people from Sonido Trópico want you to feel the connection they have developed with artists from the rest of the continent and to understand the vibe that is going on at their parties, with a compilation that puts together the best of the South American bass scene, with a heavy dose from the Argentinean front and of course a bunch of the local hosts like ElPeche and Salvador Araguaya, among others.
The expedition starts with Nicola Cruz and a deep ancestral dembow in "Stereo Receiver", before Barda adds some touches of mysticism and futuristic beats with "Destellos". Cumbia is represented as SidiRum mashes up the Scotch Bonnet song "The Stinger" for a tropical-ready edit and Tribilin Sound appears with one of his signature dubbed-out psychedelic chicha anthems, "Cumbia Swinger". Stand out track "Fumo De Cobra" from Salvador Araguaya is something we expect to hear more of, the paulista producer mixing traditional music from Brazil with contemporary sensibility and subtle layers of cumbia and universal Latin folklore. Another special crossover is the collaboration between Barrio Lindo and vocalist Fernando, "Montanha Mais Alta", an Andean beat track with Brazilian percussion and rap carioca.
Also presenting their production skills are Spaniol and DJ Nirso, resident DJs of the Sonido Trópico parties that are currently gaining global exposure, with Nirso touring Europe following his debut EP released under the Regional label imprint, and Spaniol headlining this year's Nómade Festival that took place in a remote part of Southern Chile. After beginning Sonido Trópico in 2014, they are taking each step with passion and dedication, and this is a good example of a well-conceived project, showcasing only productions by the musicians that have been a part of their shows, like a little guestbook for the people who are wondering what a Sonido Trópico party sounds like.
Sonido Trópico Volume 1 is available from Bandcamp

Follow Sounds and Colours: Facebook / Twitter / Instagram / Mixcloud / Soundcloud / Bandcamp

Subscribe to the Sounds and Colours Newsletter for regular updates, news and competitions bringing the best of Latin American culture direct to your Inbox.
Share: