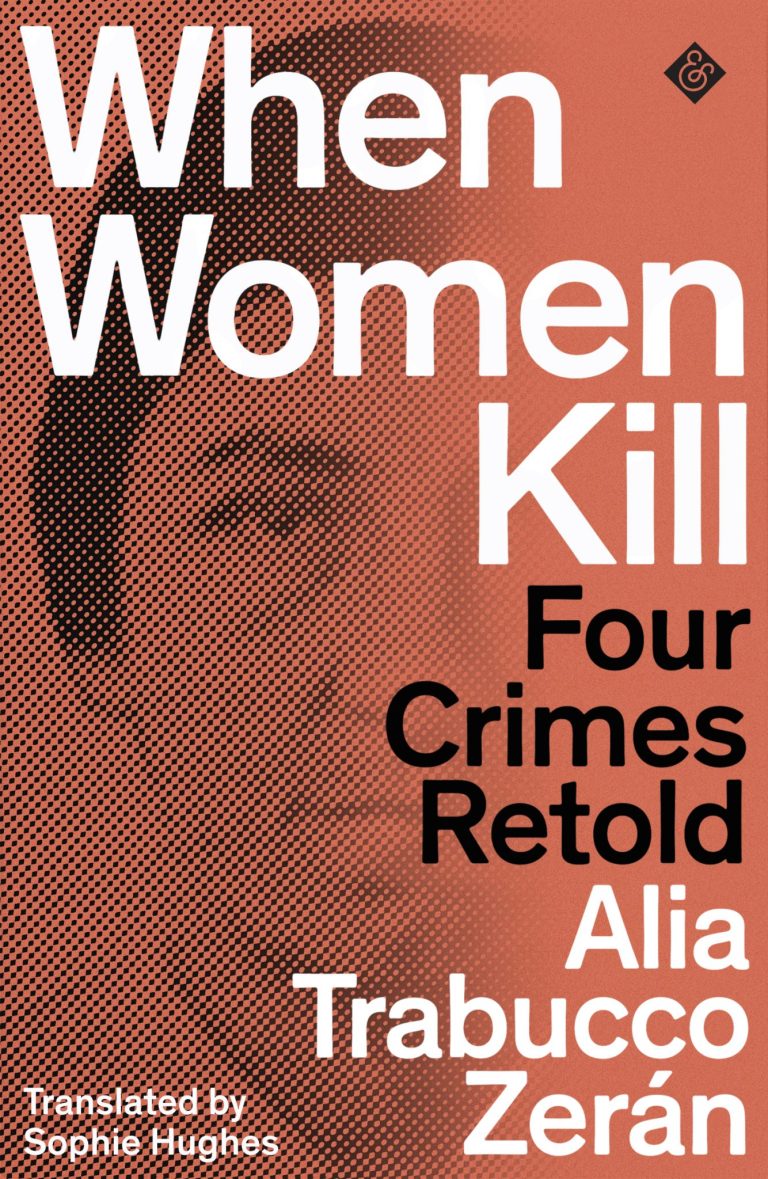 Alia Trabucco Zerán's 'When Women Kill: Four Crimes Retold' Addresses The Suppression of Female Rage
11 May, 2022
Alia Trabucco Zerán's second book, When Women Kill: Four Crimes Retold does exactly what it says on the tin, and tells the story of four women who committed, or were implicit in, four horrific murders during four different periods of Chile's turbulent modern history. Alia had trained to be a lawyer before switching to literature, and it is in her studious tone and hours of research, having read countless Chilean newspapers and court documents, that she highlights the insecurities of the Chilean patriarchy who would go to extreme lengths to explain and mitigate the crimes protecting society and women's passive role within it. Translated into English by the twice short-listed Man Booker International Prize translator, Sophie Hughes, the half-true crime / half-investigative memoir also analyses the music, art and literature inspired by the murders, demonstrating the profound impact they had on Chilean people's imagination and attitude towards feminism.
Firstly, the author details the fate of 27 year-old Corina Rojas who in 1916 conspired with her lover to kill her husband to whom she was unhappily married. Despite admitting total guilt for the murder, the courts at the time took her infidelity for the most conclusive evidence and from there used it to demonise Corina. In a country where adultery was a crime up until 1994 and where husbands could be absolved for murdering their wives if they caught them in flagrant acts of adultery until 1953, a woman's sexuality was deeply feared by men, and women who did cheat on their husbands were seen as monsters. Corina Rojas therefore, was deemed a danger to the nation, not for the murder, but for threatening the notion of family. The murder inspired a still to this day popular cueca, a traditional Chilean type of song, demonstrating the profound grip it had and continues to have on Chilean society.
Rosa Faundez, the second killer in the book, strangled her husband, chopped him up and littered parts of his body all over Santiago. She worked at a newspaper stand and was physically very strong, having to regularly carry large loads of daily papers. She showed no remorse during court proceedings, and because of this was a defective woman. The crime which inspired the violent play Historia de la Sangre had to be mitigated however, as Chilean authorities could not allow such a monster who acted so independently of men to roam the streets of Santiago. Jealousy, or excessive emotion, was again used to make her a woman who could not scare the public; she was not a 'fake woman' but she simply acted on impulse. The case was sewn up and forgotten despite being horrific!
Next comes Maria Carolina Geel, perhaps the strangest case in the book, who shot her lover dead in a busy restaurant one afternoon in 1955. She was a liberated woman, who took many lovers and who had published several successful books and therefore was easily targeted by the conservative and patriarchal Chile of the 50s. Rather than confront the actual facts of the murder, the courts focussed on her subversive fiction which alluded lesbianism. In this respect, rather than the fact she had committed murder, she was beyond society's limits, like Rojas and Faundez; she represented the fear of a 'free woman' in the wake of women's liberation.
Finally, Zerán tells of Teresa Alfaro, a domestic servant who in the early sixties murdered three of her employer's children. We find out that the poor girl had been forced to abort three of her own children by the family she worked for, if she was to keep her job. In an act of revenge, she poisoned baby milk before giving it to her employer, Magaly Ramirez, to feed the children and unknowingly murder three of her own skin. Whereas Magaly Ramirez, a respectable midwife with a loving middle class family, was the ideal woman in Chilean society, Alfaro was poor and had carelessly had three abortions. Her murder was a clear scream of rage at class tensions inherent in a country that didn't recognise women of her kind as equals. This, however, would never stand in court as motivation, as judges resorted to the old trick of blaming it on women's disposition to 'jealousy and envy'.
Published Just over a year after Lisa Montgomery was the first woman to be executed in 70 years on death row in USA, the book is incredibly relevant, interrogating why women commit murders and how they are punished. The murders in the book, like the Lisa Montgomery case, shed light on society and how it reacts to women who kill. Judiciary systems and governments, often overly represented by men, treat women differently and struggle to comprehend their capacity for cruelty. In each case after conviction the women are not sent to the firing squad and have their sentences reduced. Zerán explains that by pardoning such violent criminals the Chilean court are able to control how society think of women and preserve their passive, maternal role. The book argues for women's anger and violence affirming its origin: not in jealousy or emotional outbursts, but in very real feelings of rage against a system that holds them back and oppresses them.
When Women Kill: Four Crimes Retold by Alia Trabucco Zeran is translated by Sophie Hughes and published by And Other Stories/Coffee House Press. It is available from Amazon (UK | US) and Bookshop (UK | US)

Follow Sounds and Colours: Facebook / Twitter / Instagram / Mixcloud / Soundcloud / Bandcamp

Subscribe to the Sounds and Colours Newsletter for regular updates, news and competitions bringing the best of Latin American culture direct to your Inbox.
Share: