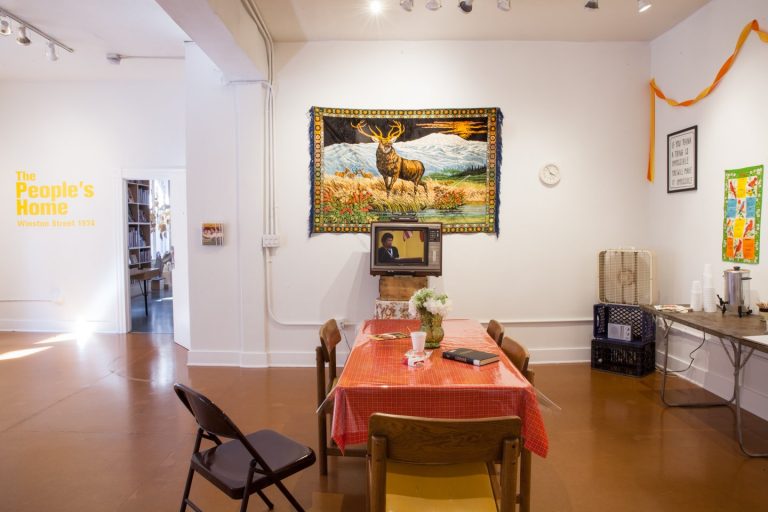 The People's Home: The United American Indian Involvement Photographic Project
27 February, 2019
Restoring a photographic narrative from a de-colonial perspective allows for a face-to-face experience with images that no longer stand in the way of dignity. The United American Indian Involvement Photographic Project's inaugural exhibition at the These Days Gallery gave back respect and voice to all those who came to the United American Indian Involvement (UAII) center in downtown Los Angeles for food, shelter, health and human services during a period of relocation from Native American reservations to urban cities across the United States from 1959-1979. It is a symbolic photo exhibition that rewrites People's Home: Winston Street 1974 back into history after years of unfolding from the colonial constrain of invisibility.
The visual narratives spark memory and oral traditions into conversation, eliciting many questions: "What does it mean to be an American Indian living in Los Angeles today?", "what did it mean in the 1930s when American Indians were cast as one-dimensional characters in Hollywood?" These are some of the many questions posed by curator and Professor Nancy Marie Mithlo. For undergraduate student researcher Kelsey Martin from Occidental College, one of the central themes to consider is "How do Indigenous archival protocols intersect with Western archival standards of curation?" In other words, how do we move away from instrumental and categorical approaches that minimize and stereotype the American Indian experience?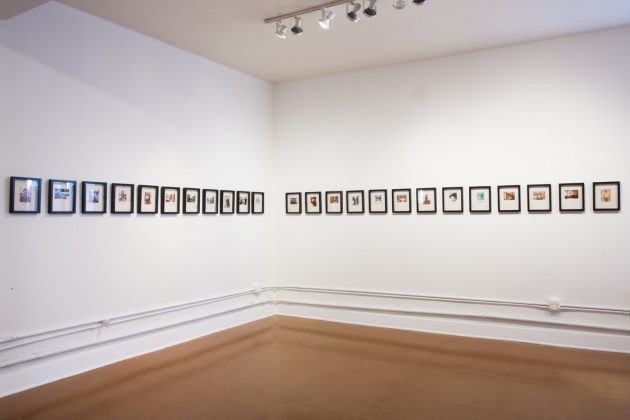 Two interior walls of the These Days Gallery in downtown Los Angeles met at a corner with framed pictures, no larger than 4″ x 6″ on each side, angled into a spear tip that seems to pierce its way back into the conversation, defying being relics of the past. Most of the exhibited 35mm analog medium color snapshots and images taken in 1974 reflected a collective bonded to the UAII sanctuary-like center. A show of cooperation and dialogue are captured in the sensitive thinness of an emulsion focused on conveying a spirit of receptivity towards one another. Families and spontaneous portraits of an embracing care become testaments of resilience and a quest by the photographic project team to rescue the American Indian stories, names and identities of each person in the photographs during their stay at UAII. A black and white photo of three American Indians shirtless with headbands in an un-staged smiling moment, one looking straight into the eye of the camera with fist gripped to the air while the other two gazed in deep thought despite their many struggle, shows a celebratory aura of survival and resistance.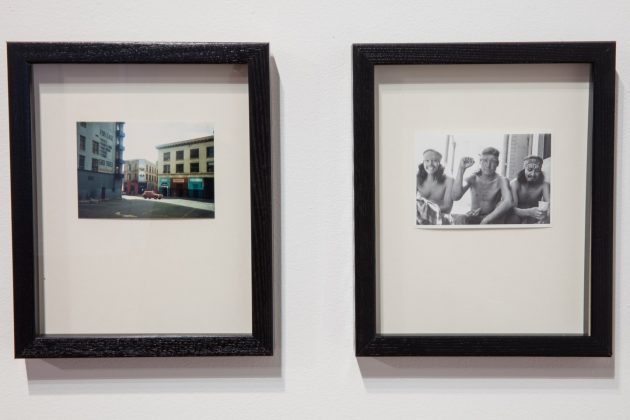 Assembled by Professor Mithlo and the project team, the once upon time office of the United American Indian Involvement center (now serving as the gallery These Days) returns to its 1970s incarnation, providing a nearness that allows the center to come forth for the first time since it last closed its doors. It shifts the conversation out of re-membered fragments and gears forward the transmission of memory of who we are. The framing out of stereotyping images thaws away layers of alienating sediment built on exclusion, giving way to an intimate photo album of diverse American Indian nations with much in common. The installation includes a television monitor and a wall rug of a majestic deer in the foreground grazing along with three other deer near a lake and mountains covered in blue snow. The rug's all-around border resembles deer hoof prints like those painted by the Indigenous Huicholes of Mexico in colorful patterns accompanied with a narrow ribbon of geometric American Indian designs, creating a feel of serenity in the room. On a separate wall, a poster of the American Indian rock band Red Bone, who made the top 5 on the U.S billboard Hot 100 chart in 1974 with the single "Come and Get Your Love", brings to light a rare known contribution to American music history.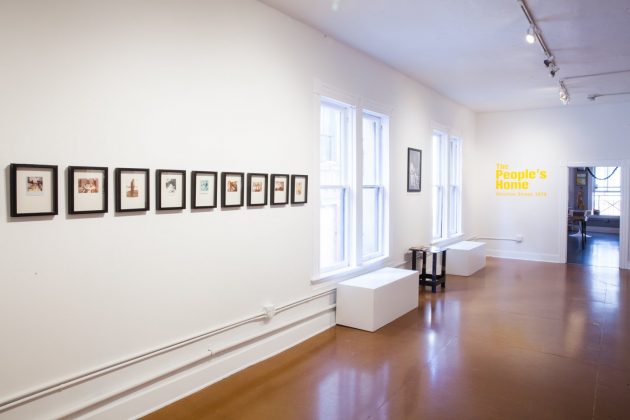 Next to Red Bone a popular poster of the late sixties and seventies of the iconic non-Native American crying Indian, Iron Eyes Cody, in the Keep America Clean commercial shifts the attention to an un-disclosed fact. There's a subtle message on the poster where half of the space is occupied by the Crying Indian with a dripping tear and the other half with text that reads, "Get involved now. Pollution hurts all of us". It's a message that at first can be understood as positive. To an extend maybe. "For many Americans, the Crying Indian became the quintessential symbol of environmental idealism." On the other hand, what's been uncovered is that the sponsors behind the Keep America Clean campaign were the same bottling and packing companies who were interfering with counterculture environmentalism at that time.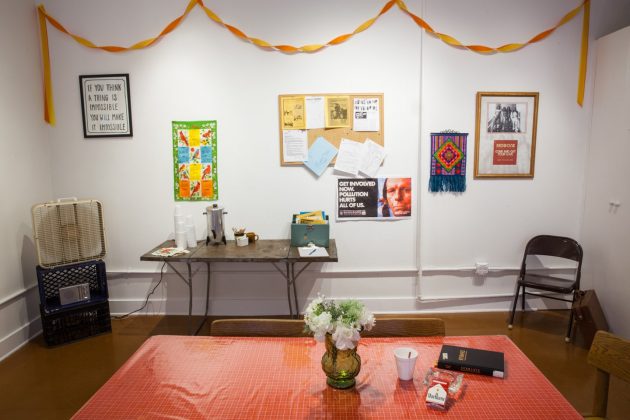 The exhibit recovers its own cultural representation with an oppositional approach interrupting conventional western methods of erasure and research. The categorical gaze and the visual consumption of images is met with a pause to intervene the dominant culture through a Native American sensibility. It is here where the collaborative research routes a pathfinding challenge that takes into consideration a reciprocal and 'from within' methodology of self-determination. The preservation and documentation of the images holds open imaginary ways to enter history. For bell hooks, "Photography has been, and is, central to the aspect of decolonization that calls us back to the past and offers ways to reclaim and renew life affirming bonds." UAII Development Director Joseph Quintana from the Kewa Pueblo, says the project "was a way to assert our own path and begin a new community story." The snapshots are a welcoming reception to an ongoing conversation on "strategies for engaging photographic images […] by actively seeking to transform their interpretative contexts in education, popular culture, the media, community organizing and so on." (Angela Davis, Picturing Us (New York, The New Press, 1994) p.178.). The exhibit goes beyond arrested moments. It fires back against negation and historical dismemberment.
The project team consist of UCLA American Indian Studies Center, Native American and Indigenous Studies Association (NAISA), Occidental College, These Days and United American Indian Involvement, Inc.
The People's Home | Winston Street 1974 was an exhibition of the These Days gallery, Los Angeles.

Follow Sounds and Colours: Facebook / Twitter / Instagram / Mixcloud / Soundcloud / Bandcamp

Subscribe to the Sounds and Colours Newsletter for regular updates, news and competitions bringing the best of Latin American culture direct to your Inbox.
Share: