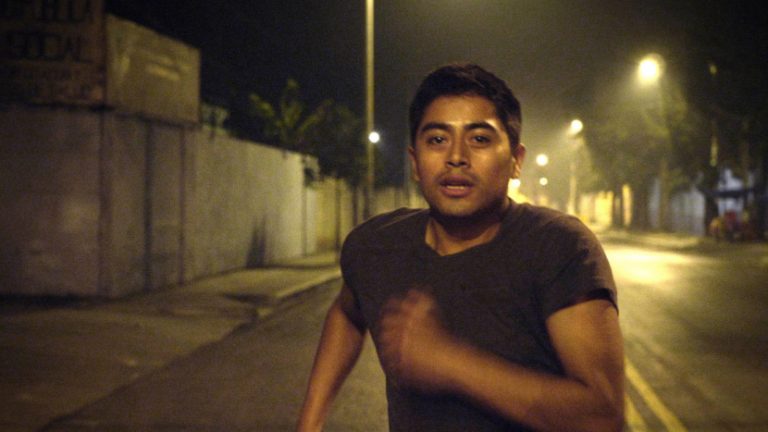 José
27 March, 2019
José, winner of Venice Film Festival's Queer Lion 2018, offers a tender study of a young, gay man's life in the periphery of Guatemala City. Although we expect José to escape his circumstances through leaving the country, he chooses to remain home and support his mother. In telling this story, José complicates depictions of queer lives in Latin America; it seems that 'heading north' is not the only priority of the many young people in José's position.
Enrique Salanic plays the protagonist, José. A non-actor before this role, Enrique was cast following an open-call audition held across the city. We follow him through his daily routine as he tries to juggle the demands of family, work, and his sexuality. He's a lower-class guy, on the brink of adulthood, working in a road-side café hustling customers. José has no interest in his job, and despite the threats of his overbearing boss, regularly sneaks off to connect to free Wi-Fi networks and distract himself with gay hook-up apps. His young, handsome and toned physique seems to make him a favourite with the city's older, middle-class men. We see him drift through a number of luxury apartments, but beyond the urge to have sex, José is unable to connect with these men and each meet is followed by a lonely bus journey home.
José lives with his mother (Ana Cecilia Mota) in a crumbling apartment. Through following José, we also learn of her gruelling daily routine. She leaves the house before day light to sell street food in central districts and then comes home to cook and care for her son, daughter and grandchildren. She is devoted to her family, and the unspoken recognition of her son's non-heterosexuality distresses her. The reason for this is not only her ardent Catholicism, but also the recognition that her son's sexuality will make his life much harder. Like any loving mother, this is the last thing she wants for José. Guatemala is already a dangerous place to grow up, let alone for a poor, brown, gay man from the periphery. Despite these ever-present dangers, physical violence is hardly exposed in the film. The violence of this context is expressed through the fears of José's mother, who prays intensely for the safe return of her son every night.
During one of José's random hook-ups he meets Luis (Manolo Herrera). Luis moved from rural Guatemala to the city in order to work in the construction sector. His stay in the city is temporary, and he longs to escape Guatemala and head north – presumably to the US. Unlike José's other sexual partners, there's an immediate chemistry with Luis. Their regular meets take place in a pay-by-hour hotel room, where the groans of other couples can be heard through the thin walls. Yet together, José and Luis make it their space. Protected by these four walls they are free to passionately discover each other's bodies.
The film does not shy away from depicting these intimate moments, and according to George Roberson (the screenwriter), this is one of the reasons the film has not yet screened in Guatemala. Whilst most of the intimacy is captured through sensitive camerawork, in these moments the script often turns to clichés, making the acting at times seem forced. The dramatic highs of the film, including moments in this hotel room, are also paired with a soundtrack of classical music. Unfortunately, this strange choice of sound design, choppy script, and occasionally obscure camera angles, sit confusingly alongside the rest of the film's neo-realist register.
As their love develops, so does their need to break out of this hotel room. The couple take a motorcycle and leave the city, zooming through the dramatic landscape that surrounds Guatemala City. The couple's adventure offers Luis a taste of the freedom he longs for. In a later scene he begs José to leave with him to start a life elsewhere. Despite José's sexuality and his otherness within his own community, he does not consider his future to lie elsewhere. He is unable to leave his mother, and Luis leaves town without every saying goodbye. The rest of the film involves José's frustrated search for Luis, and in the final scene we see him beginning his homeward journey. On his return, we assume that he will re-enter his previous routine of home, work, and meaningless sex.
Unlike many LGBTQ+ romance films, there is no happy ending for José and Luis. Following two years of research in Guatemala with LGBTQ+ youth, the director (Li Cheng) and screenwriter (George Roberson) offer a sobering story that complicates the narrative of queer lives outside of cosmopolitan urban centres, always looking to 'head north' like Luis. Not everyone wants to leave their homes, and not everyone can make the sacrifice. The evangelicalism, machismo and poverty that surround José are only ever going to threaten him, but he cannot leave his mother and accept the unknowns of a life elsewhere. Whilst the film is ostensibly about a frustrated love story between two men, the most moving relationship is between José and his mother. In the end, it is this love that guides José.
This film screened as part of London's BFI Flare Festival. More details about the festival can be found at whatson.bfi.org.uk/flare

Follow Sounds and Colours: Facebook / Twitter / Instagram / Mixcloud / Soundcloud / Bandcamp

Subscribe to the Sounds and Colours Newsletter for regular updates, news and competitions bringing the best of Latin American culture direct to your Inbox.
Share: