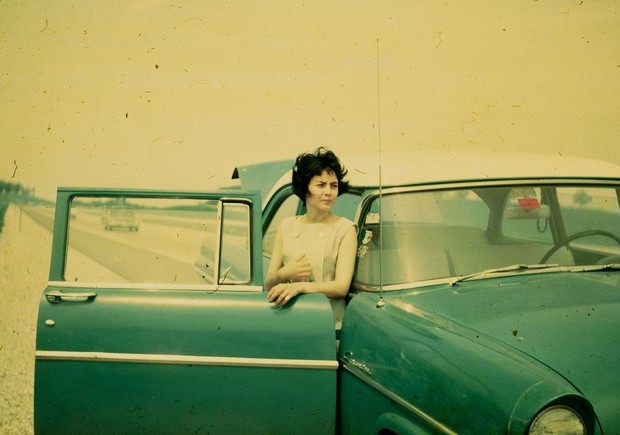 Source: The Match Factory 'Mariner of the Mountains'
'Mariner of the Mountains': Karim Aïnouz's Journey To Find Himself
31 May, 2022
Mariner of the Mountains (Marinheiro das Montanhas) is a delicate and engaging movie based on the director, Karim Aïnouz's, personal history.
Aïnouz was raised without a father by his mother, the Brazilian researcher and biochemist Iracema Lima Aïnouz. After she died in 2015, Aïnouz dedicated his film The Invisible Life of Euridice Gusmāo (A Vida Invisível) to her; it went on to represent Brazil at the 2020 Oscars. 
In Mariner of the Mountains, his mother is the filmmaker's invisible interlocutor. It is with her that he talks during his long journey in search of the distant land of his Algerian father.
We learn from the film that it was at age eight that he first asked his mother about his father. She didn't tell him directly about him. Instead, she told him the story of the book Iracema, by the Brazilian writer José de Alencar. The work deals with an unlikely love between a Brazilian Indian woman and a Portuguese coloniser in the 17th century. From this love, symbolically, the first mestizo would be born, symbol of a new race that would become the Brazilian people.
Without maternal reports of his father, Aïnouz has only family albums in which to see his parents together. He describes his mother – born in Fortaleza, in the northeast of the country – as evoking the delicate and slender beauty of the Belgian actress Audrey Hepburn. The features of his Algerian father, Majid, he says are reminiscent of the French actor Jean-Paul Belmondo.
The unlikely couple met in the United States, where they both went to do postgraduate studies in 1962. She studied biochemistry whereas he focused on engineering. In 1963, Iracema returned pregnant to Brazil. Majid returned to Algeria to collaborate with the country's new regime, which had gained independence from France in 1962 after a brutal 12-year war.
Majid promised to return to Brazil to take them to his own country — which he never did. The couple exchanged letters intensely, letters that Iracema would burn one day and that her son would never read.
In a certain sense, Marinheiro das Montanhas is the filmmaker's search for this hidden part of himself. Arriving by ship to Algeria, he discovers a more conservative reality than that he had imagined. On the other hand, he finds the land where he no longer needs to spell his name – the surname Aïnouz is very uncommon in Brazil – where faces are similar to his own, where he can speak French like he did when he was 18 and met his father in a Parisienne cafe.
Aïnouz's destination – and by extension ours – is Tagmut Azuz, a small village in the mountains where his father was born.
 On his path to Tagmut Azuz, Aïnouz keeps asking himself: what would his grandfather, great-grandfather and great-grandmother's lives have been like? Upon reaching the small village, he comes across a boy on his way to school and sees himself in his moccasins. Above all, the question that hangs over his head like a cloud on a mountain on a cold day is what would his life have been like if his father had come back and taken them there?
In a sense, perhaps the filmmaker has not forgiven his father. Not for the fact of having abandoned them, but for being different from the idealised figure Aïnouz had of him in his mind: a combination of Soviet astronaut Yuri Gagarin and Argentine guerrilla Che Guevara. In the film, Aïnouz blames him: "he was nothing like that, he was an ordinary man, an Algerian engineer married to an Algerian woman and father of a daughter". The meeting in Paris had not brought them together: "I had been wanting to ask him so many things for years and, in that cafe, I had nothing to say".
In the small village, however, Aïnouz allows himself to be approached by his remaining family who have stayed there. He knows about the family members that were persecuted and tortured by the French soldiers. A great-uncle takes him to see the house where the Aïnouz were born, and the cemetery where they are buried – most of the tombstones bear his surname.
My own ancestors are from Italy and I had been to visit their descendants, having a similar experience to Aïnouz. Personally, this meant I could truly understand what Aïnouz had felt when he thought about what his life would have been like if it had unfolded there, in Tagmut Azuz. I think anyone who's had the experience has felt it first hand, followed by the fantasy: "The desire to start all over again, to become the one who was born" in that small village. And also, the fear he felt that he would never be able to get off that mountain again.
To get back to being himself, the Brazilian Aïnouz, born in Fortaleza, takes refuge in a shopping mall and goes bowling. But is it really that easy to escape the family's web of narratives? After all, it was in a bowling alley that his parents met, almost 60 years ago. It seems his family's story is intent on continuing to haunt him.
Mariner of the Mountains is available to stream on MUBI.

Follow Sounds and Colours: Facebook / Twitter / Instagram / Mixcloud / Soundcloud / Bandcamp

Subscribe to the Sounds and Colours Newsletter for regular updates, news and competitions bringing the best of Latin American culture direct to your Inbox.
Share: