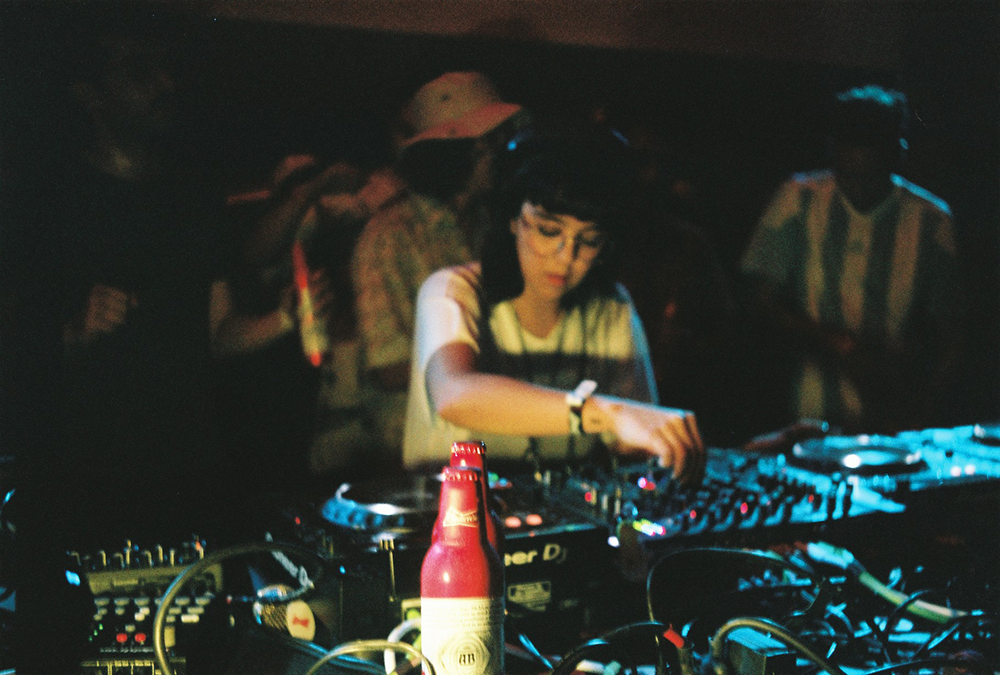 10 Female Producers Redefining Latin American Electronic Music
08 March, 2018
It's thought that the dance floor is a diverse and inclusive space. That's what they say in songs and magazines, but look at the numbers, and you'll see a strikingly different story. The dance charts and festival line-ups make for stark reading if you take out all of the male entries. Female participation is still too low – just look at the latest report from Ruidosa – and needs to be addressed immediately. In the meantime, a slow but steady buzz is being made worldwide in regards to not only this issue, but the fact that there are so many talented female producers out there.
At the beginning of 2018, Puerto Rican music journalist and oft-S&C contributor Amaya García-Velasco released an article on Bandcamp Daily discussing the subject and showcasing musical producers Kaleema (Argentina), Sotomayor (Mexico), Érica Alves (Brazil), Ela Minus (Colombia), Catnapp (Argentina), Kamila Govorčin (Chile) and Bad$ista (Brazil).
New York based collective Discwoman has helped set the alarm worldwide. Along with Latin American organizations like Ruidosa, Muchacha and Dislocada, a movement is growing, with new and established female producers levelling the playing field and speaking up. Here we have a small list of women based both in Latin American and further afield who are blurring the barriers and charging through with their flags raised, so get ready to dance to the rhythm of Latin America's female contingent.
Alisu (Chile)
With no lack of experience of making music and being a major proponent of Chile's underground electronic music scene, Alisu manages to coordinate the legendary netlabel Modismo from the central coast of Chile and to produce IDM and dub techno music. Her music has been released by various labels, with an upcoming track that is will soon see the light of day on emerging Chilean label Panal Records.
Barda (Argentina)
A musical prodigy, Cecilia Gebhar is a guitarrist and composer whose folkloric sensibility led her to become one of the key figures in the new digital folklore scene in Buenos Aires. With releases on Regional (Chile), Fértil Discos (Argentina) and Frente Bolivarista (Brazil), you can feel the sensibility of synths, organic instruments and beats that flow seamlessly in the mind and soul of Barda.
Ilustradora Carme'n' Alve's (Brazil)
If you would like to define a label like 40% Foda/Maneiríssimo, the closest answer you'll find will be in the head of Carmen Alves, co-owner and visual artist from the crew. The music on the CD-Rs distributed by them is electronic experimentation, but somehow it will make you dance. Perhaps trying to put a label on them is nigh on impossible and would probably end up with you missing the point.
Isa GT (Colombia)
Visionary Colombian-born Berlin-based artist Isa GT, started mixed dembow and electronic music way back before it hit the mainstream level we now find it at. Living in London, she was one of the principal acts giving the tropical accent to dance music worldwide. It was in London that she established her label Etoro, a small hub where Latin-born and Latin-inspired projects are able to get global exposure.
Cigarra (Brazil)
Besides making psychedelic organic music under her Cigarra alter ego, Ágatha Barbosa has also curated and selected amazing tracks made by women, all of which have seen the light of day on the paulista label Tropical Twista Records. If you want to know what is going on with female producers in South America and Brazil, you should check out volumes one and two of the essential Hystereofônica compilation.
Lara Nuh (Peru)
Mixing Afro-Peruvian rhythms with house and beats, Lara Nuh has just this year released her first official electronic single "Rumba De Muerte" on the Matraca Label. Her previous works include an electro-acoustic EP called "Parasentir". Released independently, it shows the scale of the works and inspirations of one of the Latin producers to watch in 2018.
Pana Li (Mexico)
DJ, producer and audiovisual artist from CDMX, who's now based in New York, Diana Castro works under the name Pana Li. Her projects include working on different collaborative platforms, including her recent Dislocada initiative alongside party promoter and executive producer Lucía Anaya, who helped take the Discwoman parties, Princess Nokia live show and Valesuchi's DJ set to Mexico.
ShuShupe (Peru)
Since 2005, ShuShupe has been mixing elements from the Peruvian jungle, urban cumbia and electronics, resulting in what can only be filed under Tropical Bass. She is a regular at underground parties in Lima and her music can be found released by Barcelona-based Latin music netlabel Folcore, as well as on releases by Terror Negro (Peru) and Regional (Chile).
Tayhana (Argentina)
Party organizer and head of the Hiedrah Club collective in Buenos Aires, it was only a matter of time for Tayhana to hit the decks. The obvious next step for her was to produce some music, and this is where her friends at the Mexican NAAFI collective came in, encouraging her to mix, mash-up and compose her first tracks. It's on NAAFI also where her first EP will be released sooner than expected.
Valesuchi (Chile)
Moving between Chile and Brazil, the latter currently her base of operations, Valesuchi showcases what many of the Red Bull Music Academy alumni represent: hard work and a love of music above all. Throughout South America she has been firing up parties in events as important as Sónar Barcelona, Dekmantel Festival São Paulo and the second edition of Boiler Room in Santiago.

Follow Sounds and Colours: Facebook / Twitter / Instagram / Mixcloud / Soundcloud / Bandcamp

Subscribe to the Sounds and Colours Newsletter for regular updates, news and competitions bringing the best of Latin American culture direct to your Inbox.
Share: