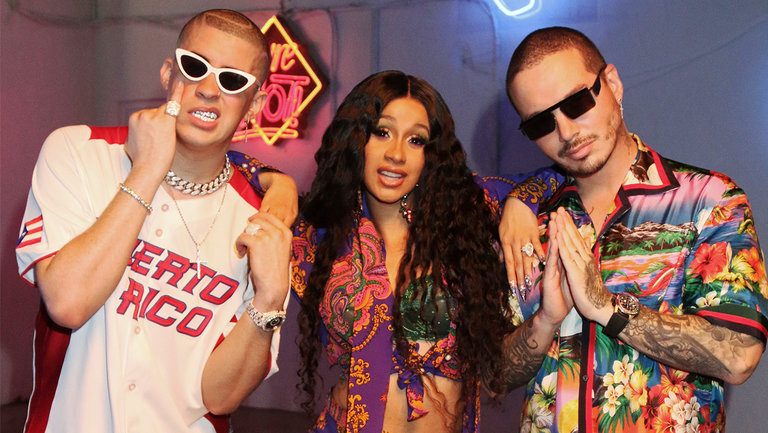 15 Best Latin Pop Songs of 2018
02 January, 2019
2018 has been a year of mainstream, high-quality, smokin' Latin pop. It's also seen women, trans women and not so straight-edged male artists take centre stage and push the boundaries. Becky G, Natti Natasha, Anitta and Bad Gyal continue to be some of the most popular artists on the scene. Liniker continues to claim space for queer Brazilian musicians in the popular industry with their smooth Brazilian-soul and Pabllo Vittar has garnered millions of Youtube views and just as many fans, putting trans artists at the forefront of Brazilian pop. Rising star in Colombia, Mabiland released the music video for "Qué Tu Quieres", showing the high-emotion break up of an ultra-cool, soft but dramatic relationship between two young women. Boricua Bad Bunny has been breaking boundaries this year: earning himself 7 billion Youtube views, releasing an album last minute on Nochebuena, wearing nail polish and speaking up about gender violence, as well as choosing a pretty androgynous look for the "Solo de Mi" video.
So, in celebration of this diverse year in Latin pop, here are some of the best tracks, including some you may have missed:
1. Cardi B, Bad Bunny & J Balvin – "I Like It"
This is fired-up cheese and it melts hearts from the first listen. Have you ever encountered someone not enjoying this track? Cardi sings "Beat it up like piñatas" for God's sake! She has proved herself to be a "Spicy mami, hot tamale" on the airwaves with this one, and damn, I get excited every time I hear it come on. Even now in December. Showing the 'Latin gang' is on top – of the charts, of their bills, of the whole game. There's a shout out to a range of Latinos, celebrating accent, moves and musical heritage. It will take a while for this one to cool down.
2. Paloma Mami – "Not Steady" [especially the DJ Florentino edit]
Palomi Mami is another young star tearing up the pop charts. The Chilean-born singer performs in Spanish and English (is there any better way to reel in the crowds?) with her sweet poppy voice and spunky Spanglish lyrics. This is an anthem for women wurking it without needing, or wanting, a man. "Como tu me llegan siete al dia, que me quieren tener", the 19-year old Paloma sings, letting the boys know they ain't worth her time nor do they deserve a dance, a smile or a word from her. Check out how DJ Florentino has funked up the power track with his ear for all things good in modern music, adding more flavour to a song full of self-worth and satisfaction.
3. Orishas – "Dónde Nací" feat. Silvestre Dangond
Everyone's favourite, the legendary Cuban hip-hop group Las Orishas, are back with a particularly poppy, feel-good track from new album Gourmet. It's a great showcase of different Latin styles, of their signature mix-up of hip-hop-rumba-pop with global sounds, appealing to a wide audience. This track shows off their and Colombian singer, Silvestre Dangond's voices; their smart, heartful lyrics and their unstoppable inner groove. After 10 years, this release shows Orishas are still deeply in tune with musical trends and with the sound their listeners love. They're still selling out shows everywhere they go and rightly so!
4. Casper Magico & Pusho – "Loco"
There's something about the opening chords that instantly makes you go fluffy. The simple reggaetón beat and surrendering lyrics take you to the same warm bouncing state as Danny Ocean's 2016 track "Me Rehuso". Interestingly the male character of the song is smitten with a lady who comes and goes as she pleases, who plays with his emotions, who's smart wit he can't keep up with, who has him loco for her, embrujado. Of course there is nothing new in this story, but in a Latin pop song sung entirely by males, it's quite a novel confession: "te vas y vienes y me tienes loco".
5. Balún – "Años Atrás"
Really I'd like to add the whole EP to this list. Their tropical shoegaze pop has been described as 'dreambow', a perfect summary of their toned-down, pastel-hued electronic sound. Unmistakably tropical dembow beats underlie many of the tracks featuring myriad synths and ambient bass lines that move you to pop euphoria in the same way Anthony Gonzalez's M83 did back in 2011. But this time with more global sounds (including club horns and d&b on "El Espanto"), field recordings of voices and crickets, and many tropical instruments. Puerto Rican-American Balún's music is intuitive but composed with care and insight. It's stuff that deserves bold, epic music videos, that should guide you through difficult films and accompany you on emotional journeys.
6. DJ Snake – "Taki Taki" feat. Ozuna, Cardi B & Selena Gomez
Production. on. point. So good that we'll let Selena off for singing all but the word 'rumba' like she's half asleep. You could hear this cheesy, energetic Latin pop banger in the club, on the train, in a movie soundtrack; when you're angry, when you're pumped, at the gym — it just works! So embrace the inner cheese and work it to this track, shouting "Taki Taki rumba!" like you love Latin pop.
7. C Tangana & Niño de Elche – "Un Veneno"
C Tangana is perhaps the most popular rapper in Spain right now. I'd argue this is more down to his business brain and less for his vision and talent. But this track has me reassessing and looking back to his softer, more melodic tracks such as "Bésame Mucho". He is a pretty versatile artist (or businessman!) when it comes down to it. Collaborating with the boundary-pushing visionary Niño de Elche (he fuses his flamenco roots with Nordic rock and politicised, poetic lyrics), something beautiful is born. The track is warm, caramel-sweet and quirky. Despite the arrogant lyrics (what more did we expect?), the trustworthy clave and Cuban-bar cumbia warmth accompanied by Niño's deep harmonies and musical genius makes it a banger. To play over, and over again.
8. J Balvin feat. Rosalía – "Brillo"
J Balvin and the *brilliant* Rosalía are both smokin' hot superstars shooting through the mainstream with experience, vision and a whole lot of drive. In this sensual r&b track, Rosalía strays from her signature aflamencado urban sound – which has won her a Latin Grammy this year – collaborating with one of the biggest reggaetón stars of the moment, Colombia's visionary J Balvin. It's soft, cute, the lyrics are simple and millennial and once you sing the lyrics with them you feel like a star too.
9. Bad Gyal – "Candela"
As much as this slim, young Catalan's booty shaking is distinctly white, Bad Gyal pops out a fair share of easy listening, hip-winding bangers. This is certainly one of them. Opening with rock-pop guitar riffs, Alba's auto-tuned vocals welcome the dancehall beat and synths. Touring in Jamaica has been the high point of her career so far, and this video filmed on the Caribbean island makes us want to down the tequila with her (I would have chosen rum, too) and take a puff on whatever she's smoking. Check out the video for "Mas Raro", in which Bad Gyal winds through Ridley Road market, proving her compass for the cool, and her (awaited) recognition of the dancehall diaspora. She seems to be more aware of where this sound has come from and where it's going. She's a Worldwide Angel don't you know?
10. Francisca Valenzuela – "Ya No Se Trata de Ti"
This song is complex emotions transformed into a light, soft liberation song. It's what we need to hear in pop music: lyrics young girls will sing along to before probably hearing the lyrics, and perhaps live by without even knowing it. This is a song about independence, about self-worth and about seeing the cage you've been in and walking away from abuse, sung with apparent ease and acceptance; the same expertly-composed apparent weightlessness of Solange's A Seat at the Table that we might describe as freedom.
11. Pabllo Vittar – "Problema Seu"
This song/video combo is sexy, flawless, and showcases Pabllo's beautifully elegant dancing. It's a catchy Brazilian pop song, but really, it's all about the outfit changes and the laser-beam agility of the music video. No spy films were ever this hot, and classy too. Supporting artists like Pabllo in their vision is to support Brazil's rich, exciting culture and fight against the racist, homophobic, misogynist powers holding onto the strings of a conservative society.
12. Bad Bunny- "Desde el Corazón"
El conejo malito talks about his upbringing, his inspiring generation of musicians and the home he loves for its beaches, its coquís and its collaborative child-rearing. Although his earnings are splitting the Banco Popular and despite inevitable hurricanes, he's staying in his beloved Puerto Rico and reminding the world that it's golden. The video lasts just under three minutes, features a young Benito, his gorgeous, strict mother and a classic Tego Calderon banger played through Walkman headphones. This one, released just before his Nochebuena release of X100pre -'por siempre'- let's us in to the childhood, and heart, of our favourite Latin pop singer. Don't miss "Tenemos que Hablar" on the new album!
13. Ms Nina – "Rico Rico"
As much as Latin reggaetón has brushed up and swept into pop, offering a sparkling package of arty fashion and cool production, Spanish reggaetón has taken a rebellious turn towards the messy, raw, promiscuous roots of reggaetón in the new (ish) style of neoperreo, which is becoming ever more popular in Iberia. Argentine-born but dwelling in the underground raves of Madrid, Ms Nina brings audiences back to the good old days of humorous, piquing lyrics and hyper-sexy dancing. She commands the stage, moving confidently (unlike her contemporaries Bad Gyal and La Zowi) and growing a hardcore following through her humour and DIY videos. "Rico Rico" shows a finer production using those same neoperreo themes.
14. hvsn – "Picante"
Chances are, you didn't hear it. But no doubt this would blow up on any dance floor or chart show if Gabriel Hassan had the kind of recognition that's being showered on other Latin producers. hvsn began mixing baile funk with Yung Lean's trap beats two years ago, churning out the choons weekly on his Soundcloud account. He's garnered over 12 thousand plays on his own baile funk records and on tracks from his Baile Sessions compilations which have seen him bring together dance producers from all over the world in a musical collective. Within two months of releasing the first volume last March, Baile Sessions gained 500 followers and saw an important repercussion in the Chill Baile scene. Support this young talent from Curitiba, Brazil, hvsn is set to be big.
15. Crudo Means Raw feat. Mabiland – "La Mitad de la Mitad"
This summer banger, released in June, is a sexy, sunny link-up between Chocó-born rapper Mabiland and paisa producer, beatmaker and MC Crudo Means Raw. It reflects Crudo's more recent moves towards a poppier, more coastal sound from his signature hip-hop antioqueño. The track is a celebration of dancing, of subversion, of enjoyment, of spontaneity. It melts Pacific coast cadences into a dembow flow with Mabiland's sexy paisa slang vocals and Crudo's irresistible verses. Not to mention, the steamy, colourful video is a joy to watch – you feel like you're there.
*Bonus track!*
Delfina Dib – "Gato"
This talented, lyrical Argentinian making a name for herself on the Colombian hip-hop scene has just released her solo EP, Lotto, and it's well worth a listen. The official "Gato" video features a tantalising and humorous squabble between sexy plus-size model Juliana Valencia and fellow model/dancer Julián Torres (looking much more intriguing than in his sportswear shoots!). The different emotions and stages of their relationship are played out over a restaurant date and the result is entertaining and aesthetic, showing the range of Delfina's artistic vision and her ability to direct her ambition – she plays the waitress, facilitating the scene and delivering fiery verses in her signature Argentine accent.

Follow Sounds and Colours: Facebook / Twitter / Instagram / Mixcloud / Soundcloud / Bandcamp

Subscribe to the Sounds and Colours Newsletter for regular updates, news and competitions bringing the best of Latin American culture direct to your Inbox.
Share: