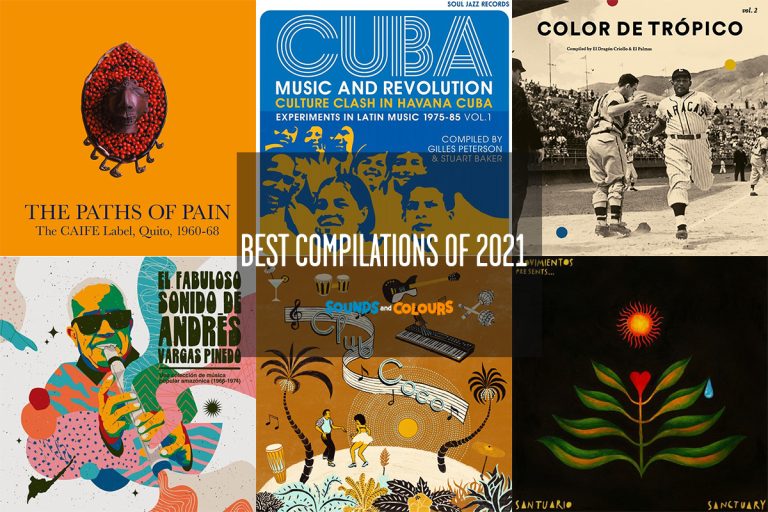 Best Compilations of 2021
20 January, 2022
Complementing our Best Albums of 2021 article here is our list of the best compilations, as voted for by our writers. As opposed to our Best Albums list, which is confined to new music, this one highlights some of the rarities that have been discovered in Latin American vaults, the search to find something different seemingly leading compilers into more niche avenues each year, hence the appearance of 60s Ecuadorian música criolla, Amazonian flute music and Venezuelan covers of reggae and afrobeat. Yet, however this music appears in paper, in sonic form it's all gold, with a number of compilations highlighting contemporary music proving that there is no shortage of Latin American music, old or new, to be discovered.
---
The Paths Of Pain (The CAIFE Label, Quito, 1960​-​68)
Honest Jon's (Ecuador)
A stunning selection of Ecuadorian songs from the CAIFE archives which reveal a side of Latin American music rarely heard. This is Ecuador pre-cumbia, pre-salsa, pre-globalisation, finding its own sound that shifts between indigenous-influenced folk music and European traditions, meaning there's plenty of boleros and waltzes but also stunning Andean melodies and oddities like Biluka's orange leaf playing (which sounds like a trumpet, remarkably) and Raul Emiliani's sprightly violin playing. All essential and extremely evocative.
---
Cuba: Music and Revolution Vol.1 – Compiled by Gilles Peterson and Stuart Baker
Soul Jazz Records (Cuba)
In 2021, Soul Jazz released not one but two volumes of experimental Cuban music from the 70s and 80s, but we're focusing on Volume One here. This is music that was originally released on the government-run Areito label and exposes a rich vein of innovation on the island, as well as a constant search for new sounds. Partly this was due to the environment in Cuba at the time, with few live events and government-paid studio time meaning many groups spent a lot of their time working in the studio. Hearing Irakere and Los Van Van is always going to be a delight, but the great thing here is some of the surprises in store, with rhythmic instrumental jams from the likes of Grupo de Experimentación Sonora del ICAIC alongside some seriously funky stuff from Los Reyes 73 and the almost tropicália sounds of Orquesta Ritmo Oriental.
Cuba: Music and Revolution Vol.1 is released on vinyl/CD only by Soul Jazz Records
---
Club Coco
Les Disques Bongo Joe
Berlin-based Mexican DJ Coco Maria did an amazing job on this one, bringing together a selection of artists that seem almost disparate yet somehow make sense when put together, representing a vein of tropicalised Latin grooves as seen through a European lens. La Perla, Meridian Brothers, Nico Mauskovic (of Mauskovic Dance Band), Malphino and Frente Cumbiero are some of those to feature, all of whom deliver some of their finest work. It wasn't a huge surprise when the first vinyl pressings of this sold out in mere weeks, this is one for the collectors and DJs.
---
Color De Tropico Vol 2 – Compiled by El Drágon Criollo & El Palmas
El Palmas (Venezuela)
A second volume of neglected treasures from the Venezuelan vaults. As with the first volume the aim here was to represent a real mix of sounds, hence there was covers of Desmond Decker and Fela Kuti alongside gritty salsa, rural folk music and funky jazz. The intention of these compilations is to highlight a golden age of music that happened during Venezuelan, and especially Caracas, in the 60s and 70s, and this one provided even more proof.
---
Anthology Of Experimental Music From Peru
Unexplained Sounds Group (Peru)
The Unexplained Sounds Group have been doing a more than diligent job of documenting the global avant-garde since being founded by Italian musician Raffaele Pezzella in 2015, already amassing over 70 releases (and that's not including all their subsidiary labels). Latin American music has been included in flashes, with a compilation of Mexican music released in 2020. This has now been followed up by a 15-track compilation of contemporary Peruvian music, a head-first dive into drone, noise, musique concrete and improvisation, though with plenty to love, Brageiki offering one of their most beautiful compositions, Rodolfo Ontaneda pulses with propulsive power and Paola Torres Núñez del Prado & The People of Tupicocha pays tribute to indigenous roots. An eye-opening collection.
---
Objetos Musicais – Homage to Walter Smetak
Buh Records
A fitting tribute to Walter Smetak, a Swiss composer who lived in Salvador, Bahia for the majority of his life. The label behind this, Buh Records, have also reissued Smetak's two defining albums, Smetak (1974) and Interregno (1980). Rather than pay tribute to the compositions on those albums, this homage rather takes its cues from Smetak's legacy of building instruments, with composers and luthiers from South America and Switzerland all coming together for a collection that delights in the otherworldly with untethered soundscapes that could easily be sound installations. The variety and conciseness of the songs ensure a level of captivation that's rare for projects like this.
---
Leonardo Marques presents Ilha Do Corvo Sounds Volume I
180g (Brazil)
I have to admit to being oblivious to the work of Leonardo Marques and his fellow Belo Horizonte colleagues that have been brought together by Marques for this release, a snapshot of the Ilho do Corvo studios and the music all of these artists made there. If Clube da Esquina helped define a genre-defying Minas Gerais sound, then a similar accusation could be made here. These are all MPB songs, i.e. melody-driven vocal pop, but with influences of soul, jazz, a bit of indie singer-songwriter aesthetics, even acoustic samba thanks to Rodrigo Damati, with any attempt to place them all under the same banner useless. Yet, somehow they all convene to create something cohesive.
---
Sanctuary / Santuario
Movimientos
Surely the best document yet released of music being made in the Latin American diaspora in the UK. This one features all the major players (Malphino, Wara, Lokandes), as well as new names beginning to make their name in the country. Whether it's Esteban Card's euphoric afro-Colombian grooves, Stephanie Santiago's neosoul jams, Malena Zavala's multi-layered solo productions or Panther Panther!'s dance floor fillers, there's so much going on, and this one captures a little of everything.
---
El Fabuloso Sonido de Andrés Vargas Pinedo: Una Colección de Música Popular Amazónica (1966-1974)
Buh Records (Peru)
In truth, it was refreshing to hear a Peruvian reissue that didn't focus on cumbia, and that's most certainly the case here. Blinded at age 3 due to a nurse's error, Andrés Vargas Pinedo is a violinist and quena (flute) player who released a number of records with various ensembles in the 60s and 70s that explored lesser-known Amazonian genres like pandilla, marinera, changanacui, movido, sitaracuy. Raw and rustic, this is music that is also full of energy with pining melodies and rasping percussion, all driven by Pinedo's sprightly playing. Makes you wonder what else is out there…
---
Chrysalis
NUMA
There have been some amazing digital compilations released by Latin American electronic labels this year, with albums by Tropical Twista, New Latam Beats, Shika Shika, Plurpura Records and Gop Tun all springing to mind, though this one on Guatemala's NUMA label had the biggest personal impact on me. While there are a few tracks that touch on the mellow end of downtempo, Chrysalis focused more on meditative, beat-less productions, the focus on restoration rather than recreation. Tracks by Steffen Ki, Maywa and J.POOL sound as blissful now as the first time I heard them.

Follow Sounds and Colours: Facebook / Twitter / Instagram / Mixcloud / Soundcloud / Bandcamp

Subscribe to the Sounds and Colours Newsletter for regular updates, news and competitions bringing the best of Latin American culture direct to your Inbox.
Share: