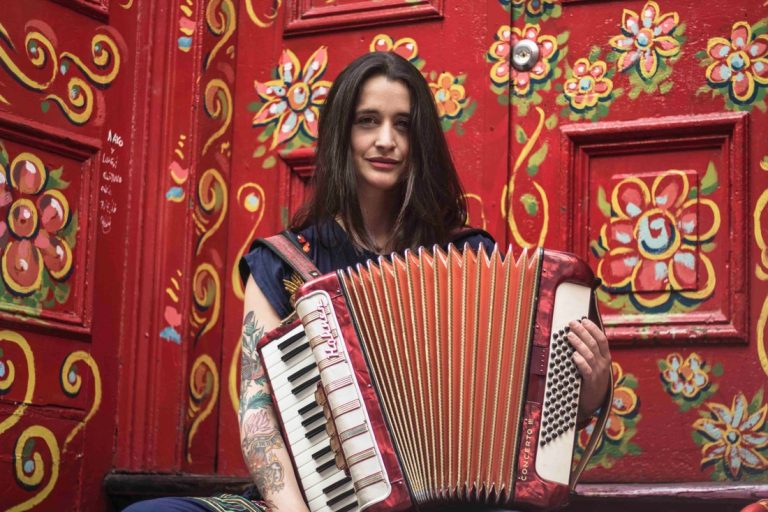 Best New Songs (Pascuala Ilabaca, Tuyo, Los Mejillones Tigre, Loli Molina & Chancha Via Circuito, El Individuo, Rebolú, La Chinaca, Canto Cego and paltamango)
14 June, 2022
The S&C writers have been tasked once more with picking out some of their favourite new songs, and here is what they came up with, a diverse grab bag of new sounds from Argentina, Brazil, Chile, Cuba, Mexico and further afield, with well-known names like Pascuala Ilabaca and Chancha Via Circuito sitting next to new discoveries, to us at least.
---
Pascuala Ilabaca y Fauna "Por Que Se Fue La Paloma"
Chilean singer-songwriter Pascuala Ilabaca and her band Fauna turn to traditional sounds to inspire a message for the present. Pascuala takes inspiration from huayno, combining this ancestral style with modern jazz, pop and rock elements to produce an ethereal and meditative piece. The lyrics champion female independence, taking hold of your own life, and letting go of guilt when leaving a situation – a 'nest' – in search of something greater.
As part of the creative process, Pascuala collaborated with the artistic residence of the Aymara dancer Vanessa González in Valparaíso to delve deeper into the traditional huayno, and to learn of the struggle faced by other creative women who are also trapped within their repressive society. González features in the song's official music video alongside Pascuala, where the women's colourful outfits from artist La Zurcida and expressive rhythmic movements accompany the lyrics in their declaration of female freedom and power. "Así como soy paloma toca volar" sings Pascuala, referring to the dove as the woman, breaking away from her nest, and the collar that attempts to hold her in place. Amy Hargreaves Smith
---
Rebolú "Los Herederos (The Heirs)"
A new track by NYC's Rebolú, "Los Herederos (The Heirs)," the lead single from their forthcoming album Mi Herencia (My Heritage), takes on the cultural inheritance of American-born children of immigrants. The new track contains delicious percussion courtesy of Moris Cañate (percussionist, tambor) and Erica "Kika" Parra (percussionist, drummer), while husband-wife duo Ronald Polo and Johanna Castañeda sing about the heirs and the passing down of tradition. Gina Vergel
---
La Chinaca "Juegos Malosos"
This is the first single from a brand new project, of which there is little to reveal just yet. The single, a reimagining of Chris Isaak's "Wicked Game", will form part of a conceptual album uniting rhythms and evolutionary rhetoric. Stay tuned… Russ Slater
---
Tuyo "Soledad"
After the success of their Latin Grammy-nominated album Chegamos Sozinhos em Casa, Tuyo continue to talk about changes. "Soledad" arrives at a time when the trio is starting to consolidate internationally. But despite the single being in Spanish, Lio, Machado and Lay don't intend to stop making their songs in Portuguese. As in previous works, the song has a unique sound, difficult to label. It's soft, it inspires and takes you to other atmospheres. Adailton Moura
---
Los Mejillones Tigre "Dale Candela"
We don't often feature Spanish artists on Sounds and Colours – Latin America and the Caribbean is our territory – but these lot have shown a certain allegiance to the cause on their last few singles. Although their last album, 2020's Tropical y Salvaje was very much about 60s garage rock and surf, their singles since have seen them get the Latin fever: "Sunday Guajira" still had an element of The Kinks and Lovin' Spoonful in its melody and style but there's no denying the influence of guajira in the percussion and backing vocals, but "El Gato Negro", "Ayahuasca" and now, their latest, "Dale Candela" prove that they have well and truly caught the cumbia bug. This latter is Peruvian cumbia par excellence, with ringing guitars, thumping bass and a great sing-along chorus. I can't wait to hear what they come up with on their new album. Russ Slater
---
Loli Molina & Chancha Via Circuito "Los Andes"
Singer/musician Loli Molina has teamed up with fellow Argentine Chancha Via Circuito for an EP, and this is the first taster. In truth, it's very in-line with Chancha's recent work, with a skeletal electronic production, here represented by a constant throb, upon which typically-folk instruments are arranged, in this case it's the sound of a ghostly guitar, shaker, and quena and zampoña wind instruments played by Los Tekis' Mauro Coletti. However, it's Molina's melodious voice which takes centre-stage, her vocals tip-toeing their way around the arrangement, and truly flourishing on the chorus. Russ Slater
---
Canto Cego "Rio"
Rio de Janeiro has many charms, but also many problems, especially in relation to violence. It is these counterpoints of the cidade maravilha ("wonderful city", as it is known), which the band Canto Cego addresses on "Rio". The diversity of the city is also represented by the music, an interesting fusion of rock with bossa nova and dub. Adailton Moura
---
paltamango "ambientes_archivo"
paltamango is a new project from Chile's Antonia Mosso, whose debut album BirdNET only came out in May, but already she's followed it up with a single. That debut LP united ambient, minimal electronics and a love of birds for a beautifully-intoxicating first release, and she continues down that path on the beatific "ambientes_archivo" with slowly-maturing synth chords pushed along by rattling percussion and flirtatious fleeting melodies. It's a beautiful thing. Russ Slater
---
El Individuo x BoriRock "Parte Nuca"
In our recent interview with Cuban rapper El Individuo we talked about his plans in New York, and already we get to enjoy the fruits of his labour, with a new single now out, a collaboration with Boston rapper BoriRock in which the rapper Cubano extolls on hip-hop as a lifestyle. It's a fine meeting point between Cuban and US rap traditions. Russ Slater
---
Que más?
Still after more new sounds? Check out our Best New Music playlist for even more…

Follow Sounds and Colours: Facebook / Twitter / Instagram / Mixcloud / Soundcloud / Bandcamp

Subscribe to the Sounds and Colours Newsletter for regular updates, news and competitions bringing the best of Latin American culture direct to your Inbox.
Share: