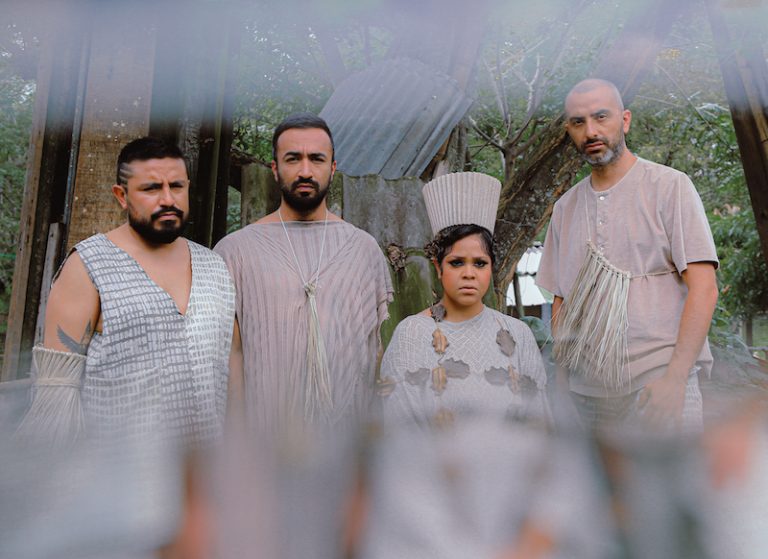 Oscar Diaz
Combo Chimbita Dance Their Way Forward with 'Babalawo'
29 October, 2021
New York-based tropical futurism outfit Combo Chimbita continue weaving a sonic decolonial narrative through the latest single and music video in an ongoing series of tracks telling a continuous story. Entitled "Babalawo", the song is the fourth in the series melding the band's "cumbia-not-cumbia" sound with visual and lyrical elements making reference to Yoruba culture and spiritual resistance.
Backed by Combo Chimbita's innovative, but strongly-rooted sound, the video invokes Plato's Allegory of the Cave with multidisciplinary artist Edrimael Delgado Reyes conjuring the story of breaking free from convention through a fiery interpretive dance.
"Interpreting this song was a challenge, it has so much power and energy for me to embody through my movement," Delgado Reyes said in a press release announcing the single. "My hope is that people experience the joy and intensity I felt while dancing."
The band originally debuted the single in a performance with the legendary Sun Ra Arkestra, to which guitarist Niño Lento says has led to it becoming a favorite.
"It has some hints of trap, a bit of rock, but also carries influences from Haitian music and sounds," Lento said in the release. "Carolina's lyrics are also important since they describe some of our first encounters with Regla de Ocha (often known as Santeria). These intimate moments of spiritual guidance are incredibly important to us as a band with decolonial aspirations."
Those aspirations certainly come to fruit in the video, as Reyes both wrestles with a physical chain and casts off societal conventions targeting queerness through his movements. Oscar Diaz, who directed and produced the video and calls Reyes "the father of the vogue and ballroom scene in Puerto Rico," says the video was part of a series featuring prominent Puerto Rican queer artists.
"I find there's a secular parallel to a Babalawo who may lend wisdom and guidance for a path forward," Diaz says. "Edrimael uses his body as a site of resistance and community building, paving the way for many trans and queer folks to lean into bold refusals of the colonial and patriarchal violence on the island."
Though certainly entwined with Delgado Reyes' performance in the video, even apart the music embodies well the band's penchant for charting a path forward with reference to traditional sound. A grooving guitar line undergirds the song throughout, enticing in a way that's hypnotic, and speeding up into a frenetic climax towards the end.
Lead singer Carolina Oliveras' vocals hover over the course of the track — powerful and haunting before breaking off into an almost chant-like ferocity. Throughout the band's repertoire, Oliveras' singing often feels as though it is an echo from a past long suppressed through the logic of commercial culture, but defiant and resilient. In "Babalawo," as in the previous singles in the series, her performance continues to stay true to that sentiment.
"Babalawo" and the previous singles in the series have been released through ANTI- Records.

Follow Sounds and Colours: Facebook / Twitter / Instagram / Mixcloud / Soundcloud / Bandcamp

Subscribe to the Sounds and Colours Newsletter for regular updates, news and competitions bringing the best of Latin American culture direct to your Inbox.
Share: