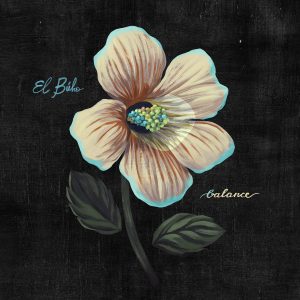 Balance opens like a springtime morning, with "Coro del Amanecer" nudging the door ajar to let in the light of birdsong.
It moves gently to add layered beats, the coming or going of footsteps, the tinkle of water and Veronica Valerio's echoing voice. By the time we get three minutes into the song, we are up to full strength, but this is a soft power which fades to end.
The record is El Búho's first full-length offering and, going by this example, there will be many people chomping at the bit for even more.
El Búho ('The Owl') is Robin Perkins, a British producer who has become something of a sensation in the folktronica scene. He has now moved back to Europe after a productive spell in Mexico, where he explored the country's indigenous music, traditional instruments and – especially through the rivers, forests and sounds of the deep south – the overwhelmingly natural beauty.
It is the integration of natural elements into his work that makes El Búho stands out. This is not any old hip-shaking and rum-swilling Latin music (as enticing as that can be): this is organic electronica.
It is borne from simple ingredrients: the wash of waves, the calls of birds, the sounds of sunshine glinting through a million trees.
On "Tlacotlan" we hear the chirps of songbirds and the croaks of crows whilst "Ynglingtal" calls to mind sand through your toes against spilling breakers on the beach.
He demonstrates his depth of skill on "Papan" with the layered keys, strings and beats clipping together with nods to glitch-notes here and there.
Three-quarters of the songs are collaborations and El Búho reaches far and wide for his featured artists, from the madness of Cairo, to the floating airs and hills of Bolivia, via Mexican poetry.
The warbling on "Madre Tierra" may not be for everybody and "Brigantes" doesn't really feel as though it goes anywhere as a piece but overall this is a beautiful record.
Balance is his first album and it drops just as he completes his move from Mexico City to Paris. We spoke to him before he left Mexico and now we spoke to him again, to find out a little more about Balance and the effect of Mexico on his music.
What's the next stage for your music? What can you learn from this album?
I have a hundred ideas floating around in my head, going back to music inspired by birds, to music inspired by the folklore of my own country (the UK), making some EPs inspired by the places I have lived, another album. The other thing I would love to do is release a "tapes" or "beats" album of all the many, many unreleased tracks I have sitting on my hard drive! I think I learnt that an album should represent a period in your music growth or in your life. So much time passes between actually making the tracks and releasing them that to you they sound old even though no-one else has heard them! You have to just get to the point of accepting it and being happy with it representing a period of your life but I really think as a music producer you never stop learning and challenging yourself to improve.
Now that you have come back to Europe, which countries are you hoping to take your tunes to next?
Well, I played in Berlin for the first time recently and it was one of the best gigs I have played in a long time. Such an incredible, open-minded, approachable, respectable crowd of beautiful people dancing the night away to 80BPM music! It doesn't happen everywhere. I will be playing in Spain soon and hopefully the UK for the first time soon as well (kind of crazy!)
And what's your sense reflecting on the influence that Mexico had on you?
I think it was quite profound actually, going back to Latin America and understanding the incredibly different, complex and diverse context of Mexico, musically but also socially and politically. For my music it definitely opened me up to new ideas, to new histories, to new styles and genres and showed me, yet again, just how diverse Latin America is. There was a bunch of music I made there on the Tamoanchan and Chinampa EPs and I feel it is pretty different, you can't put your finger on it. I also always forget that Cenotes, which I kind of see as my breakthrough EP, was written in Mexico as well as most of tracks on the album! I think the other thing was the incredible reception I received in Mexico at shows. I felt a bit like an adopted Mexican to be honest 🙂 Would love to go back and play soon.
What does the future hold for Shika Shika, the collective you run with Argentinian producer Barrio Lindo?
We are astounded by the incredible music that surrounds us. We just put out three beautiful edits of South American folk by our friend, the Argentinian producer Barda, and in a few weeks we are going to release our third compilation to celebrate our two-year anniversary! It is called Eco and it has some absolutely beautiful, killer, slow, deep, textured global sounds on it.

Follow Sounds and Colours: Facebook / Twitter / Instagram / Mixcloud / Soundcloud / Bandcamp

Subscribe to the Sounds and Colours Newsletter for regular updates, news and competitions bringing the best of Latin American culture direct to your Inbox.
Share: