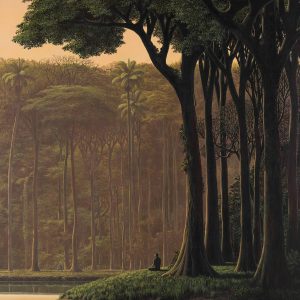 Review
El Búho – Natura Sonora
There can be no doubt that El Búho has kept himself busy during lockdown, releasing the electronic "duets" album Ramas on Wonderwheel Recordings, reimagining the entirety of Minuk's debut album Aurora as an ephemeral, albeit rhythmic, dream, joining forces with fellow Latin downtempo royalty Chancha Via Circuito for the Pleamar EP, coming over all costeño on the Cumbias Imaquinarias EP on Earthly Measures, and creating Aguas Profundas, a rumination on oil drilling and the polluting of our oceans inspired by, and featuring field recordings from, journalist Ian Urbina. That is in addition to running the Shika Shika record label, who just recently finished their fundraiser for A Guide To Birdsong Vol. III, the latest instalment of their bird conservation project, this time taking them to West Africa.
Next up is Natura Sonora, a new full-length written during lockdown which sees the British producer challenge himself to create soundscapes for all the places he couldn't visit, but wanted to, when the world shut down. More than his other recent releases this album highlights how he is continuing to broaden his palette by looking outside of the fervent rhythms and textures of Latin America, which have long been his calling card. This interest has been hinted at by Shika Shika's output (releases by Chinese producer me:mo, German cellist Andi Otto and Mali's Anka Foh being some examples) as well as the news that the next Birdsong compilation will venture outside of Latin America for the first time, but it's never been so clear in his solo work.
"Socotra", inspired by an archipelago in Yemen, and featuring the vocals of Yemeni singer SHIRAN, is the clearest example of this, its hand drums, jagged rhythm and Arabic vocal melodies taking us to new terrain. "Altai", named after a mountain range in Central and East Asia, is similarly enchanting in its use of divergent musical references, the initial marriage of broken groove and field recordings hinting at Boards of Canada before piano and vocals find their feet and give it an oft-kilter experimental chamber orchestra charm.
Most intriguing of all is two tracks which see El Búho (real name: Robin Perkins) make light of the "downtempo" tag by turning up the bluster, Poland-set "Białowieża" igniting with fiddles, bombastic drums and vocal cries that recalled for me the new age emotionality of Enigma; and final track "Great Bear Rainforest", which builds an hypnotic programmed loop with layers of strings, not too dissimilar to some of Craig Armstrong's soundtrack work. Both tracks are wonderfully evocative, and show how the conceptual framework for this release has really brought out some of his most ambitious work.
Of course, there is also plenty for diehard fans of Perkins previous work to love, with the almost ambient sounds of opening track "Sierra Nevada de Santa Marta", alive with the sounds of Colombia's forested mountain range, and "Manu"'s Andean folktronica vibe especially pleasing, though for me it's that gurgling synth that begins "Sian Ka'an" that gets my attention. It's soon broken down into new forms, but the tension that's built with just light percussion, effects and other trickery until the synth returns is a thing of beauty, sign of a producer at the top of his game.
What's startling about El Búho's lockdown productivity is not the amount of work that he's released, but the fact that each release has felt distinct from the last, pursuing another line of enquiry while never deviating far from the sound and influences (with the environment/nature being such a huge part of his work) that have become his hallmarks. With Natura Sonora he surprised me once again, adding new colours to his palette that hint at future directions. It will be interesting to see where he heads next.
Natura Sonora is out now on Shika Shika

Follow Sounds and Colours: Facebook / Twitter / Instagram / Mixcloud / Soundcloud / Bandcamp

Subscribe to the Sounds and Colours Newsletter for regular updates, news and competitions bringing the best of Latin American culture direct to your Inbox.
Share: