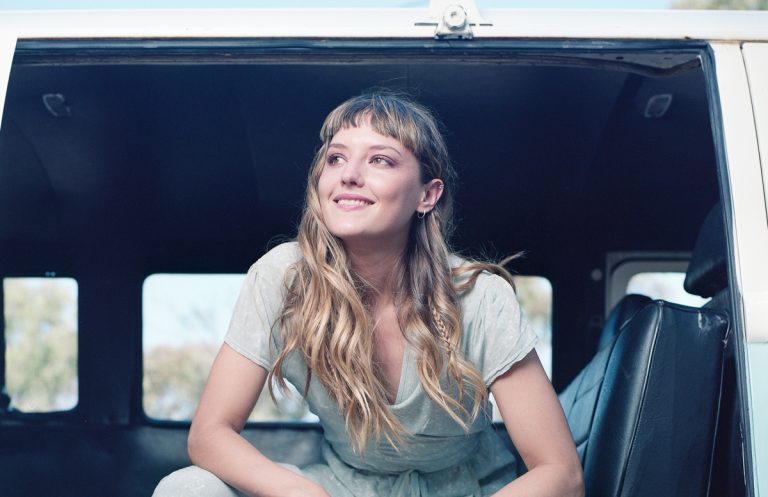 Daryan Dornelles
Everything Was Like A Movie: An Interview with Mallu Magalhães
12 May, 2022
Mallu Magalhães was one of the first musicians in Brazil to get famous through "the internet", way back in 2007. Mallu, short for Maria Luiza, was fifteen when she uploaded four songs on the social network MySpace. All it took was one week for word to get around, and suddenly, all the TV stations wanted to have this girl and her acoustic guitar on their shows. Her self-titled debut came out in 2008, and the popularity continued; two of its songs were used in nationwide TV ads for a Brazilian mobile phone operator. The irony of it all, I would find out whilst interviewing her, is that Mallu didn't even have a mobile phone, hearing of her sudden success from a friend after having returned from a family trip.
The years that followed saw the teenager, who had saved money for nearly three years to record her songs, go through the kind of scrutiny that comes with notoriety. However, Mallu carried herself with grace into adulthood and managed to have some privacy from the public eye; her music was always at the forefront of her professional life.
Up to the present day she's released five solo albums and one as a member of Banda do Mar. In 2015, a song written by her — "Quando Você Olha Pra Ela" ("When You Look At Her") — was the lead single for the then upcoming album from one of Brazil's most celebrated artists, Gal Costa. 2021 saw the release of Esperança, Mallu's latest album, produced by the renowned Mario Caldato Jr – who, besides having produced Mallu's first album, has also worked with artists such as Criolo and Manu Chao. The name of the album means "hope" in English – spot on with the feelings evoked by its songs. Mallu's Esperança welcomed us into a world filled with beauty and kindness. Listening to it was like finding a beacon of light amidst the uncertainties of the COVID-19 pandemic.
Mallu Magalhães is currently touring the album and kindly agreed to speak by video chat one week before making her UK debut in London, on Friday 13th May. We had a deep conversation about much of what being a creative – and a human being – encompasses. Here's hoping you will enjoy reading it as much as we did talking to each other.
---
How did music enter your life?
I started playing when I was eight or nine – no older than that. I was curious about the guitar as my dad used to play at home when he came back from work. I used to like that moment in the afternoon when we were together and he played the guitar. I used to sing with him, sometimes we'd make some music while he was improvising and trying new songs. He's an engineer, not a professional musician, but music was very natural to us – and I guess because of him. My parents then found a guitar teacher, who made me feel very comfortable writing songs and trying new steps. Then, when I was twelve or thirteen, I used to go on vacation to Campos do Jordão, a city close to São Paulo, with some friends. We used to go there in the winter and play on a square for some coins. This was very fun and I started noticing that people used to get very impressed when the songs were in English – so I started doing that just to impress them. I was never a great English speaker, it is still a challenge for me. But when I write songs I do it very slowly, sometimes it takes one or two years for me to get one done. I do it very calmly, so it's alright to take my time to find the [right] words. I actually learned a lot of English while I was writing the songs.
Then I started playing more and more to friends, who started saying "wow, you should do something with that, maybe some videos for the Internet". There were already [the social networks] Orkut and MySpace in Brazil at the time – Facebook was only available in other countries. And I thought "why not, let's see what happens – it might be fun to record my songs." So I spent three years asking my family for cash whenever they'd get me a gift, like for Christmas or my birthday, so that I could have enough money to record my songs. It took me two and a half years, almost three. When I was turning fifteen I finally got the money to record four songs, so I found the studio Lúcia no Céu and told the sound engineer, Jorge Moreira, that I had no idea what I was doing and that I didn't know how this would work – he was a very nice guy who became my drummer for years and a good friend of mine. He said "let's record and see if you feel comfortable in the studio", so I got there and it was very easy for me, actually. I found it fun. It was good. I just recorded my voice and my guitar. Jorge listened to the songs and said he loved my work and asked if he could call some friends so they could play on them. I thanked him and said it would be great but that I didn't have money for other sessions, but he said they would be having fun so that would be no problem. I left because it was late and I had school [the next day]. The day after I came back to get the CD and they had recorded all the instruments: piano, guitar, bass, drums – they did everything! I was so impressed. It was crazy that that had happened to me because Jorge was actually amazing as a producer. Sometimes I think about it… it was such a miracle that that happened out of nothing! I was so grateful to them.
They got to be my band and we started touring because I put the songs on MySpace and a week after I uploaded them it was a huge success out of nowhere. Honestly, I didn't do anything [for that to happen]. I had only told my family and about three friends – it wasn't like today when you can promote and pay to advertise your music. It all happened very naturally. I didn't have a mobile at the time. I had uploaded the songs from my home computer and gone on holiday. When I came back, the friend who'd suggested I put the songs online told me I should check my emails as something had happened – there were messages from all the TV channels inviting me to go to different shows. I really didn't expect that. I wasn't prepared at all – in any way. I just played the guitar and wrote songs that I showed to some friends. Music chose me. It just happened. I realise nowadays that I didn't know how hard and how fun that would be until later on. I'm grateful that everything happened so naturally. Sometimes I think, "is this a real job?" because it's very unstable: you get money, then you don't; you get a lot, then you don't get any at all. It's hard to deal with that [as] I don't do anything else. I had to learn how to deal with this characteristic of the music business.
Did you ever want to become famous?
No, I had only recorded my songs because I thought it would be fun. I never really liked the celebrity thing. I liked some people that I identified with – musicians, singers, actresses –, but I didn't want to be one because I could see that it was hard. It was really clear for me that you should behave and look a certain way – and I didn't think that I could fit in; it wasn't even a possibility for me. Maybe I was insecure, but I never thought that I could do this professionally. Even nowadays sometimes I think it's incredible that I can have this job in which I have fun, that sometimes I love – [and] it can also be really really tough. But everything makes sense when I'm writing songs at home, when I'm [recording] in the studio, or when I'm on the stage and receive energy back from people.
As a creative, what art form came first to you as an individual?
It feels that creativity is inside me in a very natural way. It feels like this dreamy way of seeing life is everywhere [to me]. I get emotional about everything. The world fascinates me in the smallest things: I feel nature, human emotions, time – I find all [of] these life elements inspiring. I always have. I remember as a child seeing a bee walk on the grass and I felt that was so inspiring. I have always been passionate about life and felt so lucky to be alive. This passion has always moved me. I feel creative every time because of this love I have for being here today, every day. When I first noticed that maybe I could communicate well, that I could use my creativity to get places, was with music. But I used to draw a lot, to paint and to write poems – my teacher used to tell me that they were beautiful, and I recited them for my family, who told me they were good, but I thought that was because they loved me. [laughs] But when I started writing songs I think that I could really see that I was getting somewhere. I think all [these art forms] started at the same time, when I was very young. I remember watching the rain drops walking on the window and imagining a song playing whilst it happened. I used to daydream everyday all day long with everything. And everything was just like a movie. Just like today, I used to find everything magical. It's crazy to say that but I really do. When somebody says something beautiful, something kind, I get emotional about it very easily. So I would say painting, writing and also experiencing life – it was all at the same time from a very early age.
Am I right in thinking that the artwork from your first album was made by you?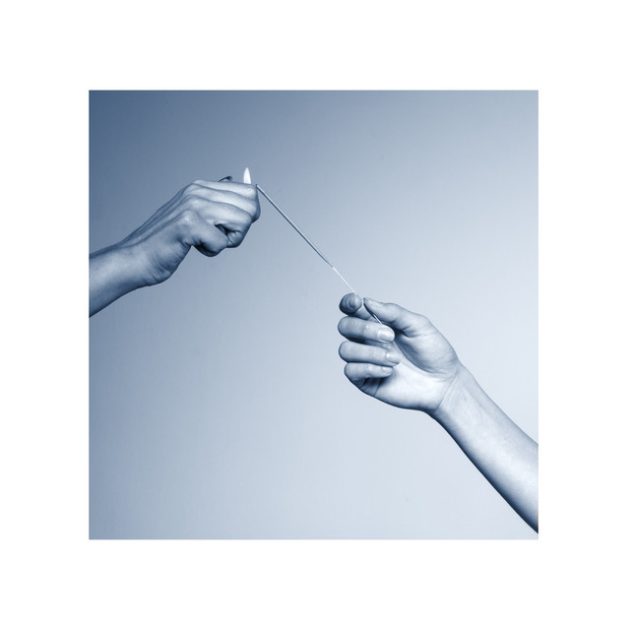 Yeah. I actually do most of the artworks [of my albums] myself. When I put the songs on MySpace, I did the artwork with felt tip pens [and] I kept doing this. For my first album I did the artwork with a string. I also did the second one. The third one has a picture on the cover, if I'm not mistaken. For the latest one, Esperança, I called my friend Doryan Dornelles to make the pictures. We did a whole session. I had an image inside my head where I would carry birthday sparklers, but after we tried and I looked at the pictures on the camera it wasn't beautiful, it wasn't impressive, it wasn't good. Then we tried a lot of things and I couldn't find the picture for the cover. It wasn't there. So I started looking at details, zooming-in on moments, trying to find it. So I got to the picture where Maria, who works with us, was lighting the sparkler with the lighter and it was about to light up – I just loved that moment; it represents a whole feeling. I have fun doing these designs as part of the work. It feels like [they are] another tool for the message. Sometimes even I don't know what I'm trying to say, but I have that feeling to share so I try to find elements to put that idea on to communicate with people. It feels like these are tools to get to the same place that I try to get with music.
You mentioned your appreciation for nature and it made me think of one of the songs on your latest album, "Deixa Menina" ("Let The Girl" in English), where you talk about the sea, about it being summer, about the wind blowing through the girl's hair – it's such a beautiful and uplifting song. I listened to your album on repeat when it came out; it really gave me hope!
That's so nice to hear – thank you very much. When people say that my work is meaningful to them, everything makes sense. When I produce anything, I want it to make somebody's day and life better. I want to share something good. Nature really inspires me and makes me feel balanced. We're always running and working so much, there are so many things that we have to deal with. Everything has a deadline. Then there's nature, which is bigger than everything and it's always there – for free. You can go to the sea or to a nice place with nature and connect, get in touch again with this energy that is so fascinating because it's enormous, the biggest of all. And it's the same energy that we are made of, which makes everything else feel like an illusion. I wish I could live somewhere near the sea, but I still live in the city. It's nice because there's a national park really close to where we are in Lisbon, where we've lived for almost ten years. But I go to Brazil so often that I don't feel like I've left it. If someone had said I was leaving Brazil I wouldn't have moved. I only live here, or would live anywhere else, because there are planes and we can go to Brazil often. I really miss it. It feels like it's such a big part of me, so I really enjoy going and seeing my family and feeling our culture and talking to our people – it's so good.
Has Portuguese music inspired your work somehow? Is there anything tangible that made you pay attention to a certain type of music or way of playing the guitar or singing?
Yeah. Two things really happened to me and I can identify them in my work. The first thing is the lyrics written in Portuguese. We cannot define any country by some sort of music. But I feel that when I got here I started listening to artists that would treat lyrics as the main object of the song, which I found fascinating. We also have a lot of composers in Brazil who do that, such as Renato Russo [singer/songwriter for Legião Urbana] and Belchior – who had very deep lyrics and you notice that the song is just the background; the message is in the lyrics. Brazil is very big and we have all kinds of songwriters. But it's really something that amazed me when I got here in Portugal – the way they do it. That has really changed the way I write songs. And also how they use electronic elements. When I am in Brazil I go to places to listen to music which is mostly acoustic, like samba, jazz and MPB. When I came to Lisbon I started going out to listen to more electronic music, and I found it very interesting – electronic music with a signature. I started listening to very interesting European artists. In Brazil we hear mostly Brazilian music on the radio and big international hits sung in English, but it's not that frequent. Here we get in touch with different artists than in Brazil. These new artists I started listening to and making friends with, like DJs and electronic music songwriters – it's a whole world! –, I found them especially interesting. So, I think mostly lyrics and electronic elements would be the things that I felt changed the way I make music.
Are there any names of artists who've inspired or touched you recently – not necessarily as a direct inspiration?
The band of our friend [and music partner in the group Banda do Mar] Fred Ferreira, Orelha Negra, really inspired me from the first day I got here. I still get inspired by them. I like the way they use digital and acoustic elements in a very authentic and strong way. You listen to the songs and you're taken to a whole powerful world. It's very emotional and very sensitive, so I really like it. I also like Branko, the DJ I [have] worked with on some songs. I met him here. I used to like his music and I still do. There is also this guy called António Variações, who's a very important figure and artist in Portugal. I found him very inspiring. Manel Cruz is another very interesting songwriter. There are so many nice artists here!
You've released five solo albums, and one – which has an incredible summer spirit to it – as part of the group Banda do Mar, which you formed with Fred Ferreira and Marcelo Camelo, who is also your husband. Both you and Marcelo, after he left the band Los Hermanos, have a deeply authorial work. What was it like working together in a band?
It was fun. We really enjoy working together because we respect each other a lot. We both work with very sensitive emotional ways of expressing ourselves. When we are in the studio and we notice that somebody is having an idea, we wait and respect it. We wait for our turn. It's simple, you just have to wait for your turn. [laughs] Sometimes people ask how I can work with my husband for hours long in the studio and still be together. I love him, so it's great; it's a privilege. If I could I'd work with our daughter too because work can be a happy place. I know that many times it isn't, even for me – I struggle with the hard part of my work. But when you are with somebody that you love or with a dear friend it's so much better and easier. We also try to encourage each other: when I'm trying something and see my friends or, in this case, my husband, saying that it sounds great, that it's beautiful, it makes me feel confident to keep going – and I do this for him too, of course. We try to help each other by suggesting a note that would be nice, or by telling the other to relax, that everything is alright. I think we work well together. Nowadays we don't do this anymore because we have our child and somebody has to stay with the kid, so it's hard to have both working at the same time. She's older, so things are really changing now that she's six – I'm really impressed with this new phase. But for a long time it used to be just the two of us, so we used to play for fun and for work… we made music. We used to have the instruments in the living room. If we didn't have anything to do we would play. We'd play videogames too! [laughs]
Listening to you talk about her made me think of that beautiful last song in Esperança, "Enjoy The Ride", which is about watching your child growing up. The album's opening track, "America Latina", has a great video with stop-motion and collage images. Do you like giving input when it comes to your music videos?
Sometimes. Just like in the studio, when I see somebody having an idea and having fun with it, I just let it flow. Sometimes you just have to clean your mind and be ready for new ideas. If you are too strict about how things should happen, nothing will take place from this point. So when I see that the director is really going places and having fun and I, of course, identify with the message, I just let it flow. Most of the times I say what I do and don't like, how I think it would represent me and the message better. If something is beautiful but doesn't convey what the song is saying, it doesn't work. Sometimes directors come with a new understanding of the song and I enjoy this. Sometimes they show me a better version of it. They see it in a better way than I do.
That's the magic of collaborating, isn't it?
Exactly. When I find a friend that I like collaborating with I just stick with them for as long as I can because I find it very rare and precious. Bruno [Ilogti], the director of "America Latina", has been doing all the videos for this album because we just became really close friends. Just the fact that he's my friend is already enough for me to keep working with him, but he happens to be an amazing director. In the case of "America Latina" he had the idea of the collage and he did everything really with the artists. Of course, I said we should have some Brazilian animals and elements. And I had fun, which is important – when you have the artist smiling in the video, it helps! [laughs]
It does come across in the video that you're having a very good time. Same with the other video, for the song "Quero Quero". I'm not sure if fans took part in the video, but it's so much fun, there's such a lovely energy there.
Yes, there were sixty-two fans [who took part in the video]. I remember I was at home during lockdown and I thought I had to share this song, to do something for this album. [I thought] I had to share this happy feeling with people and that we should connect though it and feed it. We can feed good or destructive stuff in our minds; I see it with myself. I notice that when I feed and take care of good feelings they grow and I feel better. I felt that [we could do it] if we had fun together. [The fans] just received this challenge to get their mobile and make a short film of themselves having fun. Then we took the best of each one and did the video. It was Bruno who edited everything – so [my part] was just trying to work with him because he's amazing. Sometimes the video is going so well that it's already saying everything that I wanted to say. There are many videos that I'd done that I didn't release. Sometimes people say that I don't put out that much stuff, imagining that I'm at home doing nothing, but I'm trying a lot of things that I don't release because they don't say what I'm trying to convey. When I tried to release something I didn't believe in, it wasn't good. I really need to feel that the video or the picture or the drawing represents the message I'm trying to give to people. Many videos were ready but were never released from all the albums. Not only videos, [also] songs and pictures and projects that I don't feel are ready or good to go. It's a hard decision to take, to say "thank you very much for your work, but we didn't get there – sorry." You know, it happens.
It's a sort of curatorial process of your own body of work, and having that responsibility to understand who you are as an artist and what you want to convey. I appreciate that sometimes it comes at the cost of saying no to things – even to yourself.
Yeah, exactly. We all make mistakes – saying no can be a mistake. We can't be perfect. But I try really hard to do this. Sometimes it takes me years to say yes to something. Nowadays I just release what I would show to everybody passing on the street. I have to be proud of it and really believe that artwork, so to say. I try to take my decisions from just showing what I believe in.
That's a wonderful motto and I can absolutely see that in your work. What a beautiful thing it is to have a creative outlet that is your profession. It's hard work, but such a privilege too, isn't it?
Yeah, it is. I think about it many times when I look at my life and achievements as a professional, as a mother, as a woman, as a person. I just look around and feel so proud because it feels that I made all my decisions from my very best [intentions]. Having this profession – that is also a dream and a hobby somehow –, which is the thing that I love to do, makes me work every day and every hour. I'm okay with that because I feel good working. Sometimes I see something that will cost me more money than I would get from doing it, but because I believe it artistically, I go ahead and do it. Maybe it won't sell like popcorn, but if I think it's beautiful, I think I should do it. It's nice to have this profession that is also a passion – it's kinda mixed up.
Also, it's about the long run, isn't it?
Yes, it's the long run; it's the big dream. I don't dream that someday someone will put my name on a street or that people will cry all around the world when I die – I don't have that dream, I think people should be happy and not crying. [laughs] I don't have this dream of being a huge celebrity, but I do have the dream of doing my best while I'm here to everyone I can. Not in a silly way, of just being super sweet… it's about being humane to everybody, in my work, in the way I deal with people at work and on the streets. I really try to be my best as a human, and I think a lot [about the times] when I believe I wasn't. Sometimes we are not in the best mood and can be rude to people – I'm the kind of person who goes back and apologises. My main objective in life is trying to be a nice person, a nice mum, and be useful to people – to do something that's useful to them. If I can make one person have a better day, it's already worth it. That moves me.
The more I live the more I think that being kind is the most important thing that we can do for each other.
I totally agree. Kindness is a personal journey – you're not kind out of nowhere. When you're kind you are wishing well to the person you're being kind to. You don't know that person but you're kind because you have a good feeling [inside you].
How does it feel to finally be able to perform the album Esperança?
There are so many feelings [that] it's hard to try to explain it shortly. Maybe I should talk about the first concert we did after the pandemic. During the pandemic it was hard for everybody. I felt in a very low energy place in my mind. I was really struggling with having a young child without family around. I was afraid, of course, just like everybody else. I was afraid without my work, about not being able to get paid too. I didn't know what would happen since we couldn't work. It really concerned me. When I wasn't a mum I used to think it was okay if I didn't have any money because I could stay with friends. With a child you get very concerned about work. I was very worried about how long it would take for it to end. I thought, "what if it takes six months?", but it was worse! After some time I really felt low energy and not really inspired, it was a hard time for me. When we decided to release the album and it came out, I remember not feeling anything. It felt like I was sleeping inside, emotionally [speaking]. We also lost a very close relative and it was very painful, but I had to stay happy for [my daughter] Luisa and couldn't show her that I was devastated inside. I feel that I slept emotionally. I kept my emotions [hidden] in a place… I didn't feel anything.

Because it's everything, isn't it? It's the whole spectrum. We can't silence one emotion and not the others. You silence everything.
Exactly! I felt that I couldn't feel too sad, nor not too happy – I don't know, it's crazy. I'd never felt that before. And then I just released the album. I was happy, I was glad and enjoying it. Everything was okay. Then the idea of touring came about and I said "okay, let's try [doing it]", but I wasn't that confident or excited [about it]. 'Til I got back on the stage – I'll never forget that feeling – when the song started it felt like a whole world was coming out of me. I felt so many emotions, I started shaking and wanting to cry but I had to sing. It was really crazy for me and it was the best concert I've done in my life. I sang with my blood, you know? I was more than glad to be there, I don't know how to explain [it]. It felt like I grew to the size of the moon. I felt like [I was] super powerful. I felt super happy and super sad and super everything together. It was so good! In the end of the concert I said to myself "yeah, you got to do this for the rest of your life. You can't do anything else, I'm sorry to tell you!" [laughs]
It's like it brought you back to life. It put the colours back in your life.
Yeah, it brought me back to life. I felt energised again. I felt like I got my life back. What you said about [it being] the whole spectrum [of emotions], I'd never thought about that before. It makes a lot of sense and explains a lot of things that I couldn't put into words before. You have to choose to connect or not with your feelings. Music makes me connect to my feelings and go to places that I wouldn't go in my daily life emotionally. Not only when I write but also when I listen to music and when I go to other artists' concerts: I get emotional; I feel like [there's] a whole world inside me – I connect to these amazing magical things which are music and art.
Mallu Magalhães is making her UK debut at the Jazz Cafe in London, on Friday 13th May. Visit their website for ticket info and further details.

Follow Sounds and Colours: Facebook / Twitter / Instagram / Mixcloud / Soundcloud / Bandcamp

Subscribe to the Sounds and Colours Newsletter for regular updates, news and competitions bringing the best of Latin American culture direct to your Inbox.
Share: