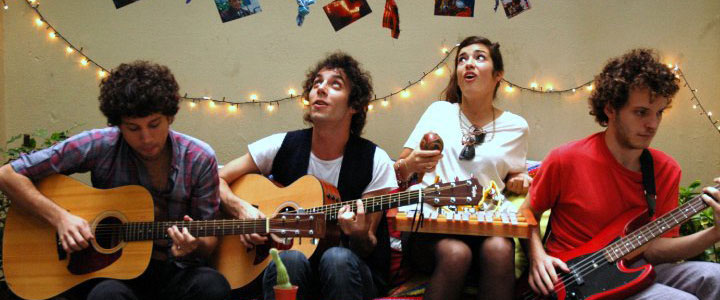 Going Underground: New Music from Argentina
19 October, 2012
Like most South American mega capitals, Buenos Aires is both a breeding ground for emerging artists and a magnet for already established bands looking to expand their fanbase beyond the local scene. Here mainstream cumbia and Latino pop continue to rule the charts, but the musical underground is alive and well. For our latest Going Underground installment, here are some awesome BA bands that are worth checking out.

Pequeña Orquestra de Trovadores
I first came across these guys on NPR's Alt.Latino blog, always a reliable source for great new music from down south. There they were described as "part quirky muppet band, part melancholy storytellers," which I think sums it up pretty good. The band's self titled first album has a wonderful loose feel, blending elements of Colombian cumbia, Peruvian chicha and vintage American country. For a band that really doesn't sound like they're trying very hard (live or otherwise), they really make for an engaging, fresh listen.
More: potrovadores.bandcamp.com/album/peque-a-orquesta-de-trovadores
Mi Amigo Invencible
With five self-produced albums under their belt, these lifelong pals from Mendoza have burst on to the Buenos Aires scene with their eclectic indie sound and energetic live shows (one fan favourite prompts the entire audience to bark like dogs during the chorus). Their gorgeously produced albums bring to mind 90s indie rock icons (Pavement, Dinosaur Jr., Built To Spill, Pixies), complete with twangy tremolo guitars, wistful melodies and unexpected harmonic turns. The best to come out of Mendoza since Malbec wine.
More: miamigoinvencible.com.ar/noticias.html
Maria Pien
Fresh off the release of her first LP, porteña songstress Maria Pien has already made her mark on B.A.'s vibrant indie folk scene. With La Vuelta Manzana, Pien has crafted a blissful record that sounds at times like afternoon lemonade on a sunny patio; later you're at a rainy bus stop watching the traffic slug by. All the while Pien guides you along with her familiar yet expressive voice, trickling acoustic guitar and delicate arrangements. For fans of Juana Molina, Regina Spektor and PJ Harvey.
More: mariapien.bandcamp.com

La Patrulla Espacial
On first listen it's tempting to write off La Patrulla Espacial as another classic rock wannabee in a city full of classic rock wannabees. Though clearly indebted to some of the same icons (Zeppelin, Sabbath) that have spawned legions of run-of-the-mill rock duro bands, La Patrulla offer a more refined take on the genre. Beneath the standard power chords, bluesy melodies and Fender riffs are subtle nods to Acid Mothers Temple, Spaceman 3, Suicide and Syd Barrett, giving the band a trippy, futuristic edge. They also really kick ass live.
More: sadness.bandcamp.com/album/la-patrulla-espacial

Los Hermanos Mackenzie
The presence of veteran indie producer Juan Stewart (El Robot Bajo el Agua, Jaime Sin Tierra) is clearly felt on Siamés, the debut album of the melodic avant pop collective Los Hermanos Mackenzie. If Amelie were filmed in Argentina, this is probably what the soundtrack would be. I was surprised to learn that no one in the band goes by the last name Mackenzie. For fans of Camera Obscura, CocoRosie.
More: loshermanosmckenzie.bandcamp.com/album/siam-s

Julio y Agosto
If you just saw the lyrics to Julio y Agosto's song "Jorge Luis Enriquez" ("Odio la playa y el sol. Odio la arena y su olor. Odio el color… / I hate the beach and the sun. I hate the sand and its smell. I hate colour"), you'd probably expect some real sad bastard music. However this laid back ensemble transmits nothing but pure joy on their warm, highly melodic self-titled LP. Rich vocal harmonies, swinging muted trombone and solid songwriting come together to form one of the more original-sounding bands on the scene today. For fans of Fleet Foxes, Onda Vaga, Spinetta.
More: julioyagosto.com.ar

Follow Sounds and Colours: Facebook / Twitter / Instagram / Mixcloud / Soundcloud / Bandcamp

Subscribe to the Sounds and Colours Newsletter for regular updates, news and competitions bringing the best of Latin American culture direct to your Inbox.
Share: