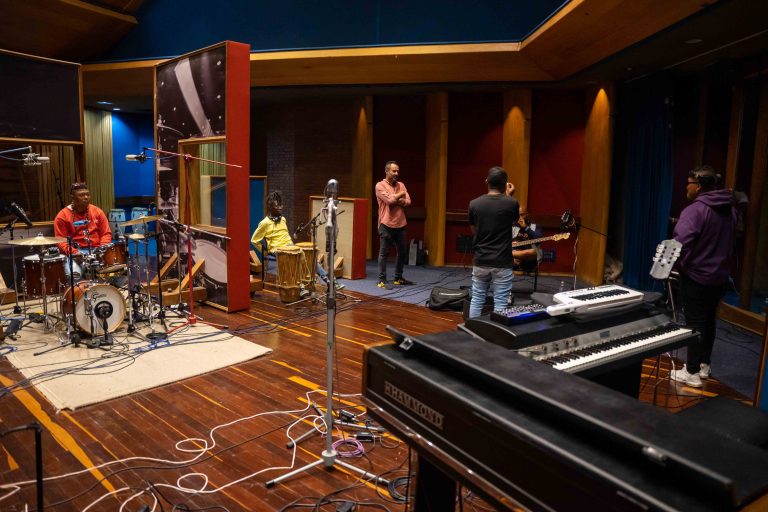 In The Studio With Bejuco
09 June, 2023
It's been just over two years since the release of Bejuco's first album, Batea. Although one of a few bands known for bringing the Pacific-Fusion style to the world, Bejuco were the very first to coin the sound that they have become known for: Afro-Pacifican Beat. A mix of two Black musical cultures from across the Atlantic symbolising the resistance and unity that black music inherently shares, Afro-Pacifican Beat is a modern-day pan-Africanism that Kuti himself would be proud to experience.
Now Bejuco are back in the studio with the Discos Pacifico family to record their much anticipated second album.
I caught up with the bassist, Julio Sánchez, to chat about the new sound Bejuco will be sharing with the world later in the year 2023.
JM: A lot of time has passed since your first album as a band. What have you learned from the previous album?
JS: There has been a lot of learning for us as a band. We wanted to search for more diverse musical genres that could enrich this new album. We were inspired by Afrobeats, just like our first album, but also more exotic sounds like Amapiano from South Africa, and of course, the traditional rhythms of our region; Bunde, Bambuco, Juga and more.
JM: Was there pressure from the first album to sound a certain way or deliver something in a certain way?
JS: We wouldn't call it pressure, but rather more the desire and motivation to find a new sound that would be different from before and from other groups that are playing in the Pacific right now. For this process, the presence of Diego Gómez (Cerrero) and the master Ivan Benavidez were fundamental. They give us the push to explore further what we have named 'Afro-Pacifican Beat.' 
JM: How did you approach songwriting for this album? Did you have a sound in mind that you wanted to create before you even started writing?
JS: That was exactly it. We have a sound in mind before we started creating and writing. Actually, having this sound in mind always facilitates the production process for us. We would start from a general idea, it begins as a theme that we want to develop a story with. Then we move on to the lyrics. In our lyrics, we want to narrate everyday life in the Pacific and pay homage to the value of our beliefs, traditions, practices, and general way of living. This is how we want our culture to be known, both in Colombia and abroad. Once the lyrics come, we will continue to add elements along the way to enrich the music and arrive at the finished song and sound we want.
JM: What's it like being in the studio? Working alongside Diego Gómez and the DP crew?
JS: The process of being in the studio with the whole team was, from the very beginning, extremely welcoming. It's such a pleasure to be in the studio with them and working alongside Diego Gómez is incredibly enriching for us and our career. Not only does he share all of his knowledge, but he is always open to new ideas and ways of working that we have as a band.
JM: Bejuco has performed extensively around Colombia since the release of the first album. Have your live performances changed your songwriting and the way you approached songwriting for this album?
JS: Yes, definitely, and we have learned so much about performing since the first album also. What we transferred to this new album is the way we approach our live shows now, how we carry it out, and what we think the audience will want. We have input our live show energy into the new album and really tried to connect with our audience and listeners on new levels, transmitting the strength of our traditions from the Pacific.
JM: Tell me what's different about this album to the last one? What can we expect for the new album? Will we be seeing the more traditional music of Tumaco?
JS: There will be a lot of traditional musical elements from Tumaco but also a lot of global sounds too. That's our speciality, this special fusion of traditional and modern. We want to keep our roots within our music but integrate into modernity with a mix of genres like Afrobeat etc. People can expect this same style of fusion, but with new surprises along the way, a new sound for Bejuco.
Bejuco hopes that people will be surprised by the evolution of our sound and fall in love with it as we have. We will continue to share our niche and special sound following the release of this new album; Afro-Pacifican Beat. Audiences can expect the strong presence of our ancestral roots and the harmonic and percussive influences of the Nigerian Afrobeat.
JM: What can we expect to see from Bejuco for the rest of 2023?
JS: In addition to the release of the new album, we have a lot of very exciting concerts coming up, not only in Colombia but for the first time we will be touring outside of our country. This will surely put Tumaco and the Colombian Pacific on the map in the global music industry.
Photograph of Bejuco in the studio by Veronica Londoño

Follow Sounds and Colours: Facebook / Twitter / Instagram / Mixcloud / Soundcloud / Bandcamp

Subscribe to the Sounds and Colours Newsletter for regular updates, news and competitions bringing the best of Latin American culture direct to your Inbox.
Share: