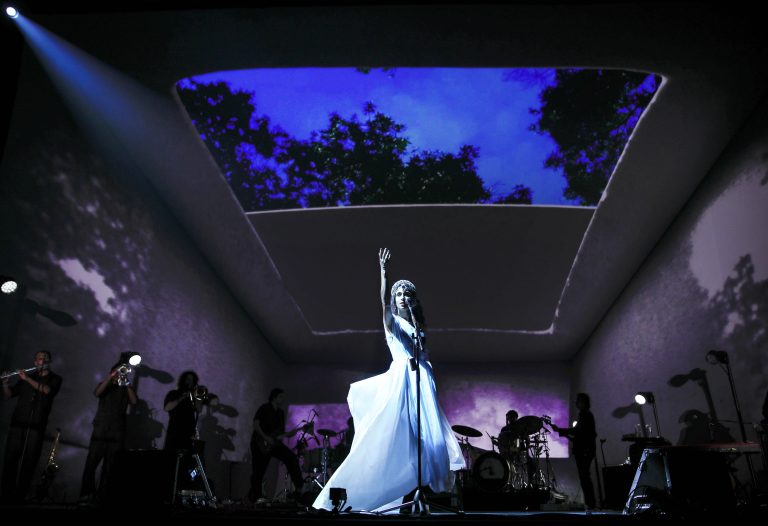 Leo Aversa
I'm A Cicada and An Ant: An Interview with Marisa Monte
19 May, 2022
Marisa Monte is back on the road. She's currently promoting her most recent album, Portas, a collection of songs which felt like a much needed gentle breeze on a sunny day during the hardships of the COVID-19 pandemic. The album was recorded in Brazil and had the participation over Zoom of guest musicians from the U.S., Spain and Portugal. International collaborations aren't a novelty to the four-time Latin Grammy winner, who has worked with the likes of David Byrne, Philip Glass and Ryuichi Sakamoto throughout her career of nearly thirty-five years.
Marisa Monte was very young when word got around of her enormous talent as a singer and "eclectic" musician, influenced by artists from diverse genres and eras, resulting in an aesthetic fusion that was very fresh at the time. She was 21 years old when the concert Veludo Azul (co-created by the legendary Brazilian journalist and music producer Nelson Motta) led to the filming of a TV special in 16mm by film-maker Walter Salles, who would go on to direct cult classics like Central Station (1998) and The Motorcycle Diaries (2004). That concert recording originated her first album, MM, released in 1989 to great success on the back of her smash hit single "Bem Que Se Quis".
By the release of her second album, Mais (1991), Monte had begun to find her voice as a songwriter and to establish her image as an artist, forging important partnerships with producers, musicians and film-makers that would continue throughout her career. MTV Brasil loved her cool-chic flair and graced her with airtime and awards into the 2000s. Her tours, renowned for their amazing stage and sound design, helped Marisa Monte gain the status of one of the biggest Brazilian stars of her time. And she's most certainly still one of them, with a pristine voice and a high calibre of work that has managed to balance strong reviews and popularity over the decades.
Monte hits the road again after a successful 2018 tour with Tribalistas, the trio she formed with long-term creative partners Arnaldo Antunes and Carlinhos Brown, back in 2002. However, these are very different times and putting this series of concerts together was no easy feat. During Carnaval in Brazil, whilst getting ready to open the tour Portas in the U.S. this week, Marisa Monte has given a rare interview to Sounds and Colours. She talked to us by email about her stellar career, her creative process and how she's looking forward "to celebrate life through music" with her fans around the world.
You started with the huge success of the song "Bem Que Se Quis", which was included in the soundtrack of a Brazilian soap opera in 1989. When did you discover yourself as a singer and how did you become a professional?
I have always been transcendentally drawn to all forms of musical expression. Because of this I developed my skills by studying from an early age and practicing a lot. I started when I was young at school with my friends asking me to sing. Today, a large audience is still asking and I keep singing. Everything happened in a natural way, but with a lot of work. I usually say that, at the same time, I'm a cicada and an ant.
Your career has become a benchmark for your artistry but also for your management of your career. What do you attribute this to? Was there an artist, national or international, that inspired you on these two fronts at the beginning of your career?
I attribute this to a personal interest in the forces that we have to deal with in order to be in the world artistically. In addition to music, musicians, instruments and compositions, I tried to understand partnerships and be creative in the way I relate to the industry. I tried to create my own way. There is no right or best way, but there is an adequate way for each one, and I'm always looking for mine.
From 1989 to 2021, from the launch of the album MM to Portas, the way music is consumed has changed a lot. In example, the song "Vento Sardo" with Jorge Drexler was included in Portas after the album had been released. How have these changes informed the making and marketing of your records?
I started my career in the pre-digital era, and I lived through the entire transition over the years, going through different formats until streaming. I try to evolve along with the market and the technology, always learning and trying to adapt to the new formats. Today there are several metrics and a sophisticated data analysis scheme that offers a very clear reference of each movement of the songs' audience. I really like the freedom there is nowadays to think about each release in a unique way, and to be able to experiment with different ways of putting songs in the world.
Your first album was live and all your solo studio albums generated tours. When you conceive an album, do you at the same time already have ideas about how certain songs will fit into the concert and how you would like to perform them? How did you go about this process with the Portas album and tour?
My career was structured in direct relationship with the audience. I consider myself a stage artist, and I have always made of live performances the basis of my relationship with the fans. I toured my first album and it already had a very unique visual concept. When I think of an album, I often already think during its recording about the sonority that later I'm going to reproduce live. It creates a unity between the album and the concert that I find interesting.
Do you prefer the studio or the stage?
They are different means; I like them both. I like the intimacy of the studio and I like the collectiveness of the stage, an audiovisual medium where visual resources can be used to enhance the meaning of the words sung.
With the COVID-19 pandemic, planning a tour seems like a great act of courage, and at the same time a testament to the need for material, and also spiritual, survival. How did the pandemic inform the concept and rehearsal process until the tour Portas finally hit the road? How is the reunion with the audience going since the opening of the tour?
When we started to prepare the tour the pandemic seemed to be giving a truce, but at the height of rehearsals Omicron imposed great challenges for us. We had to implement a strict testing system and health protocol so that we could continue working safely. We had to postpone some shows. But after navigating turbulent waters, we finally reached a safe harbour, in an emotional encounter with the audience after two years [since the pandemic started]. Now we'll continue on the road and I hope that the pandemic stays in the rear view more and more.
Do you have a message for the audience that is looking forward to seeing you perform live?
My team and I prepared a lot and we are very happy to be back doing what we love the most – travelling and meeting fans everywhere to celebrate life through music. I can hardly wait. You are all very welcome!
---
Marisa Monte's Portas tour will be coming to Europe in May following a four-show run at Rio's Jeunesse Arena. Destinations include Italy, Belgium, France, Portugal and Spain, with a show at London's Barbican Centre on June 23rd. Full tour details at marisamonte.com.br.
If you'd like to listen to a selection of songs performed live by Marisa Monte, I've prepared a playlist, Marisa Monte – MM Ao Vivo. You can also listen to the setlist of Marisa Monte's tour Portas.

Follow Sounds and Colours: Facebook / Twitter / Instagram / Mixcloud / Soundcloud / Bandcamp

Subscribe to the Sounds and Colours Newsletter for regular updates, news and competitions bringing the best of Latin American culture direct to your Inbox.
Share: