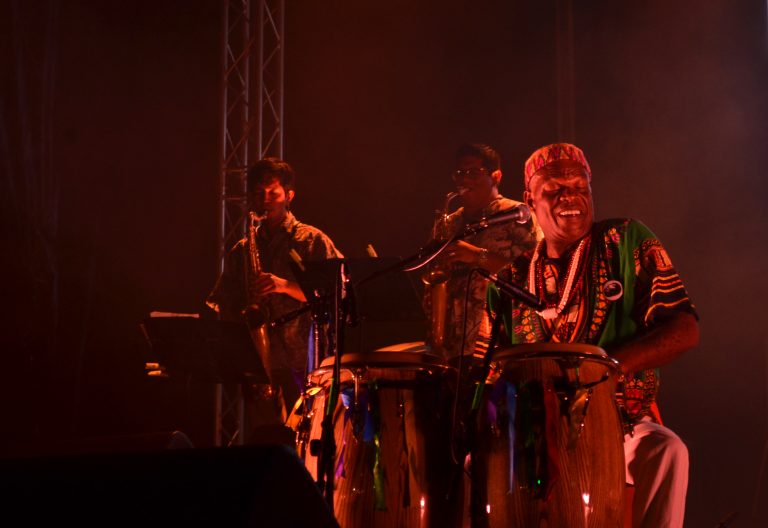 Elisabetta Marcora
Latin America Comes to Portugal at EXIB Musica Ibero-American Showcase
23 December, 2022
Situated in the south-western corner of Europe, Portugal is a perfect meeting point for different cultures, geographically and spiritually placed between Africa, Latin America and Europe, a crossroads for cultural exchange between the continents. In recent years this has manifested itself musically in the capital Lisbon, as diaspora fusions from Brazil, Cabo Verde, Angola and Latin America have taken root and spread towards the mainstream of the city's cultural life.
Over a hot autumn weekend in its neighbouring city, Setúbal, the yearly EXIB Música festival showcase rolls into town with an impressive diversity of artists in tow. Created as an Ibero-American musical showcase, it boasts artists from across Latin America, the Iberian peninsula and their diasporas.
Day one of the festival hosts the likes Aguamadera, Ailá, Amara Quartet, Manuel Maio and Proyecto Chimú in beautiful surroundings including a medieval convent courtyard, neo-classical churches and Setúbal's historic main square, open-air and free to all.
Rosa Sánchez from Costa Rica performs songs on her jarana and percussion, inspired by the great Latin American female singers such as Mercedes Sosa and Chavela Vargas. "My family came from the tradition of playing guitar together on Sundays, but it was a male-only event, the women were never seen with guitars, never seen singing. But since I was young I'd always wanted to play, and when I was 14 I started playing and broke from this tradition of only men playing" she recounts. "I was more a self-taught musician, and at nineteen I badly wanted to go to Brazil to learn music, but it took me four years because Latin America is a big place. On the way we discovered each country's music and people, learning little by little. After four years I got there!"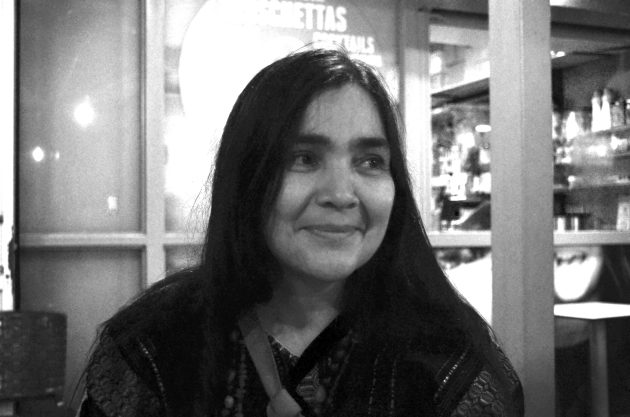 Later in the night Dandara Manoela from Florianopolis, Brazil brings a joyful presence to the stage with her powerful voice and hip-hop influenced MPB, with lyrics that sing stories of women workers at the base of the labour pyramid. Describing her message and inspiration she recounts: "My lyrics talk about social issues. Of all the experiences and interactions that make me who I am. Woman, black, peripheral and lesbian, I make complaints, I speak of blackness, gender, about all forms of love, while believing that art is an instrument of powerful social transformation, in a society which is still oppressive". Speaking about the experience of the festival Dandara recalls: "I felt fulfilled performing here, festivals like EXIB help to break boundaries, promote connections and strengthen careers."
Cimarrones play their full power Afro-Peruvian fusion with heavy rock riffs, bouncing festejo rhythms and blasting sax. Amidst all the energy there's an almost tender moment of solo tap dancing from the zapateo tradition of Peru's Afro-descendent coastal communities. When renowned singer Rosa Guzman joins their performance it takes the energy up a notch further with her soaring vocals.
Dani Flores, guitarist and musical director recounts "Our composition comes from an Afro-Peruvian root, predominantly from the rich tradition of Peru's coast. Our effort has been to reclaim and spread this music further around the world. But it's also been a question to find our own musical voice over 30 years."
Band founder, percussionist, singer and zapateo chinchano tap-dancer Amador 'Chebo' Ballumbrosio recounts, "I grew up in a large family where there weren't instruments because I was from the countryside, but still a lot of musicians came to perform and I soaked up these rhythms that led me to reggae, rock, jazz. I didn't have to stay playing within the boundaries of my roots, I met this group and we felt the need to fly, to evolve musically. This band helped me to sing and perform things that Afro-Peruvian communities might have been afraid to play before. And to be here performing again in Europe we hear the shared language of Hispanic music too."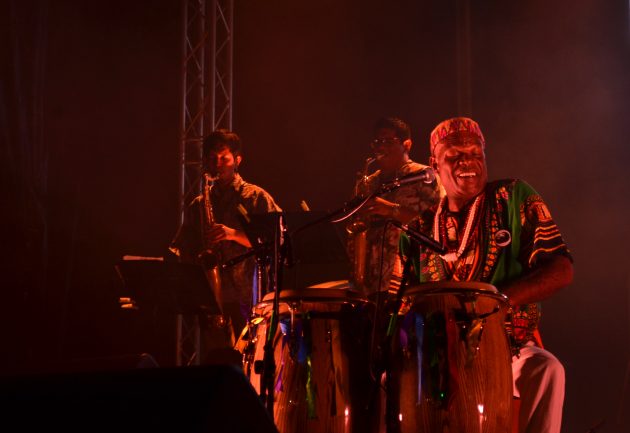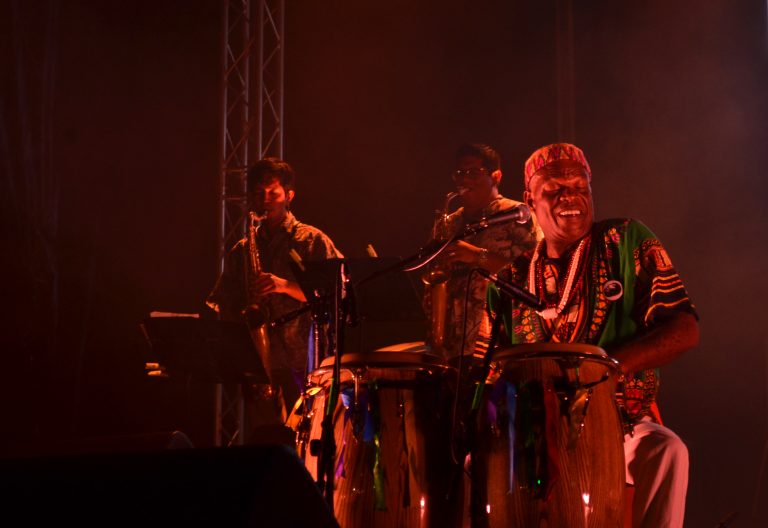 On the final night of concerts Maria Inês Ochoa from Sinaloa, Mexico sings with a deep, poetic tone that gives a unique drama to her bolero, huapanga, banda and ranchera influenced songs in acoustic format, backed by jarana, guitarrón and violin. Born in a musical family from a long heritage of folk song, she gives lyrical voice to social and personal struggles.
Aside from the free concerts the EXIB showcase includes talks, workshops and skill-sharing from professionals working in the industry of global music, helping to create mutual support networks between continents that can sometimes feel distant and disconnected. Ana Sors, part of the organisational team elaborates on the inspirations behind EXIB, "The expo has a clear goal of not only showcasing Ibero American music but also bridging all cultures, showing us that we can work together as a community, sharing our expertise and creativity to achieve a more sustainable music industry."
And so, as friends new and old dance the night away in Setubal's main square on a warm Portuguese night, this annual showcase brings together "people who are geographically far away but close in dreams and desires" as described by Sónia Gaspar of Sons Vadios. Including some of the finest independent artists of Latin America and the Iberian peninsula, the showcase unites a truly unique spectacle of cultural exchange played out in a feast of musical diversity, coming together every year for an energising ritual of connection between continents.

Follow Sounds and Colours: Facebook / Twitter / Instagram / Mixcloud / Soundcloud / Bandcamp

Subscribe to the Sounds and Colours Newsletter for regular updates, news and competitions bringing the best of Latin American culture direct to your Inbox.
Share: