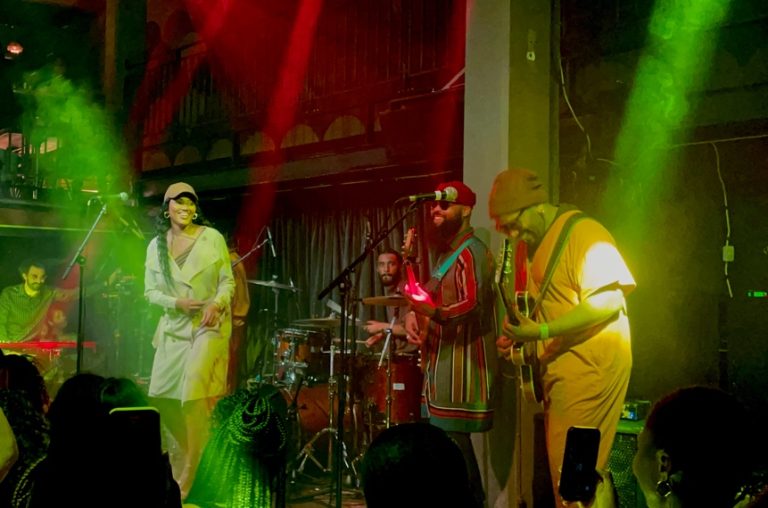 George Newton
Luedji Luna Captivates at London's Jazz Café
06 September, 2022
I have been listening to Luedji Luna's music since the release of her second album, Bom Mesmo É Estar Debaixo D'Água, in 2020 and was thrilled to hear that she would be performing in London. As part of a busy summer of live Latin American music in the UK, I went to experience Luedji's first ever concert in London in August as she kicked off her European tour in style in front of a busy crowd at the Jazz Café in Camden.
Luedji and her band performed songs from Bom Mesmo…, which was recorded with Kenyan producer Kato Change in both São Paulo and Nairobi. On that album she continued the thematic thread of her first, Um Corpo no Mundo, with lyrics that often deat with the lives of Afro-Brazilian women and the difficulties they face, as well as connections to Africa, the empowerment of women and female sexuality. Luedji sings openly and wholeheartedly about topics that are important to her, focussing particularly on social issues and racial divides in Brazil.
Her performance was as mesmerising as I'd hoped; her strong and silky voice paired with the rhythms of the two percussionists and the distinctly Brazilian, jazzy melodies of the bass, rhythm guitar and keyboard captivated the room. Her performance was self-assured, powerful, moving, and all-encompassing, transporting the audience to Brazil. The cosy ambience of the Jazz Café contributed to this sensation; London for a moment seemed far away. The performance was intimate; Luedji interacted with the crowd in both English and Portuguese between songs.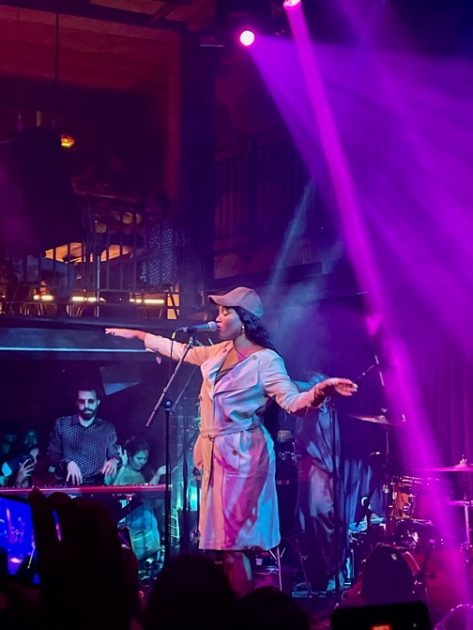 The setlist included favourites such as "Ain't I A Woman?", "Erro", "Recado" and "Ain't Got No" which features a voice recording of Conceição Evaristo, a contemporary Afro-Brazilian writer whose works often deal with the experiences of Afro-Brazilian women.
Some of Luedji's songs, such as "Chororô" and "Ain't I A Woman?", are punctuated by brief pauses in the percussion or in the melody and Luedji's voice, for just a brief moment, becomes a cappella. When performed live, this is particularly powerful, the attention of the whole room hangs on Luedji's words, as she sings her most poignant lyrics.
Her music is difficult to categorise, it doesn't fit into a particular genre. It encompasses elements of jazz, Brazilian folk music, samba, all underlined by a constant of African drumming. Her music is melodic and calming but also inquisitive, critical, and empowering. Luedji and her band's performance was one of the most captivating and impressive I've seen this year; it was a fantastic experience and I look forward to seeing her and her band play live again in the future.
Watch Luedji Luna perform an NPR Tiny Desk concert below:

Follow Sounds and Colours: Facebook / Twitter / Instagram / Mixcloud / Soundcloud / Bandcamp

Subscribe to the Sounds and Colours Newsletter for regular updates, news and competitions bringing the best of Latin American culture direct to your Inbox.
Share: