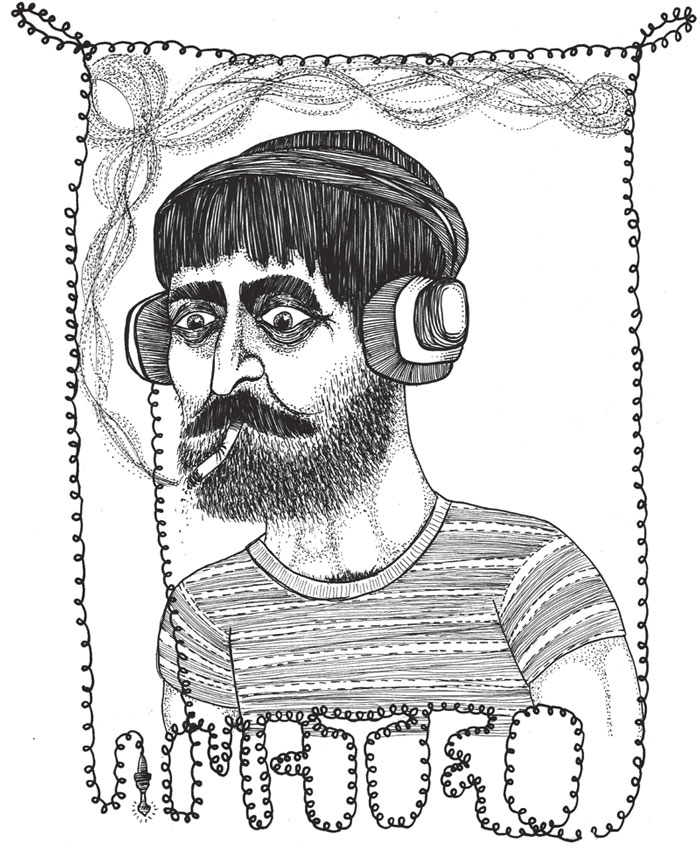 Dave Bevan
Mateo Alone Licks Himself Well
14 July, 2014
I first heard Eduardo Mateo thanks to a bald-headed man on a Vespa in a small Uruguayan town called Tacuarembó. There was really no reason for me to be there, other than the fact I knew that a bald-headed man on a Vespa had a spare couch and I was heading in that direction. It's a town where there ain't much to do, other than bomb around on 2-wheels or shove glossy pastries down your neck-hole. I was itching to head back to Argentina and explore Patagonia so only stayed a couple of nights with Santiago (to give my fleeting companion his name). Mostly we talked about British rock – a serious pastime in Latin America – about the greatness of Jethro Tull (lost on me), Pink Floyd reformations and the enduring popularity of Paul Rodgers (he's treated like a God there). What I really wanted was to find out more about Uruguayan music, but even a music obsessive like Santiago couldn't help. After obligingly talking about another greying rock star that I had hoped to forget about I managed to persuade him to play something homegrown. What followed was a series of earnest guitar-led dirges that sounded as if they had been written for a King, so polite and well-rendered were their every note. Not wanting to rubbish Santiago's choices too much – I had asked to hear music from his country after all – I asked him to put everything good on my mp3 player and I would listen another time.
So it was that two weeks later I made a breakthrough. As my bus edged its way out of Buenos Aires' crowded streets and on its way to the vast expanses of Patagonia, Eduardo Mateo's guitar pushed its way into my eardrums. I swear I listened to that first song of his five times, so whipped up was I in its spell. "Yu-Le-Le" is the opening track on Mateo Solo Bien Se Lame, Mateo's debut album. After counting the song in, Mateo locks into a zig-zagging guitar riff that breaks my own sense of time and rhythm. With each beat it feels as if time is slowing and the music on display (as it really is visceral) widens. Mateo's voice is casual and powerful, as is his way, with a battered hand drum adding a sense of defiant drive.
Mateo grew up in Montevideo where he was surrounded by candombe (the Uruguayan equivalent of samba, initiated by the African slave population and later adopted by the Europeans). He fell in love with bossa nova and The Beatles. His music stems from all of this, but his sense of rhythm and unique delivery – allied to the fact that he doesn't really give a fuck what anyone else thinks about him or his music – make his sound completely unique. Mateo Solo Bien Se Lame is an unmitigated classic. Hearing it for the first time was like discovering Nick Drake or Os Mutantes, a whole musical universe that stems from just one person's soul (as the magic inherent in Os Mutantes really was 100% Arnaldo Baptista's doing). It should have been the start of a beautiful career, but as with so many who lay themselves bare for us to take a peak at, it wasn't to be.
1966 was a great year for Uruguayan music. Bands like Los Shakers and Los Mockers adopted mop-tops and did their best impressions of The Beatles and Rolling Stones, having huge successes in Argentina in the process. It was called "The Uruguayan Invasion", but it only lasted a year. By 1967 the Argentine group Los Gatos scored with "La Balsa", a hard-rocking Spanish-language hit (the first big one) and suddenly all those bad English accents didn't sound so good anymore. This was the year that Mateo formed El Kinto with Ruben Rada (another prominent Uruguayan musician). For reasons that are largely thought to be Mateo's erratic behaviour they never released an album. Listening to the demos and offcuts collection (later released in 1978) it's impossible to imagine this band not being a huge success, their mix of distorted guitars, heavy percussion, bossa nova chords and melancholy lyrics completely fit in with the Sgt Pepper's-obsessed landscape of this time. What's more their meeting of the candombe rhythm with rock band aesthetics gave them a unique identity which would later be referred to as candombe beat and still stands as the finest popular music form endemic to Uruguay.
When Mateo Solo Bien Se Lame came out in 1972 it was a big critical success. The overtly-psychedelic elements of El Kinto were tuned down for a more introspective tale, in which Mateo played everything. It's title, which loosely translates as "Mateo Alone Licks Himself Well", was a play on an old Uruguayan proverb saying that the Ox needs no help from anyone. In fact, Mateo needed a lot of help. He had gone to Argentina with his girlfrield to record, but only wanted to spend time with her or try and score drugs. The producers consistently had to chaperone him from hotel to studio, otherwise he would never turn up. After months of messily and sporadically recording he disappeared back to Uruguay without telling a soul. It took the producers one year to turn the demos and jams into the record which eventually came out.
If there was any chance of Mateo building on the album's reputation it was extinguished in 1973 by a military coup that plunged Uruguay into a dictatorship for 12 years. All the musicians left: Ruben Rada went to Brazil and worked with the likes of Hermeto Pascoal and Airto Moreira; the Fattoruso brothers (of Los Shakers fame) became Latin fusion kings in the US; Diane Denoir, a close friend of Mateo's who had helped popularise his music, went to Venezuela. Mateo stayed put and maintained a completely indifferent approach to playing music, often not showing up for concerts or just playing for a few guys in a bar. His follow-up album finally came in 1976, a collaboration with Jorge Trasante which is estimated to have sold 343 copies when it was released. Even Jaime Roos, who would later compile Mateo's music in the 90s said: "when I listened for the first time to Mateo and Transante it made me laugh, I found it to be so very bad." Mateo had been listening to Eastern and spiritual music and had lowered the tone of his voice, yet listening now it's hard to know exactly what was "so bad" about this album.
If anything it feels like the dictatorship has to take some flack. With all the popular musicians gone from the country, a new regime of canto popular (popular song) was brought in, an attempt by the Government to establish a partisan form of music, full of praise and poetry that never crossed the line. There would be no more amplification. Mateo's music fits the bill in this regard but I can only imagine how much his music stuck out on the radio stations of the day. Just take "Y Hoy Te Vi". There's little doubt that it's got a beautiful melody, but Mateo sounds drunk, slurring his words, smothering the wall of chiming guitars in the background. It was not what the people wanted to hear.
In 1977 Mateo travelled to Brazil but couldn't find any work. He returned to Uruguay to find that his parents had sold their house and he had nowhere to stay. Ostensibly, from that moment, he became homeless for the rest of his life, spending time on friend's couches, along with brief spells in prison and a fair amount of time on the street. This seems to be how many people remember him. I had managed to score a job in Montevideo in 2010 and spent two months there. Whenever I got the chance to speak to anyone who knew anything about music I would ask them about Mateo. The older musicians would always talk about him being a "bum" – this was the image that prevailed. Many critics went further. The Magic Land book on Argentine and Uruguayan music has one small mention of Mateo, describing him matter-of-factly as "exaggeratedly deified because he went mad and later died." Even the press releases for recent reissues describe him as an "acid casualty". It all seems unfair as right up to his death in 1990 he could still play, was still writing songs and releasing even more music than he had in his heyday. He dedicated his life to music but his nature was too whimsical to make any money from it. Countless accounts of his time on the streets depict him as being content, completely lacking in self-pity. So many times these stories of maverick musicians lost along the way contain a backbone of bitterness but this wasn't the case with Mateo.
Often his songs are like chains of thoughts, candid accounts of a single moment or feeling. Just like thoughts, they can break at any minute, and often did (his recorded output is full of wrong notes, restarts and mis-steps). It's this hyper-personal approach, this feeling of closeness – Mateo's music often takes over all of my senses – that has meant I've taken so long to write about him. I first started writing about music from South America in 2010 and Mateo was top of my list, especially as there is next-to-nothing written about him in English. Yet my thoughts about Mateo's music are as personal as the music itself and so I skirted the issue. Even now, I use a potted history of Mateo and his place in Uruguayan music history to add some breathing space, to give myself a break from what I don't really want to talk about. Context is good but all that really matters is the music.
It's music that – possibly the same as my thoughts about it – was never meant to be recorded. Mateo was happiest when it was just swimming around his head, when he was able to share ideas or feelings in the company of friends. Selfishly, of course, I'm glad his music was recorded. And there's a growing list of others who feel the same. Mateo Solo Bien Se Lame was reissued on vinyl in 2013 by a label called Lion Productions in Illinois (who are also reissuing everything else decent on Uruguay's Sondor label). Devendra Banhart has expressed his love quite vociferously, as has Helado Negro. The latter covered "La La", one of my favourites and a captured moment that many would struggle to elicit. It's sparse sparse lyrics simply translate as "Hello Lalá / How are you? / Do you know Lalá? / I love you". It's a moment that keeps reverberating in my head. Mateo alone licks himself very well.
This article originally appeared in The Music Exchange (March 2014), a free newspaper published by an independent record shop in Nottingham, UK. You can read the full newspaper here.

Follow Sounds and Colours: Facebook / Twitter / Instagram / Mixcloud / Soundcloud / Bandcamp

Subscribe to the Sounds and Colours Newsletter for regular updates, news and competitions bringing the best of Latin American culture direct to your Inbox.
Share: