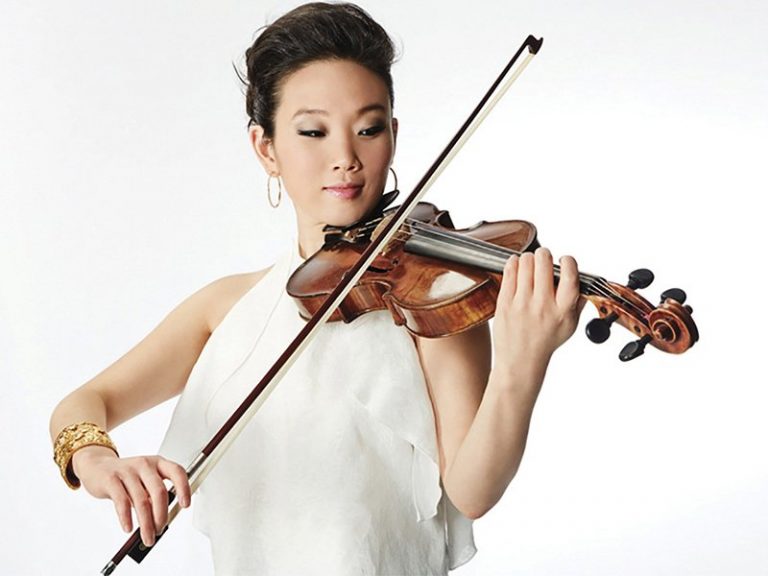 Maureen Choi and Her Quartet: The Violinist's Journey to Latin Jazz
07 September, 2017
Though still a young woman, Maureen Choi has been on a long musical career path, taking several twists and turns along the way, and stopping to reconnoitre at various outposts before moving on. The daughter of Korean immigrants to the US, Maureen was raised mostly in Ann Arbor, Michigan, with brief spells spent in Florida and Korea. Her family is notably musical. Maureen's mother is one of very few Korean women trained in opera, having studied voice in Vienna; her father, a classically trained guitarist, is most smitten by the Spanish classical repertoire.
At an early age, Maureen began her own training, in classical violin, piano and dance. Upon entering her teens, she decided she must choose amongst her callings in order to achieve mastery. Violin was that choice, and she studied her way to a master's program in classical violin at the University of Minnesota, in 2007.
Despite her plan to find security as a classical violinist, remaining in the classical realm was becoming problematic. As she was drawn to jazz, improvisation opened up whole new realms of discipline and creation, playing and breathing to her.
http://www.youtube.com/watch?v=DV1jLhhA8R8
Maureen added another dynamic to her musical explorations, as her still dancing feet were captured by salsa. Frequenting the Latin clubs fed into her growing curiosity about the rhythms that impelled her to move. Now with her potpourri of passions and training, she began to forge a niche all her own as a lead female acoustic violinist playing what she reluctantly pockets as Latin jazz. Her early plan of a career in classical music still lingered.
And then catastrophe struck. Maureen was nearly killed in an automobile accident. "After you have this near death experience," she recalls, "you realize that the only thing that matters is you, what you love, and what you want to make out of your life."
Surviving clarified the road ahead. "Little by little, my ear just kept tugging at me," Maureen confesses, "and my heart.. said, why don't you just try it and go for it?" Her choice would mean leaving the world of "perfection" for one of self-expression. Maureen applied to the Berklee College of Music in Boston, which specialises in jazz and Latin music studies, and was accepted on scholarship to their Artist Diploma program in 2009.
Today, her fully-conceived niche is unique, framed by her classical and jazz chops and embracing multiple influences from the Hispanic world, including flamenco, Spanish folk, the panoply of Cuban forms, African and European, and sazones of Latin sound from the Bolivarian countries and Argentina.
The release of Ida y Vuelta (Barco Records, 2015), patents her sound with tunes ranging from Rimsky Korsakov's "Capriccio Espagnol" to Violeta Parra's "Gracias a la Vida", and her own compositions. The dynamics of Maureen's music are striking. Intensity, volume, speed and key all change, sometimes without missing a beat, so to speak, other times after a silent sigh. The broad dynamics seem to revisit and elaborate her symphonic dreams while conjuring modern masters of emotive sound. Astor Piazzolla immediately comes to mind.
The all-acoustic quartet of violin, bass, piano and drum set includes bassist Mario Carrillo, Maureen's husband and collaborator. "He literally makes everything I do better," she reveals. "I give him the raw stuff, and he can tell me if it works and if it's in line with what I was trying to write." In her readiness to share even more of the creative process, her work then moves on for final touches to drummer, Michael Olivera, and pianist, Daniel Garcia Diego.
"Ida y Vuelta", the tune, is a romp, visiting danzón, son, modern classical strains and it's splashed with the energy of the palmas of flamenco. In the especially fetching pas de deux between piano and violin are reminiscences of Maureen's most revered musical icon, Bebo Valdez.
By contrast, "Alfonsina y el Mar", a duet, is duly subdued. It projects the poignancy of the song immortalised by Mercedes Sosa, a eulogy to Argentine poet, Alfonsina Storni, who leapt to her death in Buenos Aires' Rio Plata, in 1938. Intensifying the effect is the pairing of the grieving strains of Maureen's violin with Mario Carrillo's constant bass, echoing that grief while grounding the griever.
"Negra Presuntuosa" plays with spells of high intensity, as it runs through with the pride of the black Peruvian women that Susana Baca portrays in her signature song. The arrangement stretches from lament to admonishment, while allowing Maureen's violin to show the negra presuntuosa's cheekiness.
With a summer US tour now over, Maureen is thinking of her next CD. She's feeling the increasing influence of Spain in her music, living now in Madrid, and teaching Latin technique and other classes at the Berklee College Extension in Valencia. She will head towards Colombia this holiday season (2017-2018) to satisfy a nagging itch to scratch below the surface of the multicoloured palette of Colombia's musical traditions.
As Maureen explains, Ida y Vuelta does not signify a completed journey, but a non-ending loop of travel and discovery.

Follow Sounds and Colours: Facebook / Twitter / Instagram / Mixcloud / Soundcloud / Bandcamp

Subscribe to the Sounds and Colours Newsletter for regular updates, news and competitions bringing the best of Latin American culture direct to your Inbox.
Share: