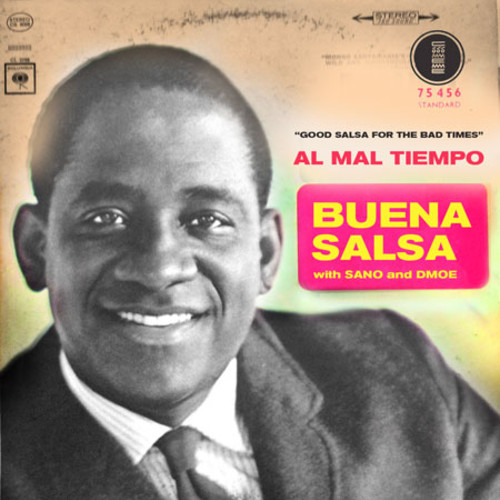 Al Mal Tiempo, Buena Salsa Mixtape
18 November, 2013
I have a love/hate relationship with salsa. The hate stems mainly from the fact that I don't understand it. During my time in Colombia I went to countless salsa clubs where the beat would hit and everyone's hips would start jiving, expect my own – a hip paralysis caused by too many youthful years focusing on the arm-centric shouty form of dancefloor action that is most common in the North of England. But every now and again, I hear something on a salsa tip that completely blows me away. In the last few years the main examples have been Orquesta El Macabeo, Bio Ritmo and La Mecánica Popular, all of which have various shades of salsa influences, as well as the film, Our Latin Thing, which really opened my eyes to the sheer thrill of the Fania Records roster in their 70s New York heyday. Well, now I have one more to add to the list.
Al Mal Tiempo, Buena Salsa is a new mixtape by Sano and DMOE, collecting together psychedelic, heavy and funky-as-hell samba from some of the greats, including many of the Fania names (Willie Colón, Joe Bataan, The Lebron Brothers), lots of rarities (The Harvey Averne Dozen, Ray & His Court, Yambú), new tunes (Brownout), Cuba's finest (Irakere) and a few crossover stars too (Santana, Mongo Santamaría).
Here's the introduction to the mix, which is coming from the great guys at Cómeme:
Al mal tiempo, buena salsa. Good Salsa for the bad times.

The finest selection of the true sound of salsa. Recorded in Medellín, Colombia and straight from the barrio by Dmoe aka. the Diggin Crates and Sano. Be sure to wear your dancing shoes, have a glass full of rum, ice and your sweet smoke on hand because this is hot.

Dmoe is the most respected turntablist of Medellín and owns a collection of thousands of salsa records. Sano is a Cómeme regular, vinyl collector and salsa-maniac.
[soundcloud url="https://api.soundcloud.com/tracks/120668807″ width="100%" height="166″ iframe="true" /]
Here's the tracklist:
01. Willie Colón – I feel Campesino
02. Mongo Santamaría – What You Don't Know
03. Yambú – Hippopotamus
04. Jimmy Sabater – Yroco
05. Irakere – Bacalao Con Pan
06. Alfredo Chocolate Armenteros – Hot Chocolate
07. Chakachas – Un Rayo Del Sol
08. Ray & His Court – Soul Freedom
09. Santana – Jungle Strout
10. El Chicano – Juntos
11. The Harvey Averne Dozen – The Word
12. Machito – Hip Hug Her
13. Joe Bataan – Latin Strout
14. The Lebron Brothers – Dance, Dance
15. Willie Bobo – La Descarga Del Bobo
16. Malo – A la escuela
17. Brownout – Homenaje
Check out Radio Cómeme for lots more great mixes.

Follow Sounds and Colours: Facebook / Twitter / Instagram / Mixcloud / Soundcloud / Bandcamp

Subscribe to the Sounds and Colours Newsletter for regular updates, news and competitions bringing the best of Latin American culture direct to your Inbox.
Share: