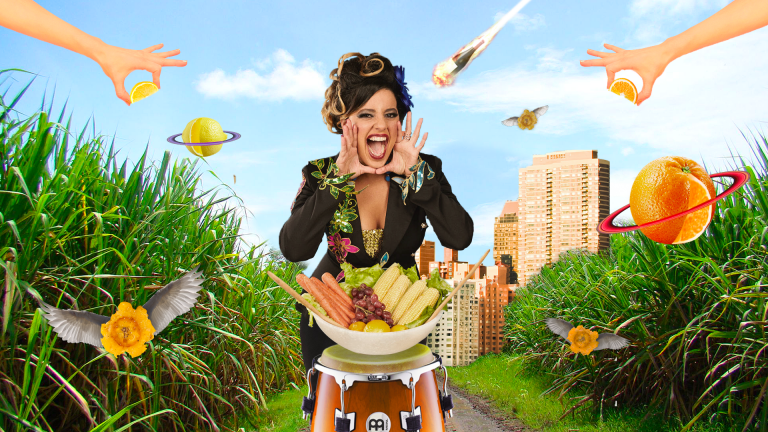 Musaraña Introduce New 'Despojo' Genre with Debut Single 'Munchie Sexual'
23 July, 2020
Musaraña is a new venture from energetic performer, singer and songwriter, María Laboy and multi-instrumentalist and producer, Andres Rigau, designed to interrupt our everyday mental chatter and offer upbeat modern entertainment to help us let go. Despojo, the duo's suggestion of a new Latinx music genre, embodies the stripping away of worries, and of clothes, in a liberating and sexual celebration.
The sound is frenetic and diverse, layering genres like salsa, perico ripiao, reggaeton, bomba, plena and merengue with psychedelic electronic and futuristic arrangements. The lyrics capture a Latinx millennial sense of powerlessness and takes concerns with patriarchy and inequality and puts a hedonistic, surreal spin on them.
The artwork daringly reflects this. Working with Remezcla collaborators Anómalo Estudio, Musaraña have created an aesthetic bursting with life's colourful and random ideas: there are flying fried plantains, or "tostones con alas" as Laboy affectionately puts it, red wine comets, orange fruit planets, tambores with butterfly wings, nipples in a fruit bowl and a penises casually snuck in next to corn and bananas. The duo's vibrant concept couldn't be much further from the image of a timid shrew – the literal translation of musaraña, which in Puerto Rican slang instead relates to random thoughts or a wandering mind.
Hailing from San Juan, Puerto Rico, Laboy trained as a performer alongside the iconic Cepeda Family of Santurce, ambassadors of Afro-Puerto Rican music and culture. In New York she began to imitate the diva Iris Chacón, and has gone on to perform in front of audiences from El Barrio in New York, to the Latin Grammys in Las Vegas.
Laboy maintains that since Celia Cruz, Iris Chacón and La Lupe, the United States hasn't seen a modern day sonera – those son performers known for their charisma, vocal improvisation and playful rhythmic ad-libs. Soneras have now been replaced by pop stars, trap queens and reggaetoneras. Laboy's response to this void resonates with danceable, futuristic rumba-esque Latinx music for the empowered millennial generation.
"When you look around, our generation is facing some of the scariest financial, political, humanitarian and environmental threats of any generation. I wanted a sound that made people not only dance but helped people release suffering and all that weighed them, that emboldened them in joy. I want Despojo to feel like this utter sensual and soul release. That feeling you get after you've had true connected sex. That's the feeling I want to capture with my music," Laboy claims.
"The songs deconstruct traditional Latin music forms, structures and sounds, breaking standard rules of composition and musical arrangements", the album's producer and composer Andres Rigau explains. "As I'm classically trained and formed, it has been quite an adventure to break the rules, push the envelope of what our brain and ears process." Rigau, who joined OneBeat's international writing camp in 2018 as LADAMA, Diana Burco and Andrés Pinzón of Herencia de Timbiquí have done in recent years, specialises in strings and caribbean sounds. The Musaraña project pushes him to break with formal training in order to move audiences in a different way.
You can listen to Munchie Sexual, the first trip of a tune off the self-titled album Musaraña on major streaming platforms. The album, which features track titles like "Diamante", "Invento" and "Despojo", is set to be released this year.

Follow Sounds and Colours: Facebook / Twitter / Instagram / Mixcloud / Soundcloud / Bandcamp

Subscribe to the Sounds and Colours Newsletter for regular updates, news and competitions bringing the best of Latin American culture direct to your Inbox.
Share: