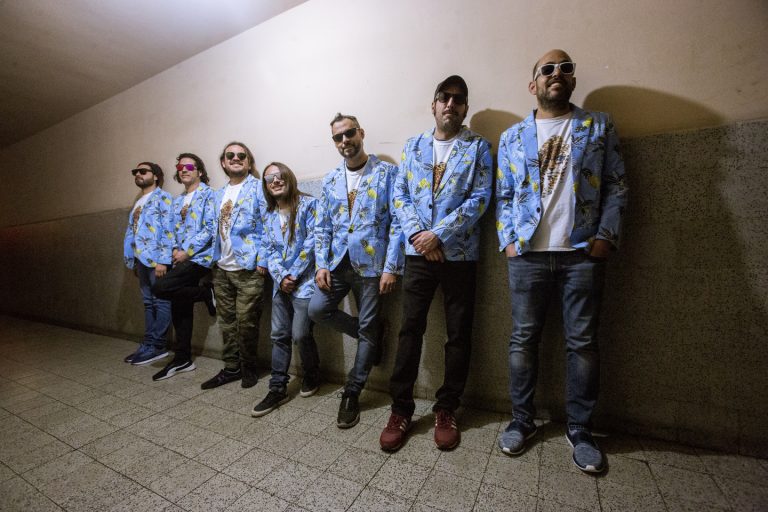 New Release Round-Up (Nicola Cruz, Mabiland, Francisca Valenzuela…)
31 January, 2020
One month in to 2020 and we're already bombarded by new music. Here are some of the albums from the past few weeks that have really made us sit up and take notice.
Kiko Dinucci – Rastilho
Brazil's Kiko Dinucci (one third of Metá-Metá and a collaborator in umpteen projects) has released a follow-up to 2017's Cortes Curtos and, as is his style, it is marked by a newly-formed musical universe. On Rastilho the acoustic guitar is king, with a style reminiscent of Baden Powell's 60s and 70s work, as well as (according to Dinucci's statement on the album) periods he spent in the punk/hardcore scene of São Paulo in the 90s and his more recent immersion in Afro-Brazilian spirituality. Vocals on the album are provided by Ava Rocha, Ogi, Juçara Marçal and Dinucci himself, though it's the guitar which so often steals the show.
DJ Rata Piano – El Rey de los Guarapos Champetuos
Palenque Records have already unleashed two records this year, the latest instalment in their Faraon Bantu soundsystem series, a collection of tracks primed for bass-heavy dance floors worldwide and which features the likes of The Busy Twist and Gualajo, and this gem from DJ Rata Piano. This one really takes us to the Caribbean coast of Colombia, a raw slice of champeta from a picó master.
Salón Dadá / Col Corazón – Lo Que No Existe, Existe: Registros de Una Saga Post Punk en el Perú (1986​-​1990)
From Buh Records, fine chroniclers of the Peruvian underground, comes a collection of tracks recorded by two bands, Salón Dadá and Col Corazón, in the late 80s. It proves a fine document of some of the hardcore music happening in Lima at that time. The sound quality may not be great, but it's impossible to ignore the energy and the restless musical spirit.
Francisca Valenzuela – La Fortaleza
After six years, Chilean singer/songwriter Francisca Valenzuela has returned with a new album. It's an emotional affair, with pop songs touching on various moments of her life, as well as a track ("Al Final del Mundo") in which she ruminates on the future of Chile (a prescient topic considering the recent protests).
Agrupación Cariño – Paraíso Fiscal – Lado B
Mexican collective Agrupación Cariño have released the Side B to their Paraíso Fiscal album, and it finds them in a serious party mood, leaving behind the bolero and slow songs of Lado A for some party-ready cumbia, electro pop and norteño fusions. It's hard to think of too many groups mixing Latin rhythms, rock and electronic flavours in this way, and having a great time doing it.
Nicola Cruz / Pigmalião – ILPI003
Two important names from Latin America's electronic music scene have combined for a split 12″ on the newly-formed I Lost My Poncho In Istanbul imprint. Their contributions are some of their heaviest beats to date, primed for the dance floor, with both producers opting for a deeper, techno sound. Incredible stuff.
Mabiland – Neo Soul
We've been closely following the career of Colombia's Mabiland since she hit the scene as a singer/rapper flirting between chronicling tales of displacement in Medellín and baring her soul on tough-edged R&B. It's the latter of these styles that takes the fill of proceedings on her new EP, appropriately titled Neo Soul.
Sol Vibrations: Latin Dance Movements
It has to say we've been pleasantly surprised by this compilation of Latin dance grooves which dropped on Staubgold (a label normally associated with the more experimental side of life) recently. This one has been compiled by Jeff The Fish, a DJ who clearly has test-drived these songs during many unruly evenings, each track offering the feet plenty to think about.
Kumbia Obscura Vol. 1
I have to be honest, I don't know much about Kumbia Obscura. I believe they're from Mexico, and the only other thing I know is that this is some of the heaviest cumbia out there. Seriously, this is deep.
Léve Léve Sao Tomé & Principe Sounds 70s​-​80s
The little known sounds of two African islands off the coast of Gabon are featured on this brand new compilation from Les Disques Bongo Joe. Okay, so this isn't strictly Latin American music, but there feels a kinship here with the sounds of Angola and Cape Verde, and hence some kind of shared musical DNA with Brazil. Anyway, I think it's great. Give it a listen.
Algo Más
And to finish things off here's a brand new remix and video we've been loving.
Devendra Banhart – Love Song (Helado Negro Remix)
We're smitten with this remix by Helado Negro of a tune off the new Devandra Banhart album. Helado somehow manages to eke out even more soul from this one than we though was possible.
Las Kellies – Closer
It's great to have Las Kellies and their spiky indie-pop grooves back in the ring. Here's the first taster from the Argentine trio's upcoming album, Suck This Tangerine. Come on!

Follow Sounds and Colours: Facebook / Twitter / Instagram / Mixcloud / Soundcloud / Bandcamp

Subscribe to the Sounds and Colours Newsletter for regular updates, news and competitions bringing the best of Latin American culture direct to your Inbox.
Share: