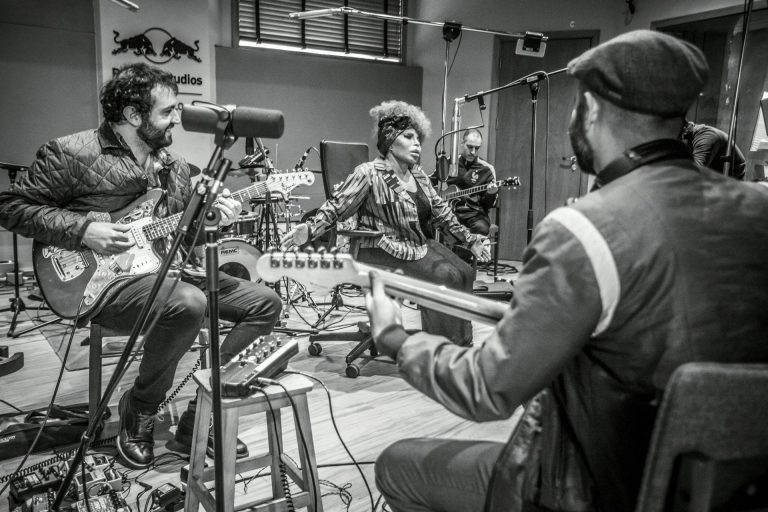 Red Bull Studios
Meet The Maverick Musicians Behind Elza Soares' 'The Woman at the End of the World'
21 December, 2016
dElza Soares' most recent album The Woman at the End of the World (A Mulher do Fim do Mundo) has undoubtedly been one of our favourite albums of the past couple of years (and has been one of the Albums of the Year for many top publications since its international release this year).
Arriving more than 10 years after Soares' last studio album, it re-established her as an artist of extreme relevance. Her voice, remarkably still so strong for someone in their mid-80s, proved to be the perfect conduit through which to tell these distorted sambas, tales of violence, repression, sex, feminism and resilience. With Brazil's political landscape trembling from one controversy to another, this album has represented the voice of the people, the proletariat who refuses to be silenced.
Key to the success of the album was the team of songwriters and musicians behind the release. Though Soares' early samba releases are synonymous with Rio de Janeiro, it was with a group from São Paulo that she teamed up with here for perhaps the strongest release of her entire career. Led by producer Guilherme Kastrup, this group includes a collective of musicians who have begun to call themselves Clube da Encruza (Crossroads Club) owing to the amount of times they work on each other's records. Recently the international press have started calling their sound 'samba sujo' (dirty samba), a way of getting across that they don't play your average samba, probably something closer to post-modernist samba (if you wanted to be smart about it). It's a style of samba firmly rooted in the contemporary climate of São Paulo and life in that urban megalopolis. Influences like post-punk, free jazz and African-inspired melodies and structures have crept into their work, while themes of isolation, migration and spirituality have become lyrical touchstones.
This article hopes to shed some light on a group of Brazilian musicians who have been responsible for an astonishing number of essential albums since their paths began to cross in 2010, yet have not always received the credit they deserve.
Guilherme Kastrup
As it was Guilherme's idea to make Elza's album it seems only fair that I start with him. In fact his original idea was to make an album of samba covers in a different way, but then soon came up with the idea of Elza recording tracks especially written for the album, a pertinent idea as she had remarkably never done an album of originals before. Prior to producing A Mulher, Kastrup produced albums for São Paulo-based artists such as Celso Sim, Zeca Baleiro, Márcia Castro, Bruno Morais and Cacá Machado. In 2013 he released Kastrupismo, his only solo album to date. It's a dense album of mainly instrumental music that explores different textures and rhythms with a heavy percussive approach. Here's a favourite from the album:
Celso Sim
Celso was one of the artistic directors on A Mulher, and is an accomplished singer and songwriter in his own right, having been active in the São Paulo music scene since the early 90s. Celso, as well as Zé Miguel Wisnik, laid the framework for working with Elza after putting on the live show Zé&Celso+Elza, Canções da Antropofagia, which featured the three artists performing music written by or inspired by Oswald de Andrade. His latest album is Tremor Essencial, a release with perhaps the most 'rock' (as opposed to punk) attitude of those mentioned in this article. To my ears, the closest comparisons would be the recent albums by Caetano Veloso and his Banda Cê, or even the post-tropicália exploits of Do Amor or Graveola.
Romulo Fróes
Fróes is at the heart of the Clube da Encruza group. He is a prolific singer and songwriter, having released nine albums and EPs since 2001, as well as being one of the four main contributors to Passo Torto, a supergroup featuring Fróes, Kiko Dinucci, Rodrigo Campos and Marcelo Cabral. Featuring just vocals, guitar and bass Passo Torto offer a stark document of everyday life in São Paulo, eliciting the dramas, frustrations and hopes in often beautiful ways, even when the guitars and vocals are crackling with angst. Fróes' latest album is called Por elas. Sem elas and features his version of the title track from Elza's album, "A Mulher do Fim Do Mundo", which was written especially for Elza by himself and Alice Coutinho. "I wanted to write a kind of samba-enredo where in some way we could describe and make a homage to Elza's life", says Romulo.
Kiko Dinucci
A signature of any Clube da Encruza production is the guitar work of Kiko Dinucci. Starting off by playing in punk and hardcore bands at the beginning of the 90s, Dinucci later heard a recording by Nelson Cavaquinho and feeling that the samba of Cavaquinho was more transgressive than the rock he was playing, he began a new musical path. Along the way he would become a devotee of candomblé, offering a spirituality to his work as well as a close relationship with Afro-Brazilian culture. It's his particular restless yet precise guitar sound that, more than anything, has ensured the group's work is often described as 'punk' (whether it's punk-samba, afro-punk or however). As well as being one of the main members of Metá-Metá (along with Thiago França and Juçara Marçal) and Passo Torto, he has provided guitars, vocals and/or songs to albums by Criolo and Alessandra Leão, amongst many others.
Here is a track taken from Metá-Metá's second album, MetaL MetaL, a song originally written by Dinucci and Douglas Germano, and which features Dinucci's vocals:
Rodrigo Campos
Often, through his warm, rhythmic style of playing guitar/cavaquinho and similar way of singing, Campos adds a softer counterpoint to the abrasiveness of some of the other's members outputs, as shown by his work in Passo Torto or the guitar-work which is all over A Mulher. However, this shouldn't hide his gift for writing incredibly progressive arrangements and conceptualised lyrics that stand-out from the pack. On his three highly-recommended solo albums he has focused on a different geographical location, visiting São Mateus, a neighbourhood of São Paulo, for his first, then Bahia on his second before heading to Japan for his latest, Conversas Com Toshiro. On the album, Campos has created an imagined version of Japan based on his own experiences of Japanese cinema and, no doubt, encounters with Japanese culture in São Paulo, for an album that says a lot about the cosmopolitan nature of his city and shows how so many themes of everyday life can be transnational.
Douglas Germano
Writer of the incredible "Maria da Vila Matilde", a song based on his own experiences of seeing his mother being violently abused when he was just a child, Germano is a frequent collaborator with Kiko Dinucci. He has just released his latest album Golpe da Vista, a collection of astonishing battle-hardy punk-sambas. Armed with just his guitar and his unusual percussion instrument of choice (a box of matchsticks), Germano creates direct sambas, with a hint of Baden Powell in the guitar work, but with lyrics and vocals that bare all, seemingly summed up from his soul.
Cacá Machado
Primarily a music researcher, academic and author, having published biographies of Tom Jobim and Ernesto Nazareth, Machado released his extraordinarily-good debut album eslavosamba in 2013. The album features Kastrup as musical director, Romulo Fróes as chief engineer and co-artistic director, and many others from Clube da Encruza (Romulo Fróes, Kiko Dinucci, Rodrigo Campos, Juçara Marçal, Celso Sim) as well as a couple of important names (Arrigo Barnabé and Ná Ozzetti) from the vanguarda paulistana, a movement that emerged at the tail-end of the 70s and can be seen as a precursor to the current scene, especially in the way they created an urban sonic space for uniting ideas of the avant-garde with pop and folk music references.
Most importantly its opening track, "Sim", features the vocals of Elza and was the catalyst for A Mulher, marking the first time many of the musicians worked together.
Marcelo Cabral
One of the unsung heroes of the Clube da Encruza group is bass player Marcelo Cabral, who has been involved in many projects involving these musicians, from being a member of Passo Torto, the extended Metá-Metá group, MarginalS (with Thiago França) and playing on albums by Rodrigo Campos and many of the others in the scene. If you wanted to look for the glue that keeps the scene together then perhaps Cabral is the one. He is also the tie with the hip-hop scene in São Paulo, having been the co-producer on recent albums by Criolo and Sombra. Here is "Rap do Brasil" by Sombra, featuring one of my favourite Cabral bass lines (NB: Cabral also arranged this song and provided the synth and some effects).
Bixiga 70
The horns on A Mulher were provided by members of Bixiga 70, a 10-piece afro-Brazilian group from the Bixiga neighbourhood. They've released three albums to date and have become a staple of the international touring circuit, having played at many worldwide festivals over the past few years. Though initially inspired by their encounters with afrobeat and bands heavily influenced by the style (i.e. Antibalas) they have increasingly managed to distinguish their own sound with influences from other areas of Africa, of funk, disco, samba and of various Afro-Brazilian and spiritual music, to create a unique yet thrilling sound.
Other Members
In addition, to all those listed above, there are many more artists I should mention. Clima co-wrote songs for A Mulher and his album Monumento Ao Soldado Desconhecido is well worth investigating. José Miguel Wisnik was also involved with the album, and has been a frequent collaborator with Elza Soares and an important São Paulo artist for a number of years.
I've also omitted two hugely important names from the Clube da Encruza scene which are saxophonist (and occasional flute player) Thiago França and singer Juçara Marçal. As they only had limited input on the Elza Soares album I haven't included them in this article. However, Juçara's recent solo album Encarnado and the countless releases by França, including the works of Sambanzo and A Espetacular Charanga do França, are well worth having a listen to. It should also be noted too, that as members of Metá-Metá and frequent collaborators with all the other artists mentioned, you will no doubt hear their talents if listening to the works of all those artists mentioned above.

Follow Sounds and Colours: Facebook / Twitter / Instagram / Mixcloud / Soundcloud / Bandcamp

Subscribe to the Sounds and Colours Newsletter for regular updates, news and competitions bringing the best of Latin American culture direct to your Inbox.
Share: