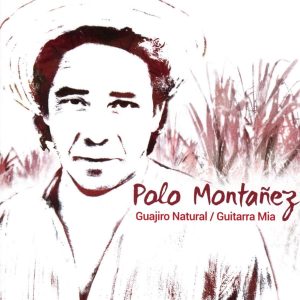 Review
Polo Montañez – Guajiro Natural / Guitarra Mia
The music of Polo Montañez is back in circulation after almost 15 years, thanks to LusAfrica's reissue of his two recordings, Guajiro Natural (2000) and Guitarra Mia (2002). The albums represent the brief but memorable archive of an artist stolen by tragedy from his passion and from burgeoning renown. (LusAfrica was able to cobble together a memorial album after his death, Memoria, culling some pieces from the aforementioned albums, and other material, with understandably uneven results.)
Born in 1955, Montañez was a scrapper from the province of Pinar del Río in the luscious hills of western Cuba; he chopped wood, drove a tractor, herded cows, made charcoal, worked at anything to sustain himself, but from the age of seven until the instance of his death, he made music by churning up his inner depths, sharing his vulnerability with all, affecting all, even illuminating some.
The quotidian, his love of countryside and of country, as well as his love of being in love and of womanhood, were expressed in the over 70 songs he wrote under the rubric of Cuba's native genres, embroidering the lyricism of trova, loosely derived from the European troubadours, while riffing on the country charm of African-inflected son; both forms dovetail into easy love songs, mostly, performed by small itinerant groups. He recorded and released his albums using long-standing players with a judicious number of guest musicians for a bit more punch.
From the age of 18 Polo composed, all in his head and wherever he might find himself. His oeuvre was distilled into these two releases after his fame had been ignited in 1999, before being extinguished on beloved hills when his car crashed into a truck on the way home from a gig in Havana on the night of 20 November, 2002.
Polo was the iconic guajiro—born Fernando Borrego Linares, he renamed himself for the mountains he so much loved—the poster boy for a humble countryman's life that's sanctified by the masterwork of Nature that surrounds him. He found his expression and genius in music, country music, no wires, except the steel strings of the Cuban guitar (or très: 6 strings paired off), an ever emotive violin and catch-as-catch-can percussion hewn from a fallen branch, a dented old cow's bell, or a slaughtered goat's skin and a hollowed log, plus a pair of hands leathered from hard work, and vocal chords textured by wear and the pitfalls of a hardscrabble life.
LusAfrica's José da Silva plucked Polo and his group off the Rosario Mountains' hotel circuit; da Silva is also credited for bringing international fame to Cesária Évora. Polo even wrote a song for the Barefoot Diva, "Amor e Distância", after they performed together in Paris.
Colombia was the spark that ignited Polo's international fame, as Guajiro Natural went gold within a week of its release. From Colombia, Montañez conquered much of Bolivarian Latin America and Mexico, and, while frozen out of the US, bedazzled Western Europe. Recognition came late from the island of his birth and inspiration, but when it came, it touched down in a landslide. He played to a crowd of 100,000 one night, gathered on the beach off Havana's famous malecón.
His fame grew as did his admirers, and he began travelling with larger bands. But the beauty of these reissues is that they represent Polo as his true guajiro self, at home with his own players, guajiros, as themselves, and more intimate with his lyrics.
A number of his works have been covered by other Latin music artists, most notably by Marc Anthony whose rendition of "Flor Palida" has notched almost 350 million YouTube views. Polo wrote "Flor Palida" shortly after falling madly for a woman. Indeed, he had plucked a withering and wary flower from the ashes of an abusive relationship. Adis Garcia would be beside him when his car and the truck collided. She survived, but was seriously injured in the crash; her son perished along with Polo.
The lyrics of "Flor Palida" are an unfolding narrative of his love, so honest it's as if they were spun after a night of excess when all guards are down. In another reading, Polo could have drawn from the rhapsody of Pablo Neruda:
Hallé una flor, un día en el camino
Que apareció marchita y deshojada
Y casi pálida, ahogada en un suspiro
Me la llevé a mi jardin para cuidarla.
Aquella flor de pétalos dormidos
A la que cuido hoy con todo el alma
Recuperó el color que había perdido
Porque encontró un cuidador que la regara.

I found a flower, while on my way
It seemed withered, leafless,
Pallid, and stifled within a sigh,
I took her to my garden to care for her.
That flower whose petals were sleeping,
The one I'm minding still with all my soul,
Has regained the color she had surrendered
Because she found someone who cares for and nurtures her.
The interior that he paints in "Si Fuera Mia" (Guajiro Natural), is as lush as the countryside, coloured by the luxe of life within, as in an intimiste painting. Polo conjures an idyll of sensuality in the "small blue room", the in-filtering moonlight that bathes him with desire, and the "transparent beauty" of his love as she sleeps, lying luxuriously on their humble bed.
Polo's voice holds a certain reticence in "Si Fuera Mia", and a circumscribed tenderness; he seems to fear that happiness and love, like life, are ephemeral. The violin, too, reaching into its higher registers, skirts stridency, suggesting that all that's sweet is ultimately bittersweet.
Contemplative or dark he can be, but he enjoys making merry as well. After his rout of Colombia, Polo wrote a rousing tune as a thank you note, "Colombia" (Guitarra Mia), showering the country with his fond memories and praise, while inviting himself back. "Yo Tengo Mi Babalao" (Guitarra Mia), a 'ritmo nuevo chistoso' (lighthearted, funny) warns those envious of him that a babalao, or powerful spiritist priest, is his protector. Ultimately, Montañez traverses the whole of human experience as mirrored through his eyes that have seen and felt so much.
He reflected on death, as would almost any poet. The song that reveals most affectingly his contemplation is "La Ultima Canción". With just the earthiness of maracas, bongos and très, he paints his demise in a profound, noble and intimate setting:
El último minuto de mi vida debe ser,
creo que debe ser romántico
donde pueda decir la última verdad
de amor, de desamor y desengaños.

The last minute of my life must be,
I believe that it must be romantic,
where I can recite the ultimate truth
about love, about being out of love, about love's disenchantments
Too, he will find a hidden corner to shed his welled-up tears of embitterment. And still, he will strive until his last moments to keep his heart expansive so that he may learn all that he can in this life.
His actual last minutes of life betray the closure that Polo had hoped to find in death. They were in no way romantic, but hideous, and he was not granted time to find lost innocence in his tears.
Following the crash, Polo Montañez was taken to the Carlos J. Finlay Military Hospital in Havana. The whole country kept vigil for six days, as Cuban TV broadcast hourly bulletins and monitored the EKG at his bedside until all contours, once pronounced like the hills from whence he came, were leveled. His death stunned the nation. Footage of the memorial show the procession, an endless carpet of stricken, tearful mourners, moving mechanically as if dazed.
His death manifested the wicked irony of how fate upturns our greatest and most deserving dreams. Perhaps Polo truly understood the precariousness of life and humankind's instinct to try to best the odds when he said, "La vida es una ruleta, dejame seguir jugando" ("Life is a game of roulette. Just let me go on playing"). His game was ended far too early, but at least we have this magical archive as his legacy.
Guajiro Natural / Guitarra Mia is available on various platforms

Follow Sounds and Colours: Facebook / Twitter / Instagram / Mixcloud / Soundcloud / Bandcamp

Subscribe to the Sounds and Colours Newsletter for regular updates, news and competitions bringing the best of Latin American culture direct to your Inbox.
Share: