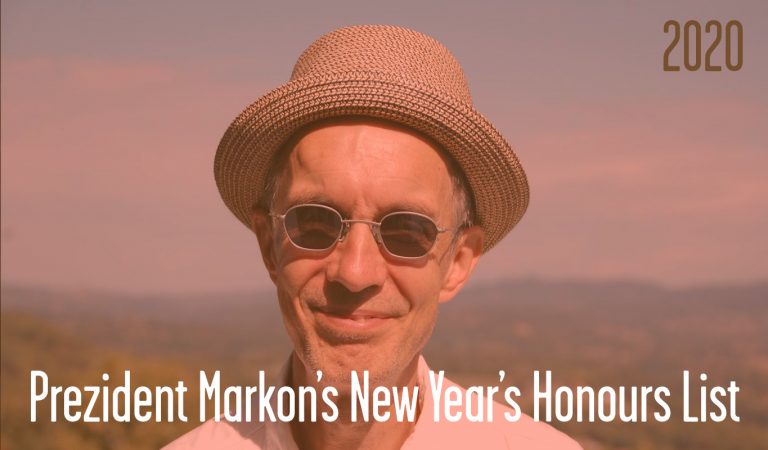 Prezident Markon's New Year's Honours List
06 January, 2021
I note with interest that in my New Year's Honours List of January 2020 I described 2019 as "dire". So what adjective would be suitable enough to describe the year just gone by? As before, though, music can keep a light shining in times of darkness. Given what musicians around the world were having to contend with, it's a testimony to human endurance and artistic creativity that so much good music was served up during the annus horribilis. It's every bit as difficult to restrict myself to 21 of the best, but restrict myself I must; there are new year resolutions to address. Again then, in no particular order, I stamp my prezidential approval on the following albums that came my way during the calendar year:
1. Milton Nascimento "Ponta de Areia" from Último Trem
Far Out Recordings' release on (red) vinyl of the singer's 1980 ballet score based around the closing of a railway line shed new light on some of Milton's finest work, including this indelible classic.
2. Tiganá Santana "Vida Código" from Vida Código
The breathy Brazilian minstrel's third album for the Swedish Abaju! label may not have been The Invention of Colour, but any release by Tiganá Santana is cause for celebration, no matter how minimalist. A singular talent.
3. Midnight Groovers "Stranger" from Cadence Revolution
You could search the Treasure Isle or Studio One vaults for a week and you'd be hard-pushed to find reggae as good as this track from the wonderful Cadence Revolution, the second volume of Strut's trawl through Guadeloupe's Disque Debs International.
4. Samba Negra "Eberebijara" from La Locura de Machuca – 1975-1980
Analog Africa's resurrection of Rafael Machuca's obscure Colombian record label opened a treasure-trove of musical lunacy. La Locura de Machuca was my favourite compilation of the year. The opening track still makes me grin like a "buckeejit".
5. Liga Latina "El Carretero" from Liga Latina
This fine version of Guillermo Portabales' Cuban classic came from Scandinavia courtesy of a quintet steeped in Latin and Caribbean musical traditions. Billed as a "European super group", the group's initial release was certainly a super album.
6. Mariana Zwarg Sexteto Universal "Pra Ele" from Nascentes
Flautist and composer Mariana Zwarg is the goddaughter of Hermeto Pascoal and daughter of his former bass player, Itiberê Zwarg. After four years of working with her Sexteto Universal, their first album is a worthy addition to the polyrhythmic "universal music" of the godfather.
7. Eduardo Hopper "Qualquer Coisa Parecida" from Gratidão Infinita
More tasteful Brazilian jazz, this time from the man with a curious variation on a famous name. Senõr Hopper plays tasteful Joe Pass-like jazz guitar on a debut album that embraces mainstream, choro and more.
8. Aquarela Oboman "Frevo em Maceio" from A Bela Vida
And the nomination for the best choro album of 2020 is… the splendid A Bela Vida by Jean-Luc Fillon, an oboe-maître who calls himself Oboman. With two Brazilians in support, including percussionist Zé Luis Nascimento, it's authentic, festive and beautifully performed by all concerned.
9. Jean-Luc Thomas "Samba de l'hirondelle" from Oficina Itinerante
Another Frenchman, a peripatetic Breton flautist to be precise, with Brazilian affiliations. His cited influences of Roland Kirk, Eric Dolphy and Hermeto Pascoal suggest the kind of variety to be found here. It's a bit hither and thither, but its best moments are very good.
10. Che Apalache "María" from Rearrange My Heart
Celebrated banjo player, Béla Fleck, was very taken with this pan-American quartet's album. And little wonder. The Argentinean and Mexican permutations on singer Joe Troop's native bluegrass make for a powerful but compassionate album that spotlights the modern immigrant's predicament.
11. LPT "Afinao" from Sin Parar
This salsa dura 10-piece outfit from Jacksonville has opened for the likes of Santana and Trombone Shorty and their debut album doesn't disappoint. It's as tight and as slick as a five-year apprenticeship might suggest. Tremendos!
12. Battle of Santiago "Judgement" from Queen & Judgement
The Canadian Latino band's brief but irresistible Queen & Judgement is their fourth and most coherent release. Much of it was written and recorded in Cuba and this track is a thrilling fusion of Afrobeat elements and contemporary Cuban mambo.
13. Bosq "El Carriquí" from Bosq Y Su Descarga Internacional
Calling all dancers! Be on the look-out for DJ and multi-instrumentalist Bosq, who left his native Boston for Medellín, Colombia, to record his fifth album. It's a dance-floor bonanza chock-full of multi-cultural funky rhythms guaranteed to make you dance till you drop.
14. Contento "Paso Palente" from Lo Bueno Está Aqui
While on the subject of Colombia, this was the second single from a smart, witty album by two Europe-based expatriates who met at an Eddie Palmieri concert in Berlin and discovered a shared passion for salsa. They like to make people feel happy and contented. Both single and album succeed in spades.
15. Tino Contreras "Naboró" from La Noche de los Dioses
Gilles Peterson picked up on the 96-year old Mexican drummer for his Brownswood label. It's jazz, Jim – but not entirely as we know it. The colour and sense of spiritual mystery that pervades "The Night of the Gods" lifts it well out of the mainstream.
16. Mafalda Minnozzi "É Preciso Perdoar" from Sensorial – Portraits in Bossa & Jazz
Twenty years spent in Rio de Janeiro surely qualifies this classy Italian-born jazz singer to tackle the great Brazilian songbook. Sensorial presents fairly familiar fare with enough delicacy and elegance to tickle the cognoscenti's' fancy.
17. Mental Abstrato "Quando Ouviu o Meu Samba" from Pure Essence
The hip-hop jazzeiros from São Paulo made their playful, experimental and somewhat uneven debut from 2012 available for streaming and download on Bandcamp. That's all the excuse I need to slip in this hypnotic paean to samba and bossa nova by the Jamaican rhyme-minister, Ohmega Watts.
18. Ariwo "Flameback Dance" from Door To The Cosmos
One of the more accessible tracks from a challenging compilation issued by the On The Corner label at the back end of last summer. The London-based electronic jazz quartet's stand-out number is made glorious by the mix of Cuban and Iranian roots and the highly polished trumpet of Jay Phelps.
19. Azymuth "Fall Afternoon" from Azymuth JID004
Adrian Younge and Ali Shaheed Muhammad had the bright idea of enlisting the ever-dependable Brazilian trio for what could be the most successful of their Jazz Is Dead releases. With intermittent horns and electric guitar added to the mk2 trio's customary instrumentation, it works a mellow treat.
20. Sebastião Tapajos & Pedro Dos Santos "Ganga" from Sebastião Tapajos & Pedro Dos Santos Vol. 2
One of the most surprising blasts from the past came courtesy of Vampisoul's rigorous crate-digging. Recorded in Buenos Aires in 1972, Vol. 2 reprised the winning combination of Sebastião Tapajos' sparkling acoustic guitar work and the extraordinary, inventive percussion work of Pedro "Sorongo" dos Santos.
21. Marcos Valle "Crickets Sing for Anamaria" from Braziliance!
Finally, thanks be unto Mr. Bongo for reissuing a fresh-faced Marcos Valle's first album to be released in the U.S. "The new rage of Brazil" recorded the album in 1966 and two of his most enduring numbers appear here with English titles, "So Nice (Summer Samba)" and "Crickets Sing for Anamaria". Brazilliant classics in any language.

Follow Sounds and Colours: Facebook / Twitter / Instagram / Mixcloud / Soundcloud / Bandcamp

Subscribe to the Sounds and Colours Newsletter for regular updates, news and competitions bringing the best of Latin American culture direct to your Inbox.
Share: