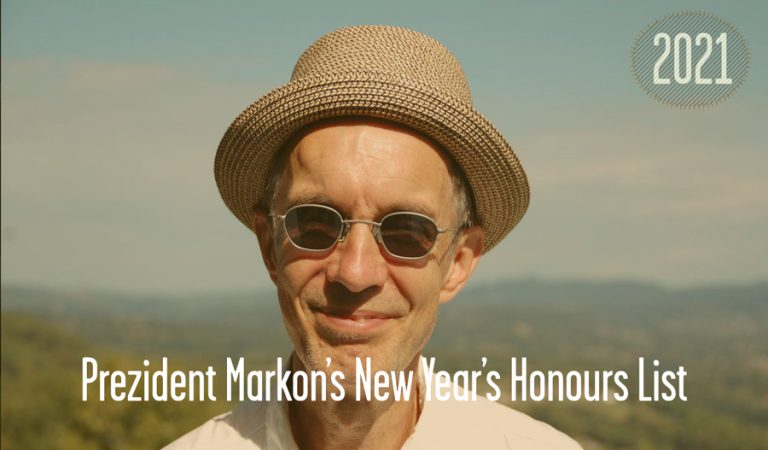 Prezident Markon's New Year's Honours List
11 January, 2022
Bonne année one and all. This is my last New Year's Honours list before I seek re-election in May, and I hope my selections won't "piss you off". I've avoided any reference to the big hitters flagged up already in our Best Albums of 2021 and intend to give out gongs to some of the artists and releases that might have slipped under the radar. It was asking a lot of a man who struggles to make decisions, but I've done my best to limit the list to ten. On balance and in no particular order…
---
Rodrigo Almonte – Distancia
This young Peruvian jazz guitarist has travelled far on "an endless quest: to discover [his] own musical persona; to create music that evokes honesty and emotion in the ear of the listener." He has studied in Brazil and lived in Ireland and The Netherlands, where this understated and evocative album was recorded in a quintet format enhanced by a modest use of guests. He plays inna Pat Metheny stylee and the eight self-penned numbers resonate with sincerity and promise for a bright future.
---
Luiz Morais – In The Weave
We'll stick with the jazz guitar, this time though in the shape of a UK-based Brazilian guitarist, who favours an acoustic model, and a seven-string one at that. Bright breezy samba-jazz with a strong inflection of choro is the name of his more classical game. The album was recorded in Rio with notable guests including the producer and celebrated trombonist, Vittor Santos. Try "Vittor's Trombone" here for a representative taste of a mature and elegant second album from Mr. Morais.
---
José Mauro – A Viagem das Horas
One of the most welcome reissues of the year was Far Out Recordings' resurrection of this lost gem by an enigmatic recluse who was long presumed dead. Mauro's lovely acoustic guitar playing is much in evidence, but it's that wonderful melancholic voice hitched to Lindolfo Gaya's dramatic arrangements that really stir the emotions. Somewhat patched together, the album doesn't quite scale the heights of its predecessor, Obnoxius; nevertheless, it's a precious reminder of an extraordinary talent. Like Nick Drake, Syd Barrett and certain others, he sparkled briefly but resonantly.
---
Orquestra Afro-Brasileira – 80 Anos
Further long-buried Brazilian booty came to light courtesy of Day Dreamer, a new subsidiary of London's Night Dreamer label. In addition to the re-release of an early work, a new album, 80 Anos, celebrated eighty years in the life of this little known orquestra. It was created by Abigail Moura, a kind of spiritual leader à la Sun Ra, whose protégé, percussionist and vocalist Carlos Negrerois, was the catalyst for the Afro-Brasileira outfit's first release in 50 years. The deft touch of producer Mario Caldato jr. and the sophisticated arrangements of Caio Cezar add up to something less raw and more polished than the orquestra's only two prior releases, but the project sheds welcome light on an obscure piece of Brazil's musical heritage. "It felt like the most authentic Brazilian roots music" that Caldato had ever heard.
---
Brain Damage Meets Big Youth – Beyond The Blue
To the Caribbean – and make it quick! Big Youth is back in town. Toaster extraordinaire, Manley Buchanan, hooked up with French producer Martin Nathan to deliver my favourite reggae album of last year. It's a sinuous and seductive marriage of retro jazz, dub and the kind of loquacious thing that he, U-Roy, I-Roy, Dillinger et al were doing during their time in the Seventies' sun. It's an album tinged with sadness, though, as Nathan's collaborator Samuel Clayton contracted and died of COVID when they flew to Kingston to meet the legendary DJ.
---
Cumbia Chicharra – El Grito
While on the subject of French producers, here's a production deriving from France that offers compelling evidence that not all the best cumbia comes from Colombia. The eight-piece outfit from Marseille released their fourth album in October to confirm their place among the top expatriate exponents of percussive and highly infectious South American dance music. Pack up your troubles in your old kit bag and smile, folks, smile…
---
Various Artists – It's A Good, Good Feeling: The Latin Soul of Fania Records
Something else that makes me smile every time I sample any one of its three discs is this dream compilation of boogaloo and Latin soul singles from the golden age of Fania. As with the Motown production-line sounds of the Sixties, these singles (spanning the ten years between 1965 and 1975) are guaranteed to get everyone out of their seats to dance the monkey, the watusi and all those other loose-limbed dances of the era. The likes of Ralfi Pagan, Bobby Valentin and Harvey Averne are all well represented, but Joe Bataan, the King of Latin Soul, dominates proceedings. Anyone who can take Curtis Mayfield's mellifluous "Gypsy Woman" and turn it into this riotous assembly can dominate my proceedings any day of the week.
---
LPT – Se Quema El Mundo
When it comes to 21st century salsa dura, it's hard to ignore the claims of this classy ten-piece band from Jacksonville. They simply don't put a foot wrong in a second album that's every bit as good as their award-winning debut, Sin Parar. If you like smooth, educated and authentic salsa, look no further.
---
Itiberê Zwarg Orquestra Familia do Japão – S/T
I suspect that I'm part of a small minority in this case, but I love the music of Hermeto Pascoal's former bass player. While the recent Far Out release of a Grupo Pascoal live recording at the Rio Planetarium in 1981 highlights the maestro's self-indulgent tendency, musically speaking, to fart around, Zwarg writes and performs a more disciplined but exhilarating form of his mentor's "universal music". This is a record of a concert at a festival in Shizuoka with mainly Japanese musicians. I feel sure that Frank Zappa would have loved this idiosyncratic take on choral and orchestral jazz.
---
Penya – S/T
There's a whole host of contenders for the final slot – Céu, Alex Malheiros, Calle Sur, Aricia Mess and others, including the young Colombian singer based in Paris, Pao Barreto, whose album Spiralis shouldn't be lost in translation – but I have to plump for London-based Penya's eponymous second album, primarily because it's bold and experimental. Rooted in Afro-Cuban religious traditions and the music of Santerïa ceremonies, the album takes risks, but its quirky blend of ethereal melodies and hypnotic percussion lift it clear of the mainstream. I'm looking forward to what they come up with next.
Meanwhile, I wish you good cheer and a happy new year.

Follow Sounds and Colours: Facebook / Twitter / Instagram / Mixcloud / Soundcloud / Bandcamp

Subscribe to the Sounds and Colours Newsletter for regular updates, news and competitions bringing the best of Latin American culture direct to your Inbox.
Share: