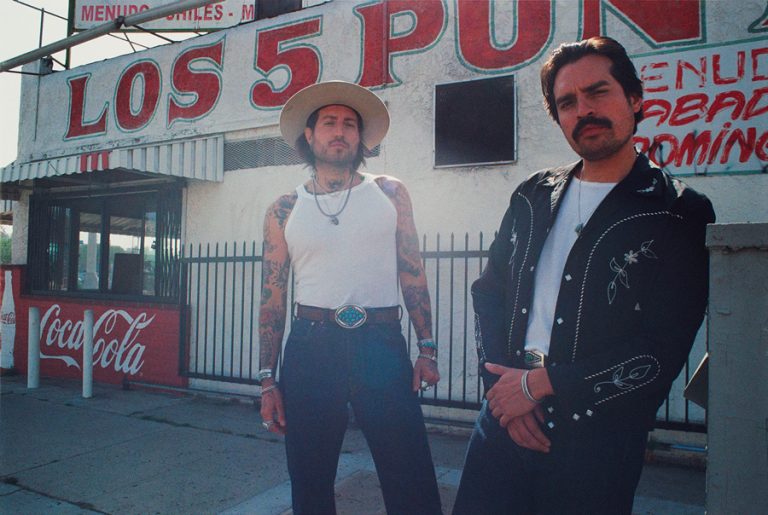 Larry Nlehues
Prezident Markon's Singles Round-Up (Hermanos Gutiérrez, Joyce Moreno, Da Cruz, Jose Conde, Tim Bernardes, Ricardo Valverde and more)
02 September, 2022
At the tail-end of a busy summer, let's begin this time by recollecting in tranquillity some of the singles that came out from the back end of July onwards.
---
Mario Allison "The Boogashake/Descargando"
Anyone who has invested in one or more of the four volumes of Vampisoul's marvellous Bugalú Tropical series will be familiar with the name of percussionist Mario Allison. So lend an ear, I prithee, to this hip-shaking chunk of raucous Peruvian boogaloo from the MAG label's alta fidelidad studios. Be sure to play right through to the end, because the "Descargando" double A-side, replete with glassy vibes and blazing trumpet, is simply glorious. ¡Gozalo!
---
Hermanos Guttiérez "El Bueno y El Malo"
Brothers Estevan and Alejandro Guttiérez are back, this time with the title track for their coming October album. It's produced by Dan Auerbach of Black Keys fame in Nashville, Tennessee. The clever accompanying video acknowledges the Swiss-Ecuadorian siblings' fondness for the music of Ennio Morricone and the whole iconography of spaghetti westerns. The pair produce wonderful, evocative and intelligent music that takes you on the road trip Estevan imagines when playing guitars with his brother. "Sometimes we're driving through a desert. Sometimes we're travelling up the coast. But always we are in nature, and we see the most beautiful landscapes, sunrises, sunsets." Close your eyes and you'll see them, too. Roll over, Lee Van Cleef.
---
Novad "Káyira"
Another July release, this time a five-track EP on the estimable Earthly Measures label. This tasteful electronic music comes courtesy of a Panamanian multi-instrumentalist with a penchant for the marimba, an ear for the exotic and a leaning towards the dance floor. The title track and "Croissant De Lune" in particular illustrate his delicate, minimalist approach, a subtle mix of electronic beats and hypnotic patterns played on traditional instruments like the kora and the marimba. I can't yet tell you much about Novad, but his music's rather good.
---
Ricardo Valverde "Ngongobila"
From the marimba to the vibes – either instrument's all right by me, especially if the result's this compelling. With its unusual instrumentation of vibes, trombone, electric bass and traditional trio of ilu drums supporting the two female vocalists, the single leaves me eager to hear more from the forthcoming album, Kizomba, in which Valverde pays musical homage to the spiritual deities or orixás of the Afro-Brazilian candomblé religion. If this is anything to go by, it's likely to be a rich and highly rhythmic experience.
---
Da Cruz "Bate Panela"
While still in Brazil, there's a rather important election coming up, with the possibility of finally removing the odious current incumbent. This single by Mariana Da Cruz and her eponymous group is the second single from their album, Baladas Da Luta, to be released on the 30th September, two days before that critical presidential election. It's based on a popular noisy protest against the government's apparent policy of exacerbating inequality and racial injustice (banging on pans in the streets and on balconies). It makes for mesmerising, meaningful music that one hopes adds fuel to a gathering popular fire. "This cultural abyss must end!"
---
Joyce Moreno with Mauricio Maestro "Descompassadamente"
In her time, Joyce Moreno hasn't shied away from protest, but usually of a less direct kind. "Feminina", for example, created controversy at an early point in her long career and was symptomatic of her enduring concern for what it means to be a woman in a male-dominated society. I featured the full 11-minute long version of her redoubtable smash earlier this year as the first taste of the previously unreleased album she made with occasional collaborators, Mauricio Maestro and Nana Vasconcelos, and with husband Tutty under the aegis of renowned German producer, Claus Ogerman. "Descompassadamente" (try saying that when you've had one over the limit) is the second foretaste of Far Out's buried treasure from 1977, Natureza, out this coming autumn.
---
Tim Bernardes "A Balada de Tim Bernardes"
Looking every day more like a star from the wonderful world of 1970s prog-rock, Tim Bernardes has just premiered this charming new video to illustrate a track from his second album, Mil Coisas Invisíveis (A Million Invisible Things), out in tangible form around the middle of October. The song is a reflection on becoming an adult, and the video, suitably, is a collage of old home videos from the São Paulo singer-songwriter-producer's childhood, intercut with footage from his current life and tantalising glimpses of some of the albums that have presumably influenced his musical journey. He's currently journeying around the world on tour and has added a new headlining show in London on October 11th at Third Man Records' Blue Basement.
---
André Christovam "Help Me Through The Day"
It's a rare pleasure to have some gen-u-ine American blues played by a gen-u-ine Brazilian bluesman in this column. But then André Christovam is that rare beast: a Brazilian blues artist with a wider reputation built on the back of 30 years or so on the road. Here he is playing a Leon Russell composition with the kind of lazy panache befitting someone considered the main blues artist in Brazil. Think Robert Cray or Z.Z. Hill with a slight accent. It's part of a new EP that came out last month. I like the man's philosophy as much as his blues chops: " Always play, study every day, love what you do and thank God for the privilege of today, being allowed to live exclusively from the art that we see inside our souls!"
---
Jose Conde "Poetry in Motion"
Meanwhile, back in Miami… Jose Conde, whose darned infectious "Dale Pa Ya" was featured here not so long ago, is back with a second cut from his fine album, Souls Alive in The 305. "Poetry in Motion" is one of the stand-out tracks; so good that it appears twice – in the subsequent form of the stripped-down "Nude Poetry". Great song, nice video: conceived and directed by the artist himself, and shot largely in the Arizona desert. That muted trumpet gets me every time.
---
Freeez "Mariposa"
This is the opening track of Freeez's 1980 Southern Freeez on Beggars Banquet, which still sits on my shelves as a reminder of an era when albums cost £3.19 in the HMV shop, when I was a blue-eyed soul-boy and jazz-funk demanded that the strings of the electric bass should be soundly slapped in the manner that Larry Graham and Bootsy Collins taught. Far Out Recordings clearly feel as I do that the East London quartet's funky gem still sounds fresh and sufficiently tropical to justify a hearty plug in this round-up. It's available as a limited edition 12″ single from the middle of this month. File under "New Wave Jazz Funk, Play Loud."
---
Ciao for now; back in the autumn, I trust.
---
And if you're still after more new music remember to check out our Best New Music Spotify playlist:

Follow Sounds and Colours: Facebook / Twitter / Instagram / Mixcloud / Soundcloud / Bandcamp

Subscribe to the Sounds and Colours Newsletter for regular updates, news and competitions bringing the best of Latin American culture direct to your Inbox.
Share: