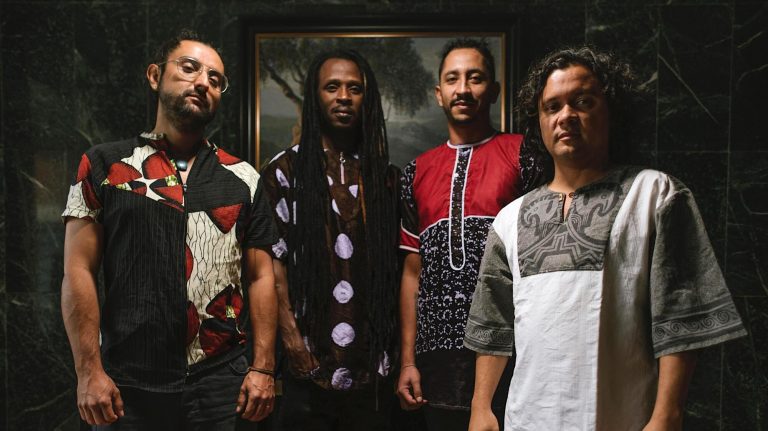 Renewable Rhythms #2: New Electronic Music from the Latin Underground
05 August, 2020
Now with a fancy new name, here's our round-up of new electronic music from all corners of Latin America. Here goes…
Faauna – Tropicalipsys Now
Faauna have been in the digital cumbia game since the beginning (when their name only contained one 'a') and have always marked themselves out for their focus on adding vocals to the mix, and this continues on their latest album. Cumbia is present from the off, there's no mistaking that rhythm on opening track "Wellcam la tridimension" but they push the sound forward with industrial percussion, groaning synth lines and those punchy vocals, adding the hooks. Things get grimier through the album, as they explore deep bass and ghetto percussion while keeping the tempos, timbres and melodies constantly shifting. It makes for an exhilarating rush, with little time to catch one's breath, which works for us when we need to lose our shit for a minute.
Isla Panorama – Toma La Calle
This one's a new name to me, recommending by our man in Temuco, El Buga. What I do know is that Isla Panorama is a Uruguayan producer, currently based in Chile, with this current home fuelling this track: "Toma La Calle" ("take the streets") is clearly in soidarity with the social risings that have become a continual feature of the country, and this is even clearer when watching the visuals. This particular track sees Isla take a break from the synthwave and lo-fi electronics of her first release for a more club-orientated Latin sound.
La Gallera Social Club – Trópico Salvaje
We've been following Venezuelan duo La Gallera Social Club for many years now, through their early tracks and debut Caribe, and now on to this latest full-length, Trópico Salvaje, which may well be their finest record yet. Their conception may not sound revolutionary on paper, but hits hard musically and undoubtedly offers something a little different. With an arsenal of Afro-Venezuelan rhythms, effusive vocals that recall many Latin American folk sing-alongs, and hints of African and Caribbean influences too, the duo are fired up with Afro-Latin goodness, but they also add deep electronic bass, that is simply thumping on tracks like "Moroka-Jia" and "Tamor Yayo". It's Afro-Latin folk music with added electronics that do not feel added-on, they feel like part of the whole. In the second half of the album they even get into some delicate melodies and curative vocals which add further soul to this bombastic folk hybrid.
Quixosis – Cascada
A moment of psychedelic catharsis greets us in this new visualisation of Quixosis' track "Cascada". Originally released on his 2017 cassette release descomposiciones (Vienesa Sama Recordings) the track here gains an afterlife courtesy of a video from Begonia Izquierdo, who takes us through the trials and tribulations of the human condition, using a water slide as a medium that unites the sacred and quotidian.
Error Subcutáneo – the errsub beat tape
A really interesting project from Santo Domingo, Dominican Republic, which labels itself as "electronic free jazz", a description that pretty much fits the bill as this is a beat tape, filled with intriguing samples and digital loops that are constantly being pushed forward by live drums. It has the energy of free jazz but the sonic profile of exploratory electronica. We're definitely going to be keeping an eye on this lot.
Lu Zero – Brecha (Canto Rodado Remixes)
With her 2018 album Canto Rodado, Medellín-native Lu Zero showcased her personal style of emotive pop with an experimental electronic backing that had clear influences of trip hop, Bjork and the like. On this new release, also on Medellín's Nótt label, this sound gets pulled apart to reveal new textures and structural possibilities. It's a reworking of Canto Rodado by a number of remixers, with the results oscillating between bright synthpop, glitchy soundscapes and even into techno on Ravetop's remix of "Montañas".
CESRV – Tweeny Twenny
After making an instant name with his collaborative album GRIME!, made with Fleezus and Febem, that mixed grime and baile funk, CESRV builds on the work of his recent Bela Vista release with another EP. As with that one, it's focused on footwork but with CESRV creating his own synth sounds, 808 bass lines and percussion here, as opposed to the sampled grooves of his last release. The results are seriously fresh, recalling the energy of early jungle but with these sounds impeccably tailored. CESRV is well and truly in his stride right now.
La Rueda – El Indio Conakry Remixes
Paris-based La Rueda are one of a number of expat Colombian groups producing incredible work right now. On their debut album, El Indio Conakry, released last year, they showed that it was possible to create psychedelic mood-enhancing traditional Colombian music using just vocals, percussion and flute – it was a glorious album that we really should have featured more on S&C. But, we do now have a chance to give it another mention thanks to this new set of remixes of tracks from the album, with Sidestepper, Caribombo and Frikstailers amongst those giving the original tracks electronic and dub workouts.
Kika Deeke, Fortunato, Gerra G, Corazón Alamoa, Manolo Fraga, Seletor Chico – Quando o Tempo da um Tempo
Gatopardo's roster have got together for a 7-track EP that showcases the label's alluring, percussive downtempo with Gerra G's head-bopping "Marcha do Tempo" and Seletor Chico's ska dub "7 Espadas" among my personal highlights.
Poirier – Soft Power
Montréal-based producer Poirier's dedication to African, Caribbean and South American sounds has always made him an essential part of the tropical bass scene and a brethren of all those making bass music in Latin America. On his latest full-length, Soft Power, released via Wonderwheel Recordings, he teams up with singers including Brazilians Flavia Coelho and Flavia Nascimento and Canadian/Mexican singer/musician Boogat for an album that finds missing links between African-rooted music from across the Americas and Africa.

Follow Sounds and Colours: Facebook / Twitter / Instagram / Mixcloud / Soundcloud / Bandcamp

Subscribe to the Sounds and Colours Newsletter for regular updates, news and competitions bringing the best of Latin American culture direct to your Inbox.
Share: