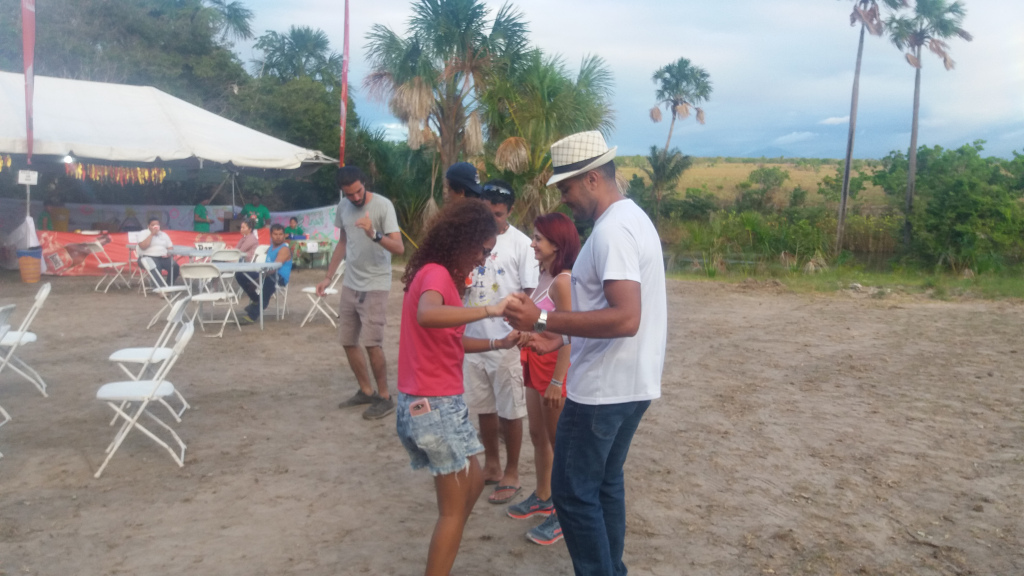 Into the Rupununi Music & Arts Festival 2018
04 April, 2018
It's late afternoon at Manari Ranch and the sun is just setting over the savannah. On the stage, a group of Brazilian dancers lead a forró lesson – arms twisting, feet bouncing rhythmically. Off stage, performers for tonight's show gather instruments, poetry pages and courage for their soundcheck. While around the main space, stallholders fire up drum barbeques and swimmers splash in same the cool creek where that morning someone spotted an otter. This is the Rupununi Music & Arts Festival 2018.
Although launched in 2014, this year marked the festival's third outing in the Rupununi – after 2017's event was cancelled and replaced with a special 'Georgetown edition' to drum up interest. The festival began, so the story goes, when London-based Guyanese flautist Keith Waithe met Rockview Lodge owner Colin Edwards in Annai. They invited Trinidad-born arts promoter Bob Ramdhanie to meet with them in London. The rest is history. Today the team has grown to include Georgetown coordinator Denis D'Agrella, volunteer coordinator and travel specialist Luke Johnson, and Gavin Mendonca – in charge of social media and PR.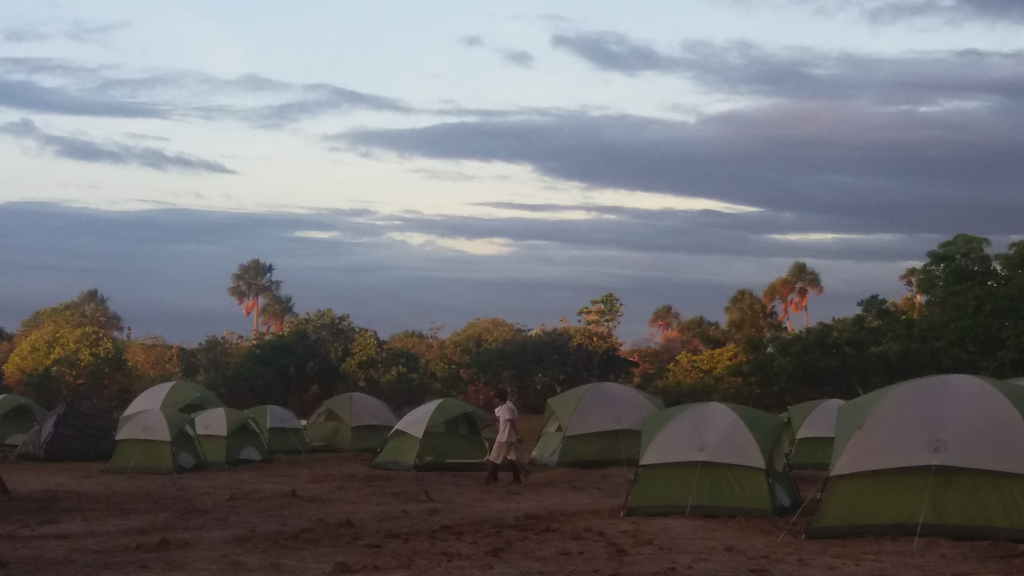 Having started out at Rockview, the festival is now planting roots at its new home: Manari Ranch, just outside Lethem. A sprawling open space, dotted with mango and lemon trees, a winding creek and the ranch itself, it's the ideal spot for a rustic and relaxed festival weekend. There's no rushing here. The festival's nightly programme tends to begin an hour later than scheduled; music and dance classes seem to happen spontaneously; and apart from restrictions on entering the camping area, there are no borders. Artists and festivalgoers mingle, and no one seems to bother with the VIP tent.
"We try to get away from this thing we call structure," says freewheeling festival director Ramdhanie. "The idea is that we kind of get people together and as more and more gather, we start something … [you] come out into an open space, have some fun, listen to the music, try some workshops – but it's all very informal."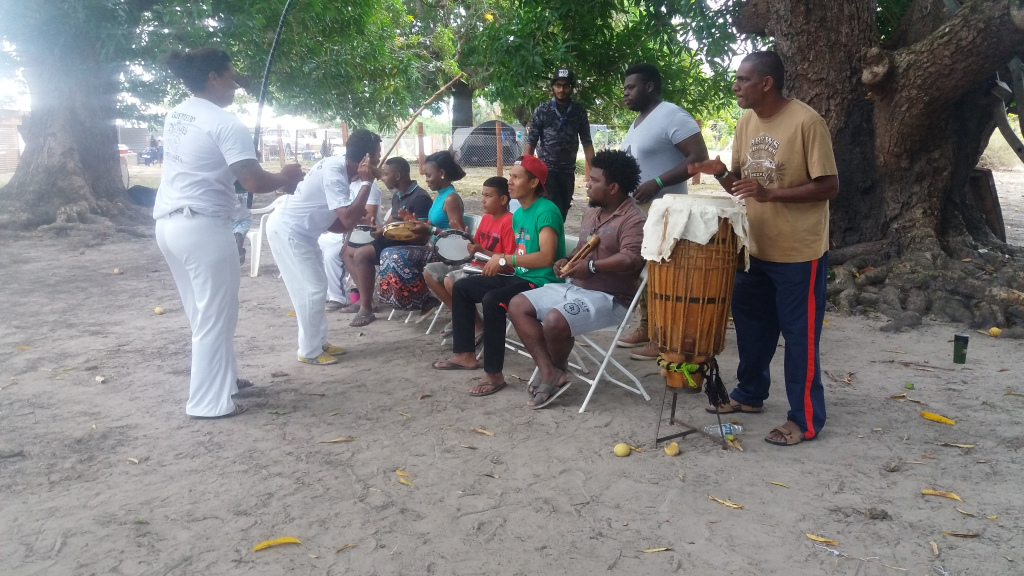 What emerges is a very organic, collaborative event. When we arrive after a long but entertaining bus journey from Georgetown, there's already a hive of activity as the team of volunteers busily put the finishing touches to the decorations. There's the tall look-out post made from wood and topped with a Scouts' flag, the campfire that will be set alight that night, the bowl of mangos gathered from one of the many surrounding trees, heavy with fruit.
The volunteers are a lively team, made up of members of the Moving Circle of Artists, which includes former students of E. R. Burrowes School of Art; the St. Stanislaus College Scout Group; and those looking for a free and more involved experience of the festival. They stop to help we sleepy arrivals put up our tents, stamping pegs in the ground and navigating complex structures with practised ease.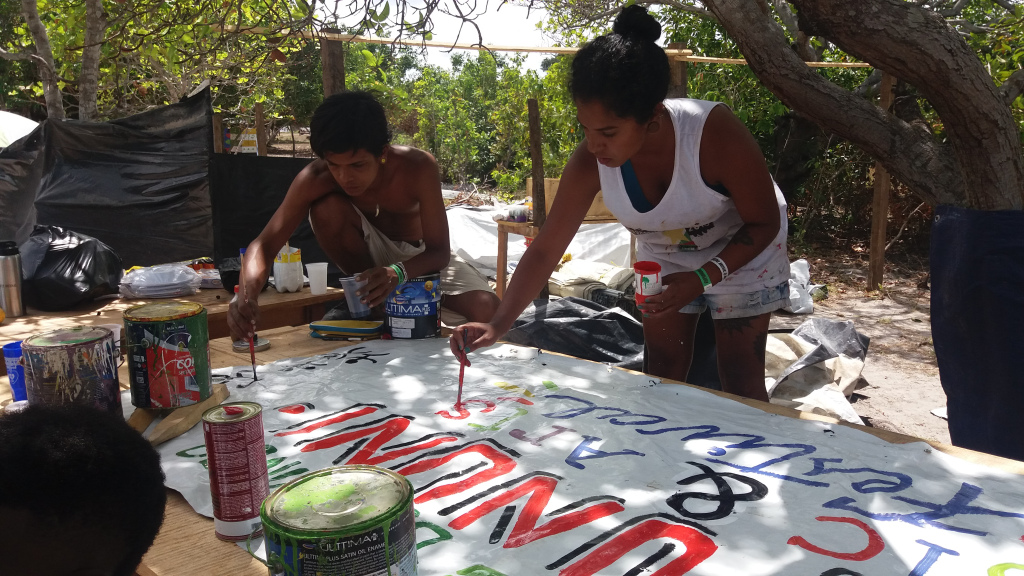 Meanwhile, two Venezuelan artists wield paint cans and brushes to complete signs directing people to the festival and to not swim in the creek (oops, too late). Their handiwork already evident on the brightly coloured boards that surround the individual pit latrines and creek-water showers. It's not the Marriott by any means, but can you look at the stars while bathing in a hotel room?
During the day, our time is spent in the creek, relaxing, doing workshops in everything from capoeira and yoga to wood carving, and going on trips to local sights like Kumu Falls, Lethem and Bonfim – just over the border into Brazil. Then it's time to eat and dance. There are four or five food stalls selling everything from pepperpot, eggs and bake 'n' saltfish in the morning to tuma fish, grilled meat skewers and hot dogs for dinner. A Banks bar and caipirinha stall, decorated with hanging fruits, run throughout the evenings too.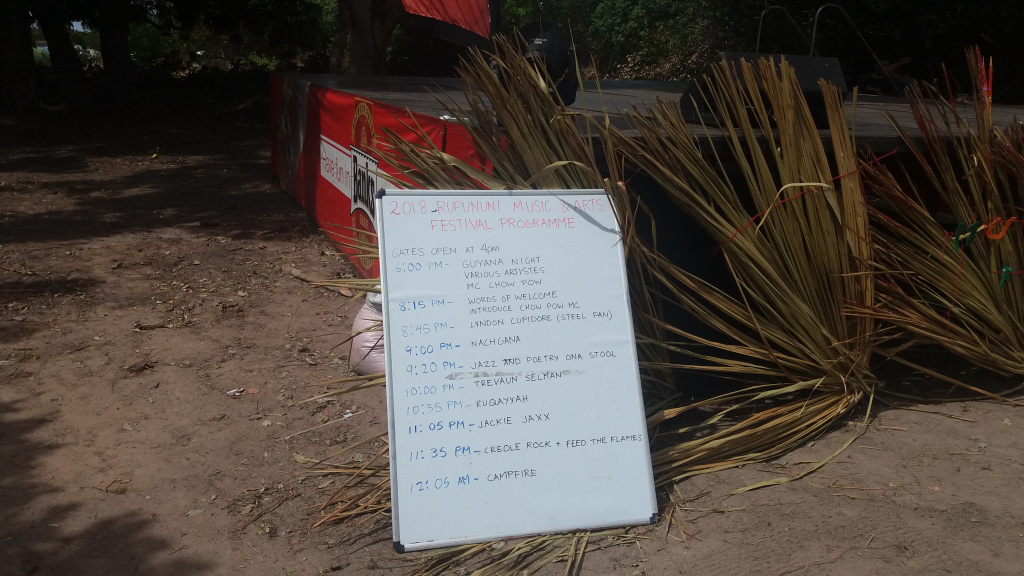 The main event though is, of course, the music. Mendonca switches hats to perform folk favourites with Buxton Arts drummer Chucky, before rocking out with his Georgetown metal band Feed The Flames – featuring special guest singer Josi. There are also lively performances from Georgetown singer-songwriters including Jackie Jaxx, Ruquyyah Boyer, Abel Stokes, Trevaun Selman; as well as appearances by Charlie DeFreitas, Lynden Cupidore, Nachgana Academy of Dance, spoken word collective Jazz and Poetry On A Stool, and comedian Chow Pow as MC.
Despite being billed as the Rupununi Music Festival, there are surprisingly few performers from the region – beyond the Surama Culture Group, which opened proceedings on the first night. But in the spirit of leading world music festivals like WOMAD, an international flavour is added by Los Goliardos, a big band from Venezuela; dancers Wilkinson Oliveira and Bruna Lima from Brazil, and reggae group The Virtuosics who were flown in from Jamaica.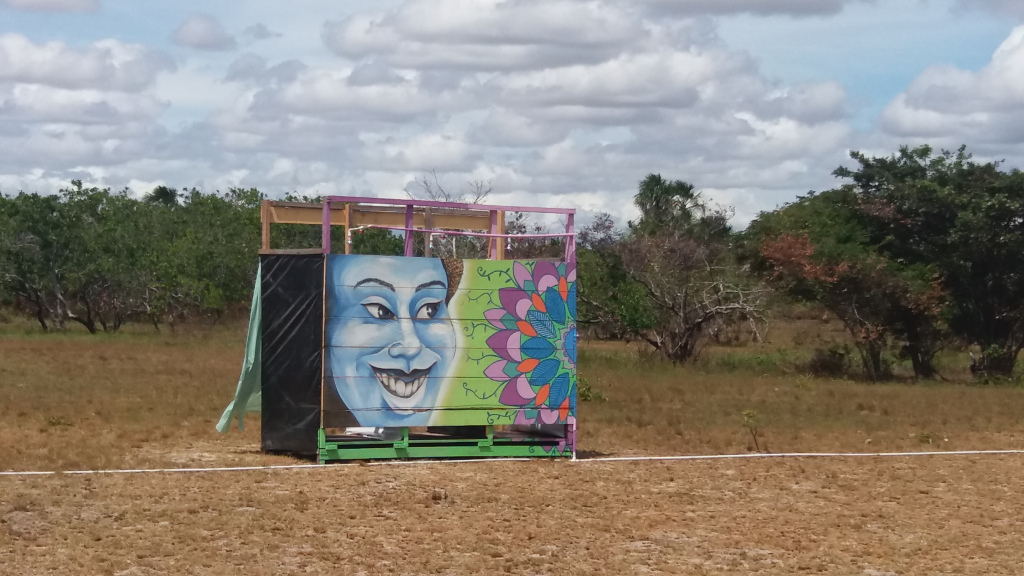 Walking around the camp you can hear a mixture of languages being spoken, while the nightly campfire is usually dominated by the Venezuelan musicians – reaching out to their neighbours with offerings of familiar Latin songs and Bob Marley.
And as the tents came down on Monday morning, photos were snapped, contacts exchanged and promises made to return next year. The feeling was, this is just the beginning.
This article will feature in the Guyana Annual.

Follow Sounds and Colours: Facebook / Twitter / Instagram / Mixcloud / Soundcloud / Bandcamp

Subscribe to the Sounds and Colours Newsletter for regular updates, news and competitions bringing the best of Latin American culture direct to your Inbox.
Share: