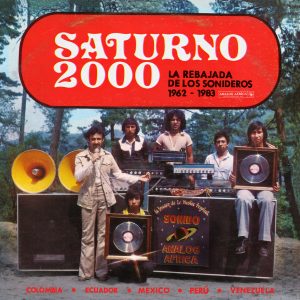 Review
Saturno 2000 – La Rebajada de Los Sonideros 1962​-​1983
If there's one thing in life more thrilling to a music lover than discovering a new artist, it's surely the discovery of a whole new genre. The Analog Africa label seems to make a habit of unearthing them. Back in the autumn of 2020, I reviewed La Locura de Machuca: an invigorating dip into the crazy world of Colombia's coastal music underground during the latter half of the 1970s. It was chock full of diverse stylistic oddities released on the tiny Machuca label, which blended traditional Afro-Colombian music with the psychedelic sounds of underground rock. And gloriously insane it all was, too.
This month sees the release of the next venture into the weird and wonderful world of obscure Latin American genres. Taking its title from the Peruvian group Los Santos' representative track from 1972 – a languid slice of mutant cumbia built around an intensely electric guitar riff and animated by dramatic horn refrains and thunderous percussion – this collection checks out the cumbia rebajada scene in Mexico over two decades. The word "rebajada" means "to reduce, to lower" in Spanish. In musical terms, it translates to a slowing down of traditional cumbia rhythms in order to hook the street-smart youthful dancers of the day. The sonideros responsible were like their counterpart Jamaican sound-system operators: taking original music (in this case from Ecuador, Colombia, Venezuela, Mexico and principally Peru) and playing around with it to create something quite different.
While still characterised by the familiar loping shuffle-beat of cumbia, the feel of the resulting music is something else altogether: kind of cheap and cheesy, yes, but utterly irresistible; not a million miles away from some of Joe Meek's home-studio productions of the 1960s, like a "Telstar" landed off-course in Mexico City. Suitably, most of the 15 tracks are instrumentals – some, like Lucho Gavilanes' delirious "La Danza Del Mono", featuring the kind of organ hook that can send you up to the attic in search of that old Stylophone you played as a kid; others, like "Saturno 2000" and "El Jardinero" by Manzanita y Su Conjunto (stars of a 2021 Analog Africa release), built around a twangy electric guitar riff. Of the two vocal numbers, one should flag up Manzanita's (again) extraordinary "Paga La Cuenta Sinverguenza", with the underlying cumbia rhythm slowed down to a relentless drag powered by a kitsch keyboard riff suggestive of electrified Andean pipes, and coloured by added milk-bottle rattles and a deep alien-sounding voice at play with a falsetto lead. You can almost picture a bunch of line-dancers in the process of finding their collective feet.
As always with Analog Africa, you can expect the kind of booklet worthy of the tale of such quirky music's origins: a tale of a burgeoning urban audience's needs, neighbourhood dance parties and the demand for fresh raw material; a tale of piracy, bootlegs, professional one-upmanship and, of course, musical transformation. It's one that makes clearer the parallels between Mexico's sonideros and Jamaica's toasters and sound-system operators. It's also a tale of happenstance: how Marco Antonio Cedillo of the Sonido Imperial sound-system adapted a Thorens sliding pitch mechanism for the popular Garrard 88 turntables, thus allowing sonideros to slow the pitch down from 33⅓ to 20rpm. And how an electrical short circuit during one of Sonido Dueñez' weekly jams got his youthful Monterrey audience clamouring for cassettes of the resulting, serendipitous "cumbia rebajada". You couldn't script it.
The 15 cuts on this compilation were mainly put together by DJ Lengua, a Mexican with the unlikely given name of Eamon Ore-Giron, who first brought the music to the attention of the label boss, Samy Ben Redjab. Like myself, Redjab "was not immediately hooked", but intrigued. On further listening, however, "slowed down music allows you enough time to hear right through it" and he (and I) were hooked. Once smitten, no longer shy. This bizarre and compelling music should hook Analog Africa's fan-base the world over. If not quite so egregious as its La Locura predecessor, it's only because Saturno 2000 arguably lacks its sheer variety. But this is the next best thing.
Saturno 2000 – La Rebajada de Los Sonideros 1962​-​1983 is released by Analog Africa and available from Bandcamp

Follow Sounds and Colours: Facebook / Twitter / Instagram / Mixcloud / Soundcloud / Bandcamp

Subscribe to the Sounds and Colours Newsletter for regular updates, news and competitions bringing the best of Latin American culture direct to your Inbox.
Share: