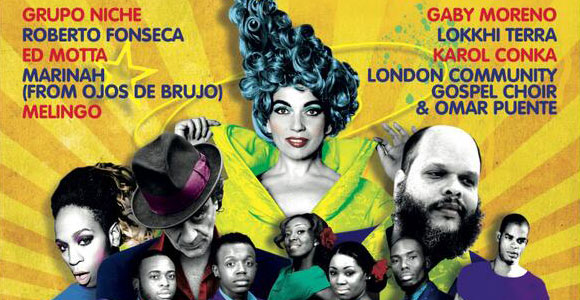 The Roots and Reverberations of La Linea, London's Latin Music Festival
04 March, 2014
If you're into Latin music and live in London you will undoubtedly be aware of La Linea. The event, which is back for its 14th edition this year, is notorious for bringing over a diverse and often surprising array of Latin music's finest to the capital. This year is no different with La Linea 14 bringing Ed Motta, Karol Conka, Roberto Fonseca, Family Atlántica, Dom La Nena and Melingo, to name a few, for what should be a thrilling few weeks in London.
The people behind La Linea are Como No, an event promotions company that has been putting on Latin concerts and dance/theatre productions since the mid-80s. As the founder/owner of Como No, Andy Wood has been there since the beginning and knows his stuff when it comes to Latin music in London. It was for this reason that we decided to have a chat with Andy to find out more about La Linea (especially why it began) and also to hear some of his views on the Latin scene in the UK (I bet you never noticed the similarity between Scarborough and Havana before?!).
And while you're reading our interview with La Linea's Andy Wood below, why not listen to some of the artists who will be playing at this year's festival thanks to the Spotify playlist to the right.
S&C: Why did you decide to organise a Latin music festival in London? What are you memories of that first festival?
Andy Wood: La Linea began at the dawn of the twenty first century. Como No had been presenting a lot of Latin music shows for almost fifteen years by then. It occurred to me that we needed to create a critical focus for introducing new Latin artists and new Latin music projects into the UK. Without La Linea it was harder for us (and I think for audiences) to take a chance on a new artist and harder for an artist to get as much resonance from a first London show.
La Linea remains, after fourteen years, as fundamentally our research and development unit. Our chance to mostly present new sounds, new artists and new projects for the UK and to measure them against what already exists.
La Linea is the line of the border between musical forms, which we like to skip with, and the line of descent where we try to work out who begat who.
In earlier editions of the festival it was perhaps easier to see UK careers launched on a single night at La Linea as they were perhaps with Seu Jorge or Gotan Project. Since the collapse of the recorded music industry, audiences don't relate to artists in quite the same way but La Linea still plays a part in helping to get new music and artists heard.
The first ever La Linea show was 5th April 2001 at the Royal Festival Hall and was Ozomatli supported by Orishas. A great night as I remember, both groups pretty much at the height of their powers and the right amount of creative tension about who was top dog.
Cuban artists have long been a feature of La Linea's programmes. Why do you think London has such a connection with Cuban music?
Cuba and Britain are two grumpy islands who have never got on with the neighbours but which are also hubs through which historically so much music from elsewhere has passed and been changed. Cuban music was in and out of British musical life for much of the twentieth century with Don Marino Baretto's Cuban band playing to pilots on Salisbury Plain before the Battle of Britain and that band then passing into Edmundo Ros' hands when he had a huge influence on the score to London's nightlife in the fifties. When Cuban music from Cuba has passed through here since it reactivates those folk memories.
In fact Havana has much more in common geographically with Scarborough than London and it's easy to explain the local layout using the Hotel Nacional as Scarborough Castle, Vedado as North Bay and Old Havana beginning somewhere around the line of the Futurist and the Grand Hotel.
Como No is probably presenting more Cuban music in the last couple of years than we have done in the last fifteen although La Linea this year has Roberto Fonseca and his band as Cuba's sole representative (Roberto and the wonderful Nosotros, La Musica film which has some great archive film from a previous Cuban golden age and which we are screening before his show at Koko on April 8). In the first La Linea in 2001 each of the four shows included a Cuban artist – Orishas, Omara Portuondo, Cachaito Lopez debuting his solo project and Jesus Alemany's Cubanismo. I think Cuba's continued cultural isolation which was maybe perceived as a big strength in the music of the late nineties has made it hard for young Cuban musicians to engage globally in the same way as a lot of their Caribbean peers have done.
Do you have a highlight from previous editions of La Linea, an artist that really blew you away?
So many highlights really; Lhasa's first show in the UK at the Jazz Cafe in La Linea 2004, magic for everyone there, Bebo Valdes & El Cigala did their last ever show together with us, I guess they knew but nobody else did, Alejandro Escovedo at Bush Hall. Some of the one-off collaborations have been memorable – such as Lalo Schifrin with the LSO and some of the special events like Spanish Bombs – Tropical Tribute to the Clash or last year's Mexico vs. Balkans Brass Band Battle had a great energy between performers and audience.
How has the audience changed since you began? Are there more/less Latinos? Has the audience got more "international" over the years?
La Linea both presents music for an audience of Latin American descent in London and takes the music to a wider audience here. The audience changes for every show, let alone each year. There are more or fewer Latinos in the audience depending on who the artist is and that percentage could range from twenty to eighty per cent on shows this year. I'm not sure that the audience has become more international, because it always was, but the La Linea audience does reflect London's place as a global city and the reach of Latin music into every continent. One of the joys of London is that it belongs to those who want it most and the Latin American community is increasingly assertive. La Linea hopes to help in making those connections between Latin Music and London's wider musical culture. So a couple of weeks ago you could find the members of the London Community Gospel Choir taking a beginners Cuban salsa class on a Monday night at the Buffalo Bar in preparation for their Latin Meets Gospel show with Omar Puente on April 4.
La Linea 14 will be taking place between Tuesday 3rd April and Friday 2nd May and include such acts as Ed Motta, Melingo, Roberto Fonseca, Family Atlántica, Karol Conka and Gaby Moreno. See comono.co.uk/la-linea for more details.

Follow Sounds and Colours: Facebook / Twitter / Instagram / Mixcloud / Soundcloud / Bandcamp

Subscribe to the Sounds and Colours Newsletter for regular updates, news and competitions bringing the best of Latin American culture direct to your Inbox.
Share: