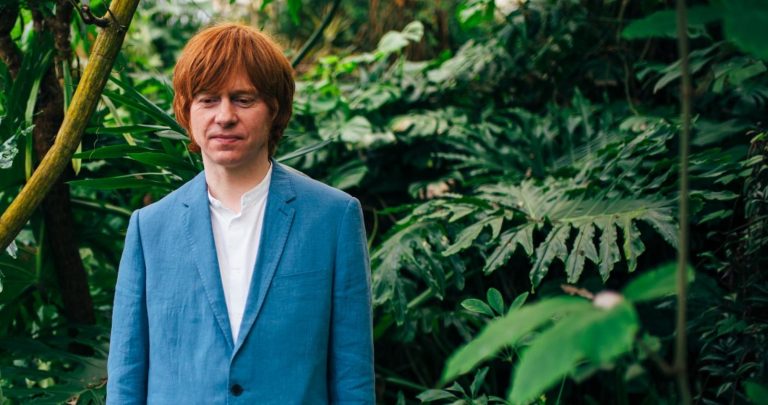 The Variegated World of Carwyn Ellis
15 August, 2022
It's been 16 months since Carwyn Ellis last spoke to us, so the time seemed right for a catch-up. The bilingual singer-songwriter, multi-instrumentalist, radio host, compassionate humanitarian and avid record collector has been as busy as ever in the meantime with a list of projects as long as your arm. I asked the hardest working Welshman in show business how he copes with it all. "I've got maybe four current projects all buzzing around in my brain cells. I'm very confused if I'm honest: so many things happening; in different languages, in different idioms. But I like the variety of it. I like playing different instruments, I like playing different types of music, I like learning different languages."
Carwyn's current Latin American lingua franca is Spanish rather than Portuguese. Back in April 2021, he talked to Russ Slater about touring South America with the Pretenders and how he came to make the first of his then two Rio 18 albums, Joia! One legacy of the trip is the full length version of the video that Fernando Neumayer and Luís Martino made to accompany the single, "Olá", from the latest album. "It was made in COVID time in the Portela Samba School, an incredibly noisy, vibrant place, in the Madureira district of Rio. I've been looking for an excuse to share it, 'the director's cut'." So here is the excuse that Carwyn was waiting for.
Since the trip, that third album, the lovely Yn Rio, was recorded under exceptional circumstances with the BBC National Orchestra of Wales. Chatting to me on Zoom in his Cardiff den – after a quick look at the gallery of album covers on the wall behind him, reflecting the kind of eclectic taste that informs his themed fortnightly show on Soho Radio – Carwyn tells me more about those circumstances. "Yes, it was recorded in COVID time and that was all thanks to BBC Radio Cymru. They asked me at the end of 2020 to do a concert with the BBC National Orchestra of Wales, to be broadcast in March, 2021. So the album is me singing with the orchestra; but the band wasn't there. They had to record their tracks separately; none of them saw each other. I made a demo, a template, and then they all sent me their individual parts. It was a logistical headache, but it worked out because everyone's so good."
And what about the headaches, if any, of writing lyrics in a language, Welsh, that's so different to the idiom of the music? "Well, there are intricacies of lyric writing in Portuguese that obviously I'm not party to. I'm aware that phonetically Welsh can be difficult to match to the music if you use too many different sounds. It can sound very northern European, so to make it more mellifluous, to make it feel more like a Latin idiom, you have to be aware of this. My lyrics in Welsh are quite simple, even naïve. Songs are really a vehicle for the music for me."
This wasn't an issue when making the semi-instrumental Across The Water, Carwyn's first solo album, recorded at ex-Orange Juice frontman Edwyn Collins' studio in Helmsdale near Inverness, and released earlier this year. Although it has little to do with Latin America, it has a lot to do with Carwyn's sensitivity to the kind of disparity between the haves and the have-nots that he witnessed while touring in South America. The album reflects his concern for the plight of migrants, and 50% of the proceeds will go to Oasis Cardiff, a centre for asylum-seekers and refugees in his current home town of Cardiff. Interestingly, his main influences for the album were Nina Simone and Gil Scott-Heron. "Even though they both struggled psychologically themselves, their music always has a positive energy. It took me a long time to work out how to write about a subject that's so emotive. How to express it without being pious or jumping on a soapbox. You have to wrap your message with some kind of positivity to get it across to people – and maybe help them change their minds."
This year – this month, in fact – has also seen him able to travel and tour again. "Running up to the Rio 18 project, I'd been on tour for three or four years pretty much non-stop. I haven't been on tour for a few years now, and not travelling as much as I used to has been frustrating." There's an exceptional gig lined up for the annual Green Man festival on Sunday 21st August when he and the band will be on stage with the entire BBC National Orchestra of Wales. Then there are two more appearances – on August 27th at the Ara Deg festival in Bethesda and September 3rd at The Gate, Cardiff – before Carwyn and the band fulfil a booking on September 4th at The Jazz Cafe in London dating back to March, when Rio 18 opened for Bebel Gilberto as part of La Linea festival.
If lockdown was frustrating in respect of the open road, it did at least allow him to listen to the records he "hoovered up" in Rio, São Paulo and other Latin American ports of call. "I've been listening to lots of different types of music, not just Brazil but from the rest of South America. Lockdown facilitated listening and exploring and learning about whole areas of music I knew nothing about… Latin American music is extremely exciting for me. Take Colombia. There's such a wealth of styles and talent and voices, colours, sounds and instruments. So many things." He reiterates his fondness for Meridian Brothers' quirky deconstruction of cumbia and other more traditional genres. "I'm really excited to hear the new album. I think Eblis Álvarez is a genius; I follow everything he does intently." He talks, too, of his passion for llanera music from the plains of the frontier with Venezuela. "I've really come to love that. It's cowboy music, but it's got harps in it. Obviously, I'm going to love that."
After scanning the contemporary Latin American scene and hugely popular artists like Bad Bunny and Rosalía, our catholic collector goes off on another tangent. "Another thing that's really floated my boat in recent years is the Analog Africa label." He highlights the recent compilation of cumbia rebajada, the serendipitous slowed-down dance music resulting from the pitch manipulations of certain Mexican sound-system operators, and cites in general the label's information-packed booklets. "The thing that's so wonderful is when you buy one of their records it's like a world in a package… You can just immerse yourself in it; like a multi-sensory experience. It's just the gift that keeps on giving."
"Once I start on music, I find it hard to stop," Carwyn chuckles. But before leaving the subject, we exchange notes on a trio of recent Brazilian releases by Tim Bernardes, Sessa and Bruno Berle: each one deceptively simple and highly melodic. Rather like Carwyn's own music, in fact. Which leads us neatly back to Rio 18. So what of the future? "Well… My Latin American journey isn't over. As Rio 18, I'm not sure. I've done three albums now. There are elements of things other than Brazilian music in there – cumbia, for example – and those elements I'd like to explore more. I'd like to do things that are new to me. That's more important than anything. I'm basically just blessed; very lucky to be able to play with these wonderful, wonderful people."
In between gulps from "a big potty of coffee", Carwyn puts in a word for Sounds and Colours. "I am a consumer and a fan: it's a great resource. There's a lot of good things and a lot of good music to be seen and heard at the moment. And Latin America, I think, is leading the way." Indeed. Time flies when you're chatting to someone whose enthusiasm for music, indeed life's rich tapestry, is so infectious. Alas, we had to call it a day. For now… Meanwhile, why not have yourselves "A Word With Carwyn Ellis"? He's a very genial host.
Carwyn Ellis will be performing at London's The Jazz Cafe on September 4th. For all forthcoming tour dates and news visit carwynellis.com

Follow Sounds and Colours: Facebook / Twitter / Instagram / Mixcloud / Soundcloud / Bandcamp

Subscribe to the Sounds and Colours Newsletter for regular updates, news and competitions bringing the best of Latin American culture direct to your Inbox.
Share: