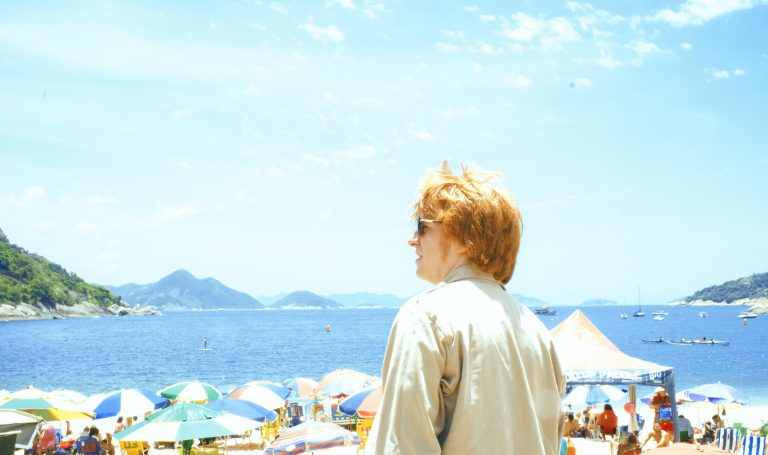 Fernando Neumeyer
Under The Influence: Carwyn Ellis
13 April, 2021
In 2019 Welsh singer and musician Carwyn Ellis released Joia!, an album unlike any other in that it was heavily influenced by Brazilian music and recorded in Rio, but with lyrics in Welsh; a true transatlantic collaboration. For Ellis, who is known in indie pop circles as the front-man for Colorama, and also plays guitar with The Pretenders, the album was the culmination of a burgeoning admiration for Brazilian music. With his Carwyn Ellis & Rio 18 band, he followed that album up with another , Mas, released earlier this year, that was once more recorded in Rio (at Audio Rebel), but also hinted at some other Latin American influences outside of Brazil. This Under The Influence is a chance to get to know more about the records and sounds that led to, and influenced, these two records of Ellis, and also find out how Latin American music cast a spell upon him.
"At first, I wasn't sold on it, I must admit", Ellis tells me candidly, referring to the bossa nova records that his wife listened to regularly. "I found it a little boring. I was more into raucous hip hop and rock and roll, this was 20 something years ago, but over time, it grew on me massively." A big turning point was Brazilian guitarist Baden Powell. "I got into his records, and his Os Afro-Sambas album is seminal. That really opened a lot of doors for me, because from there, I not only discovered his music more clearly, but the name of Vinicius de Morais became more prevalent, and musically, Quarteto Em Cy, who provide the backing vocals on that album. I did not know what that sound was, you know? Who were these incredible ladies with these perfect voices, perfect harmonies, ultra sophisticated." They made such an impact that on his most recent record, Ellis recorded "Cynara", a tribute to one of the singers in the group, who he also chooses for one of his influences.
This initial admiration grew deeper when Ellis had the chance to travel throughout South America, when The Pretenders supported Phil Collins on a tour in 2018. "While I was hanging out with Chrissie [Hynde], going for walks or whatever, she was telling me about these great friends that she had in Rio de Janeiro, people that she'd worked with quite a few years previously, maybe 15 years previous. She's talking about this group called The +2's, which was Moreno Veloso, Domenico Lancelloti, and Kassin. So one day I came back with a bunch of records and CDs, and she asked me what they were and she was saying 'you've got to meet my friends, they're really open minded, like you, they're into all sorts of different music, you should make a record with them, you should make a record singing Welsh with them. That would blow people's minds, I bet nobody else has done that.' And she was right. Over time, she played me more and more music by the +2's, and I was totally hooked. I became a fan. Then we had a break in the middle of 2018, and as luck would have it, the stars aligned, and Kassin came to the UK, he did a show promoting his last album, Relax, and I got to meet him. We realized that we liked each other and that it'd be cool to do something."
Then in October 2018 Kassin invited Ellis to Rio for a week to cut a record, and he duly obliged. The result was Joia!, produced by Kassin (except for a few tracks produced by Shawn Lee) and featuring notable Brazilian musicians like Domenico Lancellotti, Manoel Cordeiro, André Siqueira and UK-based Brazilian singer Nina Miranda. "It was a just a wonderful week of music making, and camaraderie, you know, making new friends. And just really immersing myself in the good Rio life. It was lovely, and then towards the tail end of 2019, the same thing happened again, Kassin phoned me up and said, 'hey, you know what, I got a week at the start of December if you fancy doing something', and another album came to life.
The tour and relationship with these musicians in Rio also gave Ellis a deeper appreciation of music from across Latin America. "When we did this tour in 2018, I went all over Latin America, I was hoovering up records everywhere. And learning a lot. Mexico City had a big impact on me, a really big impact, it's a city that just oozes music. There's musicality everywhere. Lima as well, learning about Peru and Peruvian music. Going to Uruguay and seeing that people don't really talk much about Uruguayan music. Argentina too… and I didn't know anything about Colombian music before I went to South America. So that was the single biggest discovery I made was Colombia."
Below are eight songs that we asked Carwyn to choose that had a big influence on the making of his two albums with Rio 18, along with his reasons for why they were so important. But first, here's a little Carwyn Ellis to get us into the mood:
---
Chancha Via Circuito – Cumbion de las Aves
My love affair with cumbia only started in 2018, and they were one of the artists I discovered as being part of the current wave of electronic cumbia artists, and the colourfulness to it, they're from Argentina right? They're not from the mountains, but it sounds like the mountains, I can't tell you why. There's just something about it. And it's not just the pipes. I think it's deeply contemporary, but also deeply rooted in something very, very old. There's a clear respect and love of indigenous traditions, which I like to see, and I like the fact that somehow, people have managed to incorporate it in a way that's seamless. It just sounds like 'yeah, of course, of course, why would it not work?' It's a perfect combination. Those elements work incredibly well together. I think just a real simple four to the floor beat, with some subtle loops, and then lovely melodies played on indigenous instruments. There's just something about it. It's really hypnotic, but really evocative too. It really takes you somewhere else, that's for sure.
---
Los Amaya – Caramelos
Kassin played "Caramelos" because I had a song on my first album, called "Dant Melys", which means sweet tooth, I was singing about my mother's sweeties, and then we ended up having a chat about songs about sweeties. We were kind of sharing different influences in that way, and he played me the song by Los Amaya. It turns out they're from Spain, they're gypsy musicians from Catalonia, just outside Barcelona. The style is called gypsy rumba. There's a great compilation on Soul Jazz from a few years ago. It's really fascinating because the style is originally from gypsy flamenco players, from Catalonia, who were influenced by Fania Records, and not just Fania but other labels doing music of that idiom. So Nuyorican music of the late 60s; Tito Puente records or Mongo Santamaria, or whoever, and they were using this stuff and it influenced them and they wanted to make something that incorporated their elements, that had that kind of funky, brash, vivaciousness and they succeeded. It's an incredible tune, if you see footage of them it's wonderful too, it's this really great, great pop music, really infectious, really catchy. But it has gypsy music elements, the hand claps, the two guys are clapping in tandem. You think it's one of those simple instruments, along with singing, it's natural, you don't have to play anything. But it's so hard to do it. We incorporate elements of that in one of the songs on the album, "Golau Glas". That was the one that started off as a Los Amaya tribute. And then it ended up getting into more of a Fania vibe. It ended up getting the fuzz treatment.
---
Ray Barretto – Acid
I first came across Fania on like a budget CD compilation, just a bargain bin thing. I must have got it a long, long time ago. I was a fan of Fania music on the whole because there's so many people involved under that banner, obviously, but the thing that made a big impact on me, was the film Our Latin Thing. I got a DVD of that, it's just second to none really, incredible performances, the colours and everything about it, joyous. Fania is kind of equal parts, it's maybe two thirds New York, a third Puerto Rico, but the music is all of Puerto Rican origin. So it's just interesting how, within the American melting pot, with rhythm and blues, jazz influences, alongside Puerto Rican music, what they combined to make [their sound] is just so compelling, and just dance worthy and wonderful to listen to. "Acid" is brilliant and Ray Barreto is a true master, a master conguero.
---
Cynara – Umas E Outras
This tune had a big influence, it's actually written by Chico Buarque. I got into him out of admiration for that song. I love the song because of its arrangement, its instrumentation. It doesn't sound like anything else. There's a lot of very unique music that comes out of Brazil and South America where people attempt different things. That one in particular has like a neo-classical atmosphere to it, but almost from a jazz arranger position. It combines to make something quite original to me. And the innocence and purity of her voice on top of this odd, eclectic arrangement. It just does something for me, it stands out. I couldn't tell you exactly, put my finger on exactly why, but it just gets me every time. I adore the song.
---
Meridian Brothers – Hablame Amigo, Citadino
I heard about Meridian Brothers from being in La Roma Records in Mexico City. They said, 'this is like the coolest contemporary musician doing anything in Colombia'. So that was their take, and I listened to ¿Dónde Estás María? I got obsessed with that record, it's so enchanting. I think he's just brilliant, really brilliant. I like his voice. It's unusual. I don't know what he's talking about most of the time but it doesn't matter to me. I mean it's not standard cumbia, but he's using elements of the idiom, to make idiosyncratic music. There's a lot of sounds that are his own, which is quite rare in modern music, it's not that easy, but he does it. I think there's something about his rhythms, his way of building a propulsive rhythm track, it's fantastic, the bass lines, the sound of his bass lines is his own, it doesn't sound like anybody else's. Yeah, and that record is it's the least electronic of his releases. It's kind of more organic sounding. I like a lot elements from the other albums, but for me, that's my favourite, just because it ticks more of my personal boxes. The latest album is bonkers as well.
---
Os Tinçõas – Chapeuzinho Vermelho
I'm pretty sure it was via Nina [Miranda] that I came across them. There's something about that their vocal sound, there's a real gentleness to their music, and to me they're defined by the vocal harmonies, and the percussion, but it's not like, it's not like studio percussion, it's a little more rougher, a little bit more, what's the word I'm looking for, it's of the people somehow, it feels more like by the seaside, you can imagine them on the beach together just playing with the percussion instruments and singing, that's the vibe I have from their music. There's something really intimate and sincere about their voices and their singing that I find disarming, it is really lovely. I tried to incorporate elements of that on the new record, too. We brought in a few percussion instruments that we hadn't had before, unusual things, improvised instruments, percussion instruments that just have weird sounds, just in simple songs that involve singing and percussion and very little in between.
---
El Kinto – Don Pascual
I can't remember how I came across them. I don't think it was to do with my adventures abroad or anything. I came across a website, or blog maybe of one song, but I don't think it was even that one. But I heard one song and thought 'who are these people? They sound amazing'. They have similarities to lots of other stuff but they aren't quite like anybody else. It's one of these groups that are super talented, and they come from a country that no one looks at musically, and they brought about a bunch of influential musicians, you know, that came out of the group, but this is how they started. I bought a CD collection that has an album and everything else that they did initially before they went off and did their own things, which I'm yet to discover, I don't know much of the solo stuff. But this album I've played to death. I just think it's amazing. It's so melodically strong. It has obvious influences of beat music from the UK and from America. But it also has a folk music element. And it also has something that goes back to the old country, to Spain, and to folk music of Uruguay. So it has a unique mix for me and I just think the melodies are so strong, and the way they arranged and the playing is so good. Now, obviously they're very young, so there's a youthful abandon to it, but always, it sounds like they know exactly what they're doing. They're happy to leave some things a little bit open ended. It's really beguiling. They are a really unsung band, that you don't hear a lot about. I found it for myself. I'm really glad I did. Because I think they're brilliant. And I'm sure Uruguay has a lot more music that people aren't paying attention to.
---
Gary Corben – Donateando (Happiness)
Well, Gary [Corben] was also at the Kassin gig [in London] in 2018. He's close friends with Kassin. And I found out Kassin had been working with him at the same time, with a group of musicians, Alberto Continentino and people like that. Now from what I understand, Gary lived in Rio in the 90s, and was a music head back then. I met Ed Motta in 2019, we did a radio show for Worldwide FM with Kassin and myself and Shaun [Lee], and we ended up chatting together. They mentioned that Gary was around and that when they were teenagers they weren't particularly interested in Brazilian music, in the 80s. Young people listen to hard rock mostly, and they were no different, and they met this guy, Gary, in the neighbourhood, who was a music head and was turning everyone on to Brazilian music, and letting them know about the stuff that had gone before them; Corben was turning these guys on to straight-up quality Brazilian music, so I've learnt a fair amount listening to Gary's music. Gary is forever sharing really great music, that's either Brazilian or from America that I've never heard of, and the sound of his records, Kassin and his team have made a beautiful sound, I think his records are lovely. And he's a fountain of knowledge as well.
Joia! and Mas are released by Banana & Louie Records and available on Bandcamp

Follow Sounds and Colours: Facebook / Twitter / Instagram / Mixcloud / Soundcloud / Bandcamp

Subscribe to the Sounds and Colours Newsletter for regular updates, news and competitions bringing the best of Latin American culture direct to your Inbox.
Share: