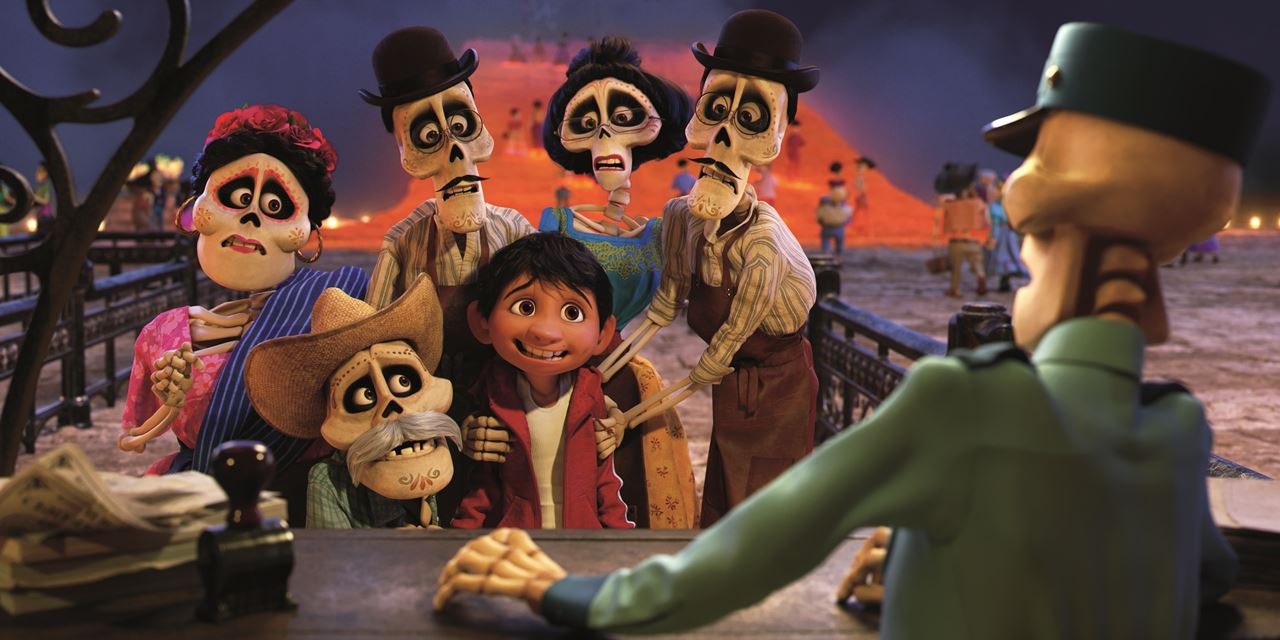 10 Latin Movies to Watch on Netflix
13 December, 2021
Looking for some movies that put you in buena onda (good vibes)? Then we've got the best movies to stream on Netflix for you. You'd be surprised to see the list of movies Netflix puts out for us Latinx people.
Everything from comedy to drama to biographical movies is on this list. After these 10 picks, you'll want to Andale to your weekend and watch them all! So, let's get started:
Coco (2017)
We always start with a family-friendly pick that could not be more relatable to us. The story of young Miguel who stumbles into the afterlife on Día de Los Muertos and uncovers the story of his lost ancestor.
The songs, storyline, and sequence will make you fall for this beautiful pick. It expresses the beautiful heritage and music in a heartwarming way.
Also, Coco 2 is currently in production and will be reaching your cinema screens soon. It has an IMDb rating of 8.4/10 and won 2 Academy Awards.
Desierto (2015)
Our next pick is a thriller, that takes us through an everlasting border issue. The story revolves around the Mexican man who tries to cross the US border to return to his son, but jumping the border is not safe at all.
He is met with a dangerous sniper and guard dogs that are hurdles to his journey, but he is determined to make his way home. It is a great thriller pick to watch. Desierto has an IMDb rating of 6.1/10 and amassed 23 nominations with 2 wins.
Mi Amigo Alexis (2019)
We all love futbol and the shows about it. This next pick is a great family comedy based in Chile. It is about a young boy named Tito who befriends a football idol named Alexis Sanchez.
And in case you're wondering, it is the real Alexis Sanchez who plays for the Chilean National Football team. This comedy shows their friendship and how they both learn lessons from each other. It has an IMDb rating of 4.9/10.
John Leguizamo's Latin History for Morons (2018)
Guess who's making Latin History fun. That would be the work of John Leguizamo, an actor, and comedian. In this next pick, he takes us through a class-themed history lesson that starts from the smarter civilizations to us (morons).
His comedic take and Latino-styled comedy make us laugh out loud which makes it a great Netflix Original comedy. It has an IMDb rating of 7.5/10.
Los Tigres del Norte at Folsom Prison (2019)
This next pick is a documentary that takes the genre of music to another level. The story is about the inmates at the Folsom Prison who are visited by the norteño band named Los Tigres del Norte.
The inmates share their pasts and tragedies and the music from the band helps them open about their life choices. This documentary is filled with life lessons and has an IMDb rating of 7.0/10.
Pickpockets (2018)
Our next pick from the Latinx category is a drama feature which is about two best friends named Fresh and Doggie. They learn about the world of pickpocketing and how to execute it to perfection.
They are trained by the legendary thief Chucho. The situation escalates with the two becoming notorious pickpockets in Bogota, Colombia but sooner or later, coming to terms with their crimes. It has an IMDB rating of 5.4/10.
La Dictadura Perfecta (2014)
This comedy-drama uncovers the scandalous story of Governor Carmelo Vargas. He is accused of involvement in illicit businesses but to protect his political career, he negotiates a deal with other owners of the TV Corporation to undo the mess made by my TV MX, which is the most powerful TV Corporation in Mexico.
He is up for candidacy and hopes that the new campaign changes the public image in his favor. He now struggles to be a political star, a future president as the future becomes more unpredictable. It has an IMDb rating of 7.2/10 and amassed 16 nominations with 1 win.
Roma (2018)
This next pick is widely acclaimed to be one of the best Netflix Productions in history. True cinema was displayed in this story based in the 1970s. Cleo is a domestic worker who is the hired help for a family of 6.
The father of the family runs away with a secret mistress, leaving behind his kids, wife, and maid. The wife, Sofia, takes them all on a family vacation and Cleo is invited to calm herself down during this unwanted pregnancy period and gets all the help she can get.
This feature has an IMDb rating of 7.7/10 and amassed over 400 nominations with 250 wins (including 3 Academy Awards).
This next pick is a documentary about the unknown roots of Latin America's celebrated artist, Rene Perez, better known by his artist's name Residente. After receiving his DNA results, he embarks on a global adventure to uncover his ancestral origin story.
It also fuels him to work on his next music project. This story also shows him growing as an art student to becoming the founder of Calle 13, an influential rap group. It has an IMDb rating of 8.0/10.
Almacenados (2015)
Our last pick is a comedy-drama feature about the character Young Nin who spends 5 days in the warehouse with Mr. Lino whose job he will soon take over. His learning reveals the difference between the two generations in work and value.
It has great lessons about the struggles and nuances of the middle-class workforce. It may seem slow-paced, but it is a great pick to watch. It has an IMDb rating of 7.4/10 and amassed 17 nominations with 10 wins.
Conclusion
With these 10 picks, you are all set to stream 10 of the best Latin American movies Netflix has to offer. The list does not stop here as Netflix has many to offer. But for now, these are the best ones to watch. Happy streaming!

Follow Sounds and Colours: Facebook / Twitter / Instagram / Mixcloud / Soundcloud / Bandcamp

Subscribe to the Sounds and Colours Newsletter for regular updates, news and competitions bringing the best of Latin American culture direct to your Inbox.
Share: