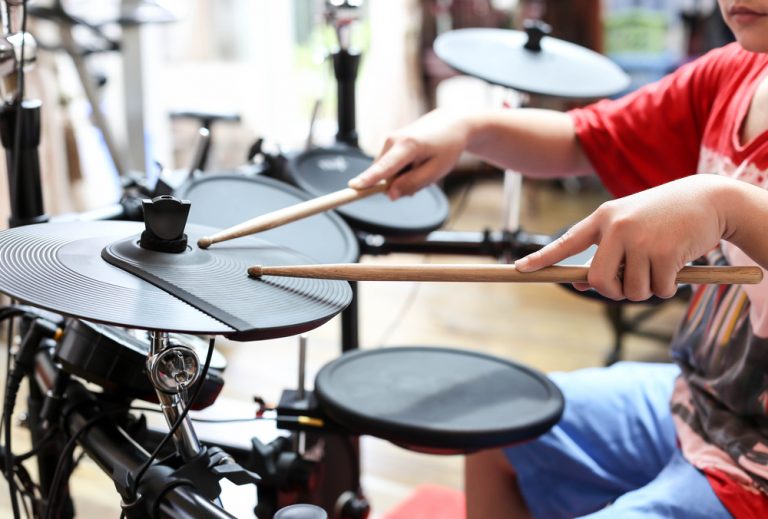 Best Electronic Drums for Playing Latin Music
17 July, 2019
It's a fact that people love music. Various types of music around the globe has been motivated and influenced by different factors and events in history, and the music people listen to today reflects the hard work of musicians in making it better. Among all the origins of music, Latin music is one of the most exciting types that contributed to how music is molded today, as it is an extraordinary mix of history and social context. Latin music features a dynamic structure of combined indigenous music, European marks, African influence, and social conditions like class divisions.
In playing good Latin music, it requires excellent syncopation and energy to develop the beat and continue its complexity. Instruments play a critical role in Latin music, especially the drums, which are a piece's rhythmic backbone. Drums can range from different shapes and sizes, but its most distinctive characteristics are divided into traditional drums and technology's work—electronic drums. Also, one important aspect to consider is making sure that you have the proper equipment for tuning your electronic drum set. It is always best to check out the latest electronic drum tuners available thereafter. As a musician focusing on drums, you can consider playing electronic drums, but choosing the best electronic drum sets can be pretty tricky. Fortunately, here's a rundown of the best electronic drums for playing your Latin music:
Alesis Nitro
Among all electronic drum sets in the market available today, the Alesis Nitro kit has decent features and is one of the most affordable and most accessible. As Latin music is composed of intricate beats and rhythms, it's essential to have a large variety of drum components to help you create the different sounds you'll need. Every Alesis Nitro drum set is designed with an intricacy that is perfect for the structure of Latin music. Some of its essential features are:
Three 8" tom pads accompanied with special powerful features
Snare drum with a dual zone for an authentic drumming feel
Three 10" cymbals
Stark pad tower that supports the kick drum from falling or being dislocated
Four aluminum posts that support the mounting of the whole set and improves sound quality, which is also suitable for drummers who like to travel on gigs and performances
An Alesis Nitro kit can help you if you're a beginner who's still getting used to Latin music. One of its key advantages is the ability to record the drummer's own sounds and patterns. Even though it already has 385 generic sounds, there are also available presets of modern and traditional drum kits that can assist you in moving around Latin music.
Roland TD-1K
This neat five-piece drum set has an excellent sound module and straightforward sound scanning. It's an entry-level electronic drum set that is appropriate for both beginners and intermediate drummers. The sounds inside the Roland TD-1K kit range from different genres, particularly jazz, pop, metal, and rock, which are the best genres for drumming. Moreover, the Roland line also includes a percussion kit, an essential element of Latin music, such as the Bonga, Tambourine, and Congo.
The pedals of the drums are stand-alone, which you can position any way you want. Despite its difficulty to build and set up, it's highly space-saving and has a sturdy build that can last for a decent time considering its price. The TD-1K's sound quality is excellent and manageable, especially for novices getting familiar with different genres and styles. This drum set can play with a stable set of fundamental to complicated sounds that can be heard in Latin American music and culture.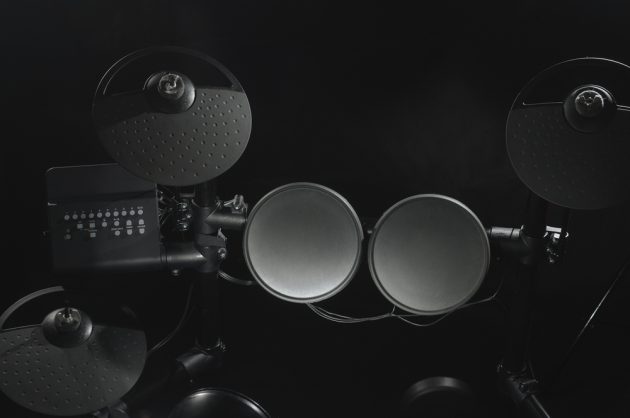 Alesis Command Mesh
While the two drum giants Roland and Yamaha dominated the world of electronic drums, Alesis has also earned a decent spot with their Alesis Command Mesh kit, especially with the fantastic quality of the pads alone. Moreover, it can be connected to a computer for easier recording via USB MIDI connection and USB socket on the other side for inserting memory sticks and saving pre-recorded sounds and tracks.
The Alesis Command Mesh is a great drum set with a worthy price tag, perfect for drummers navigating the genre of acoustic Latin. It's loaded with both percussion and electro standard sounds, which have opposite characteristics that can be combined by the drummer for a creative rendition of Latin music. It might be challenging to build the set due to its "flat pack" style, but once you learn it, you'll definitely enjoy its good sound quality. The Command Mesh plays a variety of sounds such as jazz, rock, and funk, which can be equally advantageous to Latin music.
Yamaha DTX720K
In the digital world today, artists and musicians have also revolutionized their way of expressing music to their audience. With the Yamaha DTX720K equipped with app-connected learning, you have full control to your drum set by merely using the DTX700 Touch app on your IOS device. With various music apps and startups in the market today that are available for different instruments, the DTX700 Touch app is one of the first and most unique interfaces for drummers.
The DTX720K belongs to the DTX700 line together with the DTX760K, and comparing it with the latter, the DTX720K has superior playability that is ideal for playing acoustic Latin. The better playability and feel emitted by the drums is due to the snare and toms made out of silicon instead of rubber. The module is composed of 1,396 sounds plus additional space dedicated to your own sounds, thanks to the 64MB memory capacity. Since this drum set is beneficially one of the quietest, it can appropriately adapt to practicing drummers.
Alesis DM10 X
The Alesis DM10 X is undoubtedly a fine-looking piece of drum set that looks sophisticated and minimalistic. According to your style and preference, you can choose between two types of their pads:
Real drum heads used in acoustic playing usually use mylar heads with a heavier bounce, stiffer surface, and produces noisier sounds.
On the other hand, mesh heads have increased sensitivity and quicker response compared to mylar heads. This feature results in a more dynamic playability that maintains the genuineness and nature of sounds.
Also, the best advantages of owning a DM10 X is the sound module, which has multiple features like a metronome, built-in sequencer, different outputs, and top-panel mixer that are highly essential for producing premium quality sound. The set's exclusive feature, Dynamic Articulation technology, possesses improved sound, volume, and timbre that ensures a dynamic feel for the ears. The timbre is significant in any music piece as it distinguishes the voices and musical instruments used altogether. So if the timbre of your drum set performs excellently, then you can guarantee great production and performance.
The Verdict
Among the five best electronic drum sets enumerated above, each one of them possesses unique qualities and features that are suitable for different types of drummers. Depending on your preference, abilities, and musical style, there's definitely a perfect drum set for you, as long as it can cater to and accommodate the complexity and standards of playing Latin music. Even though Latin music is preferably played with traditional instruments that reflect culture, it's also a good idea to embrace the new inventions and innovations today to improve the creation of traditional and contemporary Latin musical pieces.

Follow Sounds and Colours: Facebook / Twitter / Instagram / Mixcloud / Soundcloud / Bandcamp

Subscribe to the Sounds and Colours Newsletter for regular updates, news and competitions bringing the best of Latin American culture direct to your Inbox.
Share: