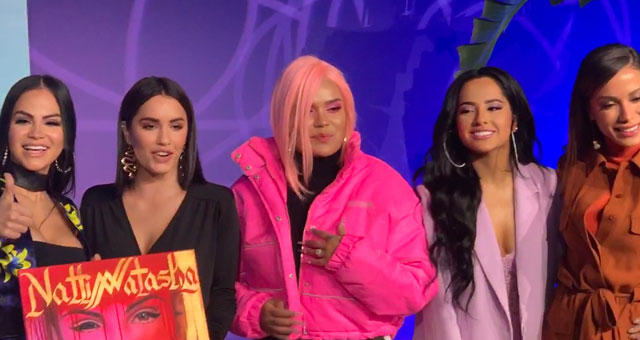 Gina Vergel
Billboard Latin Music Week: 'Women in the Lead' on the Charts, but could things be better?
26 April, 2019
The Billboard Latin Music Awards featured plenty of women nominees, yet the list of winners from Thursday night's show makes it clear that men still dominate the urban genres (reggaeton and Latin trap) that fuel the steady growth of Latin music.
While at least 13 women were nominated, Dominican American singer Natti Natasha was one of three women who nabbed wins on Thursday night. Shakira was the other winner, with two awards. Cardi B won crossover artist of the year with "I Like It," with J Balvin and Bad Bunny.
Can things change?
Judging by attendance at a panel surrounding the topic of women in Latin music, we are hopeful.
"Women In The Lead," a panel at the Billboard Latin Music Week conference in Las Vegas, Nevada, was chock full of women holding steady on the charts and it's not an exaggeration to say it was one of the best attended panel discussions.
The panel featured Natti Natasha, Colombia's Karol G, Brazil's Anitta, Argentina's Lali Esposito, and American Becky G, who is of Mexican descent. It was moderated by Leila Cobo, a Vice President and Latin industry lead for Billboard.
A New Effort for Change in Latin Music
At the event, a nonprofit working in partnership with Billboard to increase the number of women in the music industry, She Is The Music (SITM), unveiled its first-ever Latin Committee, which will include Anitta.
Together with executives from labels, publishing, and more, the committee aims to reflect the organization's mission to uplift women in all corners of the global industry, from songwriters to choreographers, engineers, producers and labels.
Read more about the Latin Committee here via Billboard.
An Uneven Playing Field
The "Women in the Lead" discussion began with some dire statistics by Stacy Smith, Ph.D., an associate professor at the University of Southern California and founder and director of the Annenberg Inclusion Initiative: Women only comprise four percent of the songwriters on the Latin charts. Ninety-six percent of lyrics on the Latin written by men.
This was information her center was able to come up with after examining 200 songs (the top 50 each year) from the Billboard Latin charts over the last four years.
Becky G put some of the burden of change or improvement on men in the industry, since they're obviously in the position of power.
"There's not a lack of talent out there, but a lack of opportunity. If you know a dope [song] writer, bring her up," she said.
Karol G, on the other hand, preferred to look on the bright side. "… the door has been opened [for women], we're doing big things, now people realize that we've been featured on big remixes," she said. "Yes, the participation from women compared to men is small, but the doors are open, and I feel blessed."
Brazil's Anitta got her start in music when reggaeton wasn't in style in Brazil.
"It was FUNK and for me to be singing to lyrics over a funk beat, the people would say, NO, it's never going to happen. A woman? No," she said. "And my lyrics were about empowerment! But look how it is now. The women are dominating."
Still, she added there is much work to be done.
"We need more DJs, producers, those booking at the clubs, video directors and more. Women will value when these things are put together from the perspective from a woman."
Speaking of perspective, Natti Natasha touted the fact that she and some of her fellow panelists were not afraid to sing lyrics that were more about than "being in love with a man."
"There's a lot more to say," she said.
Argentina's Lali Esposito agreed.
"It's important because when we're little, we're taught that other women are your competition. We were always raised about being for men and we can't collaborate with the women because she's your your competition," she said.
Smith reiterated the point about the Latin music industry needing more women on the production and management side of things.
"We've seen the support build in other industries, with more women involved, the product gets better."
And that's not all that should change in order for the field to become level. The longevity of women's careers is shorter.
"Women become disposable at a certain age if they're not gratifying in a certain way. It's not the same for the men," Smith said.
During Q&A, there were various questions by women looking to break into the industry, be it as an artist or on the business side. One asked for advice on just how to do that.
Anitta, ever the straight shooter, said she wished it were easy.
"I myself feel like I'm still fighting," she said.
Read our Twitter recap of the panel discussion here.

Follow Sounds and Colours: Facebook / Twitter / Instagram / Mixcloud / Soundcloud / Bandcamp

Subscribe to the Sounds and Colours Newsletter for regular updates, news and competitions bringing the best of Latin American culture direct to your Inbox.
Share: