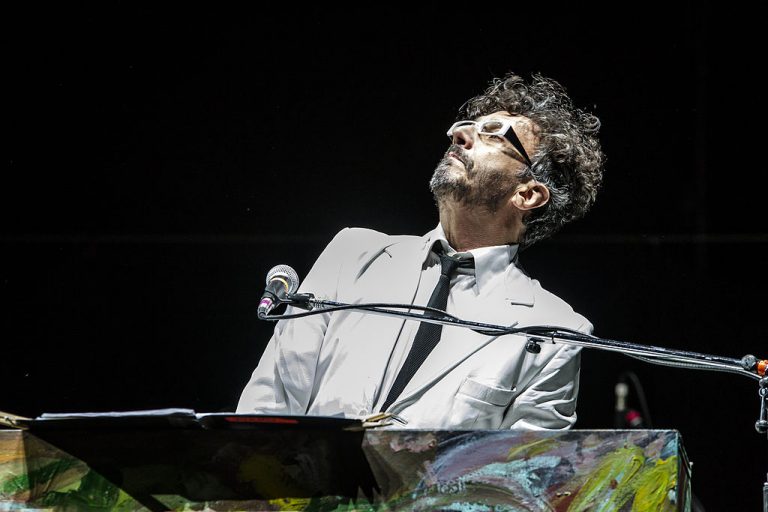 Fito Paez: The Man Who Refuses to Stand Still
24 August, 2021
If you don't know Fito Paez it's likely you are not of Spanish-speaking origin and if you are a fan of Latin music then you probably own one or two of his records, for anyone out there with even a passing interest in great piano-based rock and pop, you really should expand your horizons and download a track or two.
Paez is a legend in his native Argentina and is known around the latin diaspora as a multi-talented musician, and film director, who's been working on his art since the age of thirteen. He formed his first band, Staff, at that young age and hasn't looked back.
A career was forged from the backstreet bars of Rosario and have led him to the giddy heights of nine Latin Grammys, as well as a first US Grammy earlier this year. It's a path that has seen many highs and is not nearly over.
It's fair to say that the 58-year-old musician is an eccentric individual, whether that's from his crazy array of styles (he's reinvented himself at least half a dozen times), to his eclectic musical output and the vast array of designer prescription glasses he chooses to appear on stage wearing. All in all, this is one cool cat.
At heart of most of his reinventions are an eccentric approach to his selection of eyewear, some of which have made Fito Paez something of a style icon, on top of being a musical god across the Americas and beyond.
Indeed his choice of glasses seems to mirror his mood, sometimes being brash and assertive and other times more reserved and classic in his approach.
It appears that the need to reinvent himself comes from a desire to never sit still, which goes against the ethos of some long-serving rock gods who are happy to play out the same hits decade after decade, that's not how Fito operates.
"The only thing I want is not to become a living statue," he has stated,
"I'm running from being an icon, the legend, all that … I've known lots of artists, writers, musicians and composers who put on airs. … That life lasts only a little while. … The important thing is on the other side, not here,"
Indeed that need to be constantly evolving and moving forwards has been impacted by the pandemic, which has of course had an impact upon us all. It did, however, offer Paez the chance to continue his forays into film. He also started to work on his autobiography, and no doubt this introspection has led him down many roads.
Of his efforts to put his life down to paper, something that saw him gain 10 kilograms, Paez opined;
"That was really a whirlwind, a huge mountain of emotions: I cried, laughed, got excited, felt euphoric, downgraded myself, I said … 'this is crap,' and the other day it seemed to me to be a work of genius,"
Indeed, genius seems a fair assessment of Paez's achievements to date and on that front it's worth noting that Netflix is putting together a fictional show that will document his life, up to this point.
The fictional series will be titled El Amor Después del Amor, the title of his hugely successful 1992 release, an album that is now the most successful rock album in Argentine history and ranked as the 13th greatest album by the Argentine edition of Rolling Stone.
With Fito the sense is very much that he is something of an immovable force who refuses to be sidelined by circumstances. He continues to be very relevant to his legion of fans, indeed his fanbase increased significantly when, at the outset of the COVID-19 restrictions, he chose to broadcast gigs direct from his living room.
Paez was set to go out on a tour that would have brought his music to Colombia, Paraguay, Uruguay, Peru, Chile, Brazil, Ecuador, Mexico, Spain and the US. When it was shelved he could have chosen to sit this one out, but instead he sat by his piano in front of a computer screen and wowed the masses.
The fact that 1.4m people watched the first livestream show he performed is testament to the legend and genius that is Fito Paez.
The fact that his life, one that has been marked by wild excesses and genuine tragedy, his beloved grandmother and great-aunt were brutally murdered and the death of his father led to a period of introspection, will no doubt lead the upcoming Netflix show to breed a whole new group of adoring fans, all of whom can grow to fall in love with this exceptionally talented artist.

Follow Sounds and Colours: Facebook / Twitter / Instagram / Mixcloud / Soundcloud / Bandcamp

Subscribe to the Sounds and Colours Newsletter for regular updates, news and competitions bringing the best of Latin American culture direct to your Inbox.
Share: