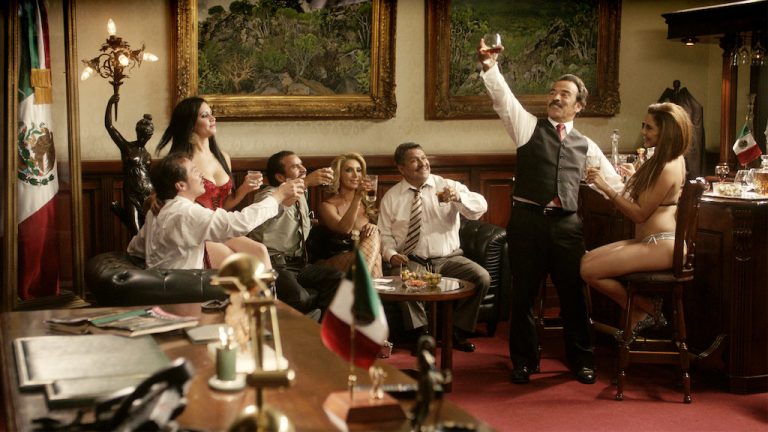 The Perfect Film to Dictate
07 June, 2021
On Netflix, there is no shortage of binge-worthy television shows. The streaming service has plenty of TV to keep you glued to your couch for hours of entertainment. From La casa de las flores and La casa de papel to other shows that don't have "house" in their title. Amongst all of the episodic content, though, is one of the world's largest and most famous media libraries for you to watch on Netflix.
You may discover that you have access to several critically renowned Latin American films. In this case, Netflix may serve as your go-to source for programming your own film festival with the best from Brazil, Mexico, Argentina and beyond. We will focus on one of those films which comes from Mexico and is called The Perfect Dictatorship.
The Perfect Dictatorship
The Perfect Dictatorship is Mexican director Luis Estrada's newest satire of his country's politics, and it's now available on Netflix to international audiences. The film's title is taken from a remark by Nobel Laureate, Mario Vargas Llosa regarding the PRI, Mexico's historically powerful political party. While the PRI and the current Pea Nieto administration are targeting him, the video also has broader implications about how the media can destroy society from within in conjunction with drugs and money.
Our narrative begins with a relatively humorous caricature of Mexico's current president, Enrique Pea Nieto, though the man isn't named. When Mexico's impeccably groomed, gaffe-prone onscreen president makes racist remarks in a meeting with the US ambassador, his administration must deal with the fallout. They turn to TV MX, a well-known television network, for this. In reaction, TV MX releases a video of Carmelo Vargas, the governor of Mexico's most impoverished state, accepting bribes to divert attention away from Senior Presidente's error.
He's enraged, but he's not defeated. Sensing an opportunity, the entirely corrupt governor goes to TV MX and "mortgages" his state coffers to bribe the station into acting as his personal public relations department. Now it's up to TV MX to repair the harm they've done to him. Still, they're also entrusted with helping him win the presidency in Mexico's next election. To do this, the station assigns Carlos Rojo, a young up-and-coming producer, to serve as his resident spin doctor. Now Carlos and TV MX must use their imagination and resources to turn the diabolical man into a saint.
Unfortunately, The Perfect Dictatorship's farcical state isn't that far from reality. "In this scenario, the names are imaginary; the events, disturbingly true; any similarity with reality is not just coincidence," Estrada warns at the start of the film. In Latin American politics, corruption and media collaboration are still commonplace. The case of Andrés Seplveda, a Colombian hacker suspected of influencing multiple Latin American elections, including Pena Nieto's, through manipulating both social and traditional media, is one of the most recent revelations on this front. It's almost as if reality follows fiction.
The influence of the media in politics and corruption is not new, nor is it exclusive to Latin America. This not only makes The Perfect Dictatorship more accessible to worldwide audiences, but it can also make it appear to be a modernised Mexican remake of the 1997 American picture Wag the Dog. Certain story elements, such as kidnapping young girls or politicians cavorting with escorts, can feel a touch unimaginative. Nonetheless, the film's overall execution, as well as the enormous amount of local flavour it provides, make it stand out on its own.
As the film takes us on a humorous and cynical ride, we encounter kidnapped children, prostitutes and narco-traffickers. The humour is dark and twisted, as is typical of Estrada. The president's immorality and corruption are so apparent that it's almost comical. But perhaps he isn't the film's main villain; maybe he is merely a prop in a larger show. "We made this president," Carlos' boss at TV MX asserts, and there's no reason they can't "create" another one with Vargas. The pale-skinned, effete TV producers from Mexico City, not the rough and tumble backwater narco-politicians, are in charge here. Politicians are bought and sold, auditioned and cast in a variety of roles.
With The Perfect Dictatorship, Luis Estrada strikes again. Compared to his previous picture, Infierno, this one is likely to be less violent and more appealing to a broader audience. The Perfect Dictatorship is worth watching because of its national scope and capacity to evoke loud chuckles. And don't wait, because if what's going on in America right now is any indication, Mexican politics could be so insane that the movie would pale in comparison!
This Mexican comedy will teach you about Mexican history in a fun and entertaining way. So, if you don't know what the PRI, Televisa or Enrique Peña Nieto are, it's a great way to learn about how things work in our lovely country. If you don't mind real-life political references, you'll appreciate the film. Politics is rife with absurdity, and the film will make you chuckle no matter where you are from.

Follow Sounds and Colours: Facebook / Twitter / Instagram / Mixcloud / Soundcloud / Bandcamp

Subscribe to the Sounds and Colours Newsletter for regular updates, news and competitions bringing the best of Latin American culture direct to your Inbox.
Share: