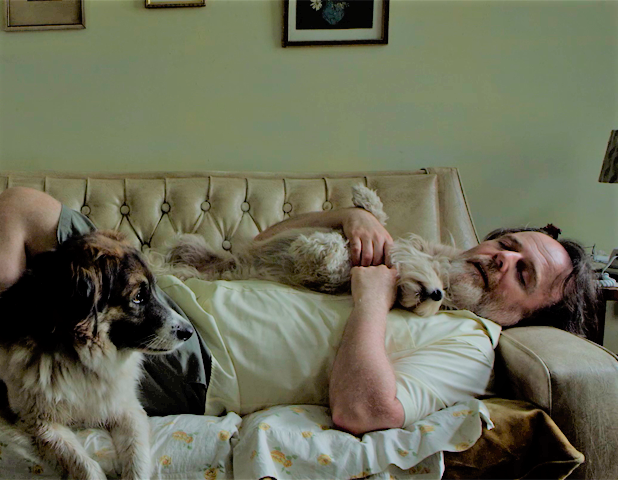 A canine family becomes the catalyst for human connection in the Argentine film 'Seven Dogs'
09 May, 2022
Seven dogs (Siete perros) is a small story, which narrates a moment in Ernesto's life. Ernesto is an old man, he lives alone in Córdoba City, in a messy and dirty apartment, he frequently attends his dialysis sessions and has seven dogs that share his days with him and help him through his loneliness. Ernesto is a widower and has a daughter living outside Argentina, with whom he communicates frequently and with whom he has a very good relationship. Most of the neighbours in his building also seem to hold Ernesto in high esteem, except for one drawback: the dogs. It is not known how these seven dogs came into Ernesto's life, but they do seem to counteract the enormous void that have been left by his wife, with whom he also apparently had an excellent relationship and many interests in common. Ernesto's dogs are very well cared for and when a neighbour asks about them, Ernesto is able to describe their personalities in detail. The dogs are the pretext used by the director, Rodrigo Guerrero , in this, his fourth feature, to explore the theme of loneliness in old age and the role that the community -especially in the anonymity of the big cities- plays or can play in alleviating this loneliness.

Ernesto receives a notice from some of his neighbours , who urge him to get rid of his dogs. Although they generally have no personal problems with him, they consider seven dogs to be a lot of dogs and complain mainly about all the barking. This is the event that triggers the action narrated in the film: Ernesto's odyssey to find an alternative home for his dogs but, at the same time, keeping them close enough so as not to completely dismember the pack. This is when the other side of the coin appears: Ernesto is a caring neighbour and the cooperation of his community soon follows. Some of the neighbours are aware of Ernesto's kindness and what his dogs mean to him. They see the affection and respect with which he treats them and how the dogs give meaning to his daily life. Soon, the neighbours begin to want to collaborate with issues not directly related to the dogs, such as the daily chores. Then they become concerned about his health and well-being, sometimes even keeping him company. It is in these encounters that they really realise what these dogs mean and understand that they cannot let them be taken away from him. In this way, some of his neighbours decide to take care of his dogs. As a result, Ernesto gets to stay in his house, with his dogs close to him, and deepens community relationships with his neighbours.
The strengths of this film are many. First of all, the acting of Luis Machín (Ernesto) who is a first class actor and on whom almost all the weight of the story falls. Then the simplicity of the story that – at the same time – contrasts with the complexity of the situations it deals with: coexistence and community bonds, grief and – of course – the role of pets. The seven dogs in this case not only capture the viewer's empathy, but reveal the real role they can play in the lives of people who are alone and sick. In this sense, the great success of Guerrero's film is to make us rethink the relationship between people and pets, and explore what issues are at stake in these relationships. 

Seven Dogs was recently screened at the 61st edition of the Cartagena International Film Festival (FICCI).

Follow Sounds and Colours: Facebook / Twitter / Instagram / Mixcloud / Soundcloud / Bandcamp

Subscribe to the Sounds and Colours Newsletter for regular updates, news and competitions bringing the best of Latin American culture direct to your Inbox.
Share: