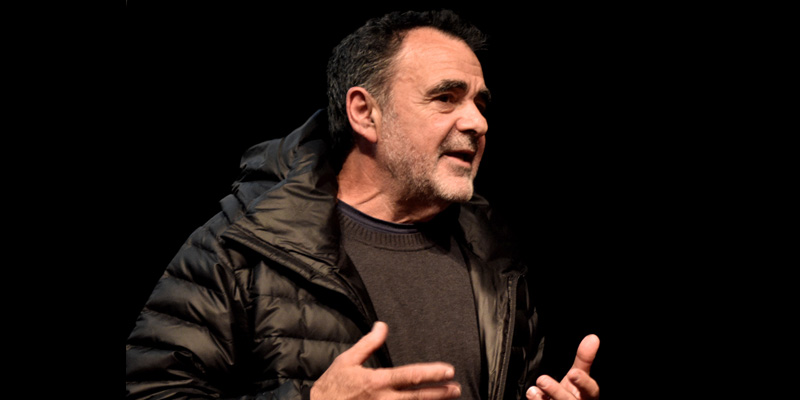 Marcelo Benfield
Argentinean Director Carlos Sorín Brings the Heart of Patagonia to London
04 December, 2015
It's winter, yet the darker nights have made the atmosphere inside the Ritzy cinema café in Brixton, South London all the more warm and fuzzy. Lively chatter, endless flows of tea, cake and wine, tables packed both upstairs and down set the scene for my meeting with Carlos Sorín. I fear the room's noise will drown out our voices on my recorder, but a small corner has been set aside for us, allowing for an intimate interview with one of Argentina's most acclaimed film directors and screen writers. "Everyone is mad with this black Friday thing!", Sorín laughs, but you can tell he's enjoying the London buzz.
As part of the Argentine Film Festival that ran from the 26th to the 29th of November 2015, audiences were introduced to two of Sorín's films; Historias Mínimas and Bombón El Perro. Neither films are recent but their heart-felt messages from the depths of the wild and extensive plains of Patagonia in southern Argentina is as relevant today as it was when the films were first released. "The area hasn't changed, if anything, it is even less populated now", Sorín explains, "and the kind of people you meet in the films are still there". In both, the protagonists come from the same small rural town, the dusty and quiet Fitz Roy. But a momentous trip is undertaken and we follow our heroes across hundreds of kilometres, stopping at occasional service stations, shops and small eateries along the way. "In Patagonia, you can drive for 800 kilometres without seeing anyone, and so any story that happens there is inevitably tied to a journey. For the locals, travelling is quite a normal affair". The films' characters are generally cheerful but their good spirit is ridden with a sense of uneasiness, their contentment shadowed by a deeper yearning for change. But this longing Sorín insists, is not exceptional. "Every one goes looking for something, which I believe is intrinsic to the human condition. The old man in Historias Mínimas is trying to resolve some guilt he has, the man with the cake is looking for happiness and in Bombón El Perro, the protagonist is hoping to start his life again after losing his job". Their encounters, albeit slightly awkward at first, are marked by people's warmth and humility, their gentle words carried by soft rhythmical accents. "The people of Patagonia are very reserved, because they are not used to meeting other people with as much frequency as you would in the city. There, to meet someone is an event, and so people aren't as accustomed to speaking to strangers, But if you start to get to know them, you realize how much they look out for one another".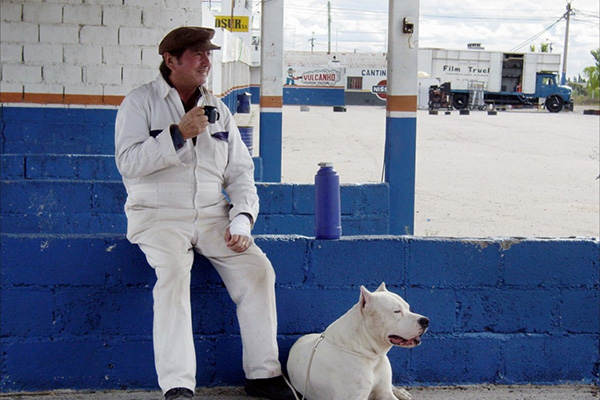 Still from Bombón El Perro
Carlos Sorín's interest in Patagonia stems from his own personal experience of living there. He discovered the area whilst completing his military service and found the place "terrible!". Sorín chuckles as he confirms this first impression of his; "Yes, I hated it, as soon as I got there! You have to get used to the sound of the wind twenty four hours a day and it is unforgiving". Nonetheless, Sorín remained in the area and soon started to see the charm beyond the unwelcoming winds. "Those long roads, the service stations and hotels in the middle of nowhere, these images really intrigued me and I understood that for the locals, they were important hubs of life. I wanted to portray the immensity of this grand yet aggressive land, the open and extensive skies; the type of landscape fit for heroes and epic tales, but then contrast them with small intimate stories, simple daily life".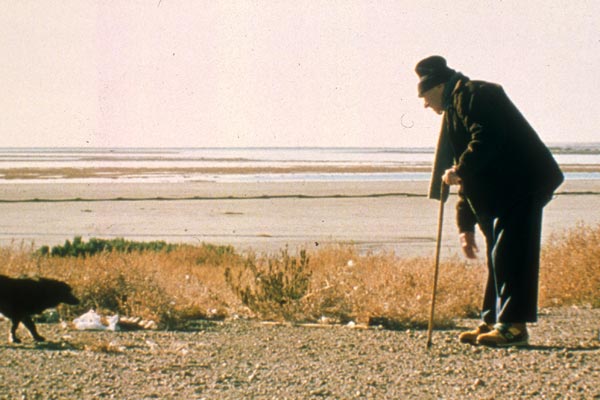 Still from Historias Mínimas
I ask Sorín where else he'd like to go to shoot a film and he draws closer, eyes lighting up, as if about to share a deliciously singular secret. He asks me for my name, obviously not having heard it well the first time. "Stephanie", I tell him. "Like my daughter!" he exclaims and I feel like I'm right in the middle of Patagonia, sharing mate with the old man from Historias Mínimas. "Did you know that this year and last, in some rural villages of Argentina, communities have started to take justice into their own hands? I heard recently about a very poor family of which one member was an ex-convict, who had moved to the outskirts of a small town. When the rest of the community got wind of this, they went over to the poor family's house and burned it down, acting in frenzy like a pack of hounds. And because this anger, this act of retribution was spurned on by mass mentality, there was no leader and no one was held responsible. It's an expression of fascism but a curious phenomenon because it has started to happen only recently and it involves simple, normal people, like those from Historias Mínimas. Some of these cases end terribly, with people beaten to death. It's not an easy theme, I don't know how to approach it yet". Sorín's assistant sits nearby, listening eagerly. Still, I know my time is up and I thank them both for their time. Sorín gets up and asks for half a cup of warm milk, his small frame suddenly jostled about by the hustle and bustle of the bar. He smiles patiently, like a seasoned Patagonian, caught up in the wind.
Carlos Sorin was appearing at the Argentine Film Festival of London, an annual festival showcasing contemporary cinema from and about Argentina.

Follow Sounds and Colours: Facebook / Twitter / Instagram / Mixcloud / Soundcloud / Bandcamp

Subscribe to the Sounds and Colours Newsletter for regular updates, news and competitions bringing the best of Latin American culture direct to your Inbox.
Share: