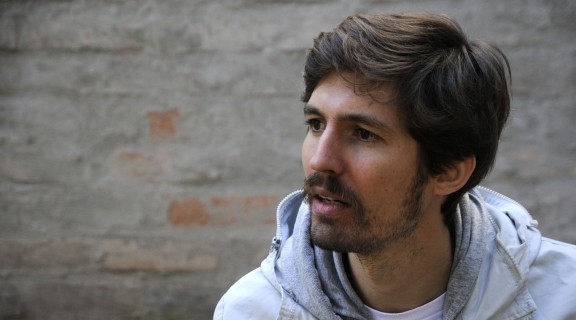 Cutting The Safety Rope: An Interview with Argentine film director Francisco Varone
07 January, 2016
It seemed fitting that Francisco Varone's debut feature, Camino a La Paz, opened 2015's Argentine Film Festival in London, a festival that also featured a retrospective on the work of a more familiar name in Argentine cinema, acclaimed auteur Carlos Sorín.
Varone shares Sorín's source of inspiration in the open road (an abundant commodity in a country of Argentina's gargantuan dimensions) but where Sorín found the inspiration for Historias Minimas and Bombón El Perro in the roads tracking the vast Patagonian steppe, Varone looks north, to the dusty highways leading up through the Andean foothills to Bolivia: "For me, going to Bolivia, instead of Brazil or Chile, represented the wildest adventure possible for someone sitting in a big city like Buenos Aires. I had this idea of moving from a comfortable place to a wilder one."
Whilst the journey to Bolivia does prove long and arduous, it is the petty yet immediate discomfort of sharing personal space with a complete stranger that drives the narrative. Rodrigo de la Serna plays Sebastian, who falls into the illegal remís [private car hire] business as a solution to the perma-unemployment and urban ennui of 2001 post-crisis Buenos Aires. When his most annoying passenger – the aged, weak-bladdered Jalil (Ernesto Suárez) – requests a 3000km lift to La Paz, he dismisses the idea as ridiculous, but after his wife loses her job, he's forced to reconsider. Whilst his decision is ostensibly made for financial reasons, there's a picaresque glint in his eye at the prospect of a release from the inertia of married city life.
Sebastian learns a newfound respect for Jalil after learning that he is ultimately heading for Mecca, to complete the Hajj pilgrimage, despite serious health problems that limit him to travel by land or sea. As the miles are eaten up, the dynamic between driver and passenger gradually evolves from tetchiness to tenderness, and the two form an unlikely friendship of genuine warmth and unexpected spiritual depth. Varone clearly shares Sorín's knack for warmly comic, subtly humanist storytelling: "The two things I had in my head while writing Camino A La Paz were that I want to entertain – I need action – but at the same time I want to get deep into a relationship, or human nature".
With the burgeoning relationship at its focus, the film swerves a multitude of potential genre potholes. It's part road movie, part odd-couple comedy, and part coming-of-age tale, but has enough wit and personality to avoid pigeonholing: "When I write, I don't think about genre". Instead, Varone finds inspiration in the lives of those around him, constructing a character-driven narrative based on the amalgamation of two personal experiences: "The first happened many years ago, shortly after the economic crisis in Argentina in 2001. One of my best friends was unemployed and married, left at home all day while his wife was out working. He kept receiving misdirected calls which were driving him crazy, from people looking for a remís service. Eventually, he decided to take advantage of the situation and use his only possession of value, the car he had inherited from his father, to start working as a kind of illegal taxi driver."
"Many years later, I bumped into an old friend who had converted to Sufi Islam, and he invited me to come and meet his religious group. They were Argentinians, typical Argentinians, but at the same time they dressed differently, ate different food, and prayed in Arabic, so for a couple of hours I was in Buenos Aires, but felt transported to the Middle East. Meeting them was a huge discovery for me, and I felt I had to do something with this, to show Argentinian and Latin American audiences that this half-Argentinian, half-Middle Eastern community exists".
If heading to Bolivia represents a journey into the wild, then Varone's on-screen portrayal of this hitherto unseen community is uncharted territory for Argentine cinema. For an international audience, the director's understated incorporation of Islamic faith into his narrative quietly resonates against the polarising, inflammatory rhetoric of mass-media: "What I felt with this community was that they had a very organic and natural way of living. They are very tolerant and open-minded. Many things they spoke about in their meetings reminded me of Buddhism, of Zen, of Taoism. I felt that there was some kind of spiritual truth behind what they were talking about, that didn't just pertain to one particular religion."
Varone's own experiences with the Sufi community are translated into a scene in which Sebastian is invited to participate in the Dhikr chanting ritual, shot documentary-style during a genuine ceremony. Rather than a specifically religious epiphany, the scene marks a pivotal moment in Sebastian's slow-burn, agnostic awakening to the possibilities of life. Open-mindedness emerges as the touchstone theme, in both spiritual and practical terms, with the whole process set in motion by Sebastian's outside-the-box decision to turn the annoying misdirected telephone calls to his house into a job opportunity. In shooting his first feature on a limited budget, Varone adopted a similar openness to serendipity:
"Sometimes the way production goes forces you in a certain direction. We had a busy schedule and I didn't have the time to climb to the top of each mountain and sit there waiting for the sunset, so I just grabbed the shots of the landscape I could. There are some creative decisions that you take because of the aesthetic you want for the film. I chose a handheld style, with longer takes, and not too many fast edits, but in the end, this mix of the things you decide, and the things you don't, has an organic way of giving you the final result. If I'd had more time for majestic landscape shots it would have felt artificial, or commercial. My movie is more raw."
This cinematographic rawness puts both leads under the microscope, doing most of their work at close quarters inside the car. It's an environment in which they thrive, consistently hitting the high and low notes of a subtly tragicomic script brimming with natural dialogue. Varone asserts that "a great percentage of the dialogue is what I wrote," but having secured "two great, highly experienced actors", he allowed some room for improvisation: "I told them: this is the skeleton of the scene, these are the key phrases, but adapt them to your way of expressing yourself, say it in a way that feels natural to you. So they weren't prisoners to the exact wording of the script, but there were some key beats they had to hit."
For very different reasons, Varone scored a major coup in the casting of both actors. De la Serna offers instant box-office recognition, in a performance that reprises many of the finest elements of his BAFTA-nominated supporting role in The Motorcycle Diaries: "When I started writing the movie I knew that I wanted him for the lead. He read the script many years ago, and the first time he read it, he called me and told me he wanted to be involved. That was a huge step for me because I had a well known face, but more importantly, someone I can trust and know that the acting will be great."
Securing the participation of Suárez was more complicated: "I wanted someone that was unknown, but at the same time a great actor. That's pretty rare, because most great actors are already very well known." After months of casting nationwide, and even looking further afield to Uruguay, Varone still hadn't found his man, until he received a tip off about a legendary, reclusive theatre actor from Mendoza: "he had never made movies before, and he had no interest in making them. But I sent him the script, and he loved it, so I flew out to meet him, and he felt comfortable with me. Two days later, Rodrigo also flew out, and after the three of us had spent a few days together, he finally agreed. I think he was interested in doing a film at least once in his life".
Making his screen debut at the age of 75, Suárez was recently named Cultural Ambassador of Mendoza, in honour of his lifelong commitment to theatre and community workshops in the city, broken only by a period of enforced exile during Argentina's military dictatorship. Though he was understandably reluctant to abandon his work in the city for a film shoot, Varone won him over on the strength of his script, and perhaps more importantly, through forming the kind of genuine personal connection that proved the lifeblood of his first feature: "Doing a movie, at least in Argentina, is hard. The first movie is double the effort, because you have to win people's trust and persuade them to come along on a crazy adventure like this one!"
The bond established prior to production was reinforced by the director's commitment to shoot the film chronologically, in real locations on the road up to La Paz: "we spent six weeks on the road, shooting together, all day every day. Whenever you make a long trip with people, some kind of bond starts to develop. Somewhere along the line the relationship that develops in the movie also started to develop in real life […] it was really natural how things developed. And now myself, Rodrigo and Ernesto are all good friends."
Given the various leaps of faith involved in getting Camino A La Paz into production, there's a neat circularity in the advice Jalil gives to Sebastian during one of the film's most intimate scenes: sometimes "cutting the safety rope" and falling into the unknown can prove the fastest route to success.
Francisco Varone was appearing at the Argentine Film Festival, an annual festival showcasing contemporary cinema from and about Argentina.
Trailer for Camino A La Paz (click CC for English subtitles):


Follow Sounds and Colours: Facebook / Twitter / Instagram / Mixcloud / Soundcloud / Bandcamp

Subscribe to the Sounds and Colours Newsletter for regular updates, news and competitions bringing the best of Latin American culture direct to your Inbox.
Share: