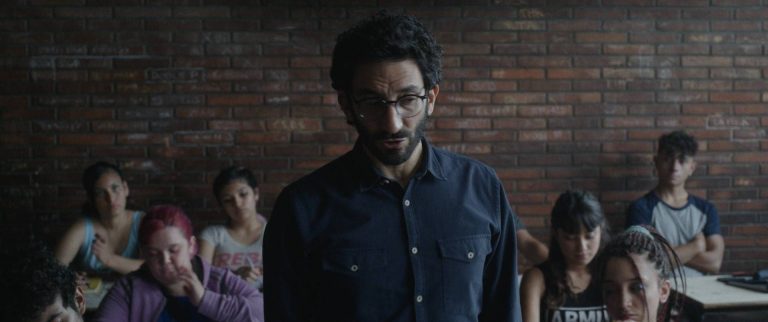 A still from The Substitute
"I Wanted To Show The Dividing Line Between Those Who Just Teach, And Those Who Get Involved." Argentine Director Diego Lerman Talks About His New Drama 'The Substitute'.
16 January, 2023
Diego Lerman is one of Argentina's foremost contemporary directors, known for films that grapple with Argentina's social problems and class tensions. For his sixth feature, The Substitute (El suplente) Lerman delves into the harsh realities of the teenagers at a school in a deprived area of Buenos Aires. Juan Minujin (El Marginal) plays Lucio, a university-lecturer who takes a job as a temporary substitute teacher to work through a personal crisis and be close to his ailing father (veteran Chilean actor Alfredo Castro). However Lucio struggles to engage with his students and empathise with their rough existence, where gang violence, drugs and corrupt officials are the norm and they see little use in learning about literature.
Sounds and Colours caught up with The Substitute's director to discuss his gritty social drama, the experience of directing his daughter and working with non-professional actors, and his representation of a subject not often seen in Latin American cinema. The Substitute will be released into selected cinemas across the UK from Friday 20th Janaury.
S&C:This is your first film with a male protagonist, isn't it?
Diego Lerman: My previous five films, for different reasons, had female protagonists. The first one I made in 2002, so we're talking about a process of nearly 15 years. With this film it was going to be about a teacher and I wanted it to be a man. I also wanted to move away slightly from being the guy who always makes films with female leads. I always get asked why I wrote so many leads for female characters but it just came out that way at the time of writing – in that moment the characters had seemed to be more complex and interesting as women.
S&C: So it was a conscious decision. You'd already decided you wanted a male protagonist when you started writing the script?
DL: Yes. I had in mind that I wanted to explore something about the relationship between fathers and sons. I wanted the character to be a male teacher. I also wanted to delve into a character that feels very fragile in a particular moment, and who goes into a world where the tools he has at his disposal do not serve him in the way that he's used to.
In a sense I was also looking for Lucio's feminine side (laughs). He's a character that is in crisis with his world, with his partner, his daughter, his father. Within that very deep and personal crisis he tries to establish a new place for himself in the world and a new vantage point from where to look at things. That's partly what his search is about. I was trying to probe his fragility rather than his strength.
S&C: It's interesting however that his daughter is s strong female character. This seems to be another of your themes– exploring ties between parents and children.
DL: This particular film is very special to me because the character of Lucio's daughter Sol is played by my real-life daughter Renata. A lot of the things that are very personal to our father and daughter relationship are in there. For me it was about being brave enough to explore that. Lucio is at his most open and transparent when he is with his daughter. He is also trying to enforce his authority over her. He wants her to go to a certain school and has very concrete ideas of what he wants for her education and her future and it becomes a battle of wills between them to see who decides. (fortunately this hasn't happened with my daughter!). The lesson his daughter teaches him is that she's no longer a child. She can make her own decisions and he has to learn to accept that.
S&C: But you wrote the character before casting your daughter in the role?
DL: The film was originally going to be shot before the pandemic. The year it was going to be filmed Reni was nine years old so she was too young. But with the pandemic everything was delayed and it took a while to before we got the green light. By that point Renata was 11 and finishing primary school so she was the right age She asked me if I'd considered her for the role and told me that she'd like to try it so we did a few tests and she was great. Then I had to make the leap and see if I could do it. It turned out to be a beautiful journey doing this together, not just the process of making of the film but everything that came afterwards with the festivals and presentations, and the Silver Seashell she won for Best Supporting Actress at San Sebastian.
S&C: How did the idea for The Substitute come about?
DL: I was approached by Juan Vera – an Argentine producer – just after I'd finished Refugiado. He'd had this idea and he told me that he'd already done a lot of research into it. I read it and thought it was very interesting and we started the very long journey to get this film made.
I added a lot of my own research and went to visit a lot of schools.
The research was very broad and extensive. We amassed a lot of testimonies and had a lot of different possible storylines. There were so many stories and anecdotes from the teachers and it lead me to this path of discovery of a subject that is unknown for many people: how do teachers do their job in these schools that are so unprotected? What do they do apart from turn up and teach in these places that are so vulnerable, where the students lack so many basic things and face so many difficulties? How do they view their role as educators and what are the barriers they need to overcome?
It was very moving to hear all the stories they had to tell. I also felt that, at least in Argentina and Latin America – unlike internationally – there haven't been a lot of stories told from the point of view of this teacher who becomes involved in the situation he's in.
S&C: What happened once the film came out in Argentina?
DL: It was lovely. We released the film a few months ago in Argentina. As well as the traditional release channels – press interviews, premiere, etc – we also had a whole different channel where we showed the film in trade unions, in schools like the one in the film. There were so many students like the ones in the film who showed up to see the film and it was the first time they'd been to the cinema.
It was great because they really identified with the characters of the students in The Substitute. But they came with a lot of preconceived ideas of what it was like to go and see a film. We organised a screening and talk almost every day during a month and they became very engaged with the topics in the film.
For the teachers it was very emotional. They felt seen. I always say the film is a fiction and just one of the many possibilities I chose. But for the teachers it was the first time they felt truly reflected on screen with all the complexity of the subject. So there was a lot of identification and appreciation. That was really lovely. They recommended it amongst their fellow teachers and it opened up a whole new sector of people who got access to the film.
S&C: The students in the film were all played by non-professional actors?
DL: I wanted to make the film with natural actors. But because of the pandemic it was a difficult process to go to the barrios to do the castings. We went and chose a group of teenagers. Then we had to train them. They had a coach. Soledad San Martin. But I was very close to them. We filmed six or seven days with the whole class for the school scenes. It was a huge learning curve. It still is since the film has come out and the repercussions it's generated. We organised workshops to get the kids involved in the film-making process and show them what a film is and isn't about and creating a connection. They'd all come from different schools and different barrios. But since the film they've formed their own tightly-knit group.
S&C: The kids have English names.
DL: Richard is a nickname. Dylan is pretty common. Brian…. They all came from the research. They're used a lot in the barrios.
Also, the teachers were real teachers. That was another group we had to spend some time training. Some I'd interviewed when I was doing research and then I asked them to be in the film. Apart from Clara all the other teachers had never acted before.
S&C: When did you decide on the location of Dock Sud in Greater Buenos Aires?
DL: The location was also tricky because of all the restrictions. It was hard to get permits. We had to do a very big scouting. I wanted to have certain particularities, for example, a motorway near the school. So in the end we filmed the interior in one school and then the externals in another school.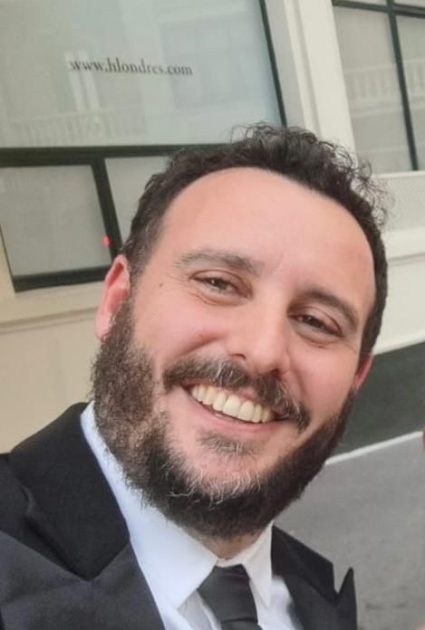 S&C: Your film brought to mind Linklater's School of Rock in that both the main characters start as anti-heroes but end up connecting with the kids through their humanity. What was behind your decision to make Lucio an anti-hero?
DL: I'd never thought of the comparison with School of Rock. Obviously there are lots of films about schools. Rather than looking at a particular school, I was more interested in where this character suddenly finds himself and all the aspects of his life that are changed by this movement in his life. He goes from being a recognised academic and living a very comfortable life where he has a certain status to moving to a barrio where things are more difficult. He realises he's very over-qualified for the job but also that the tools he brings don't work at all in this new situation. So what I wanted to show – which is something that came out of the research – was that dividing line that is drawn for all teachers in those types of schools between those who teach and those who get involved in the lives of their students. There comes a point when they have to chose whether to get involved in their lives or just turn up to deliver the lesson and then go home. That line is something that happens to all the teachers and it's very palpable when it happens to Lucio. He makes the choice to get involved and then a new dynamic emerges with his students. The students change on seeing him get more involved. So he starts to change his life as a result.
S&C: Why did you chose Juan Minujin and Alfredo Castro.
DL: I'd wanted to work with Juan for many years. We met to talk about the project in March 2020 before the pandemic and had a great talk and he was very enthusiastic. He got very deeply involved in the character, in the film, in the research – we went to visit schools together. I needed that for the character– an actor who was willing to put his heart and soul into it and Juan was that. He was an incredible ally.
With Alfredo I wanted an actor who was a 'foreigner'. I thought that would be interesting, that he was a local but who came from somewhere else. He's an actor that I admire. I sent him the script and straight away he said he wanted to be involved. So in that sense it was very easy. I changed the character a bit when I knew he was going to do it to make him Chilean and sort of wrote the character for him. And with Juan they got on really well which really helped.
S&C: What do you plan to do next?
DL: I'm finishing the release tour. I've got another shoot in September for my next film. It will be a film that's very different to everything I've done before.
The Substitute will be in UK cinemas from Friday 20th January.

Follow Sounds and Colours: Facebook / Twitter / Instagram / Mixcloud / Soundcloud / Bandcamp

Subscribe to the Sounds and Colours Newsletter for regular updates, news and competitions bringing the best of Latin American culture direct to your Inbox.
Share: