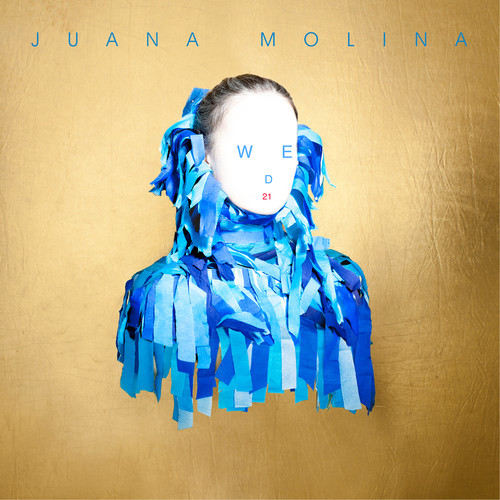 After five years, Juana Molina steps decisively back into the stage with her sixth album Wed 21, and with the secure and mature steps of an artist that is completely aware of her voice. This is surely not her first rodeo, and Molina knows it. Wed 21 is one of Molina's strongest pieces of work, and it is a strange, delightful, cohesive work of art. With a mere 11 tracks, Wed 21 has all of the elements of what a good experimental record should have.
[soundcloud url="https://api.soundcloud.com/tracks/104662838″ width="100%" height="166″ iframe="true" /]
The opening track, "Eras," [listen above] clearly sets the tone of this album. The lyrics croon the existential question for many of us children of the bicultural revolution: "¿es más lejos tu idioma o el mío?" (meaning "is your language further than mine?") This statement answers itself by welcoming an equal number of English lyrics that urge, "Come, come quickly." The strong string arrangement then sets the bilingual reality of the track to a strong hypnotic beat, before the song breaks into a manic whisper of "uno, dos tres, cuatro, cinco, seis, siete vidas te esperé" (meaning "one, two, three, four, five, six, seven lives I waited for you") and then later introducing a new riff with eerie vocals and strong yet subtle cymbals. And that's just Wed 21's beginning.
Next comes the title track, akin to being in a manic, occult toy store. It's dark yet delightful; a perfect canvas for Molina's breathy, tenacious vocals. Juana Molina can toe that vocal line between vulnerability and strength unlike any other Latina artist. Her voice is distinctly hers, and in Wed 21, she is comfortable and nimble within it. The album is way more cohesive than Un Día, and far more decisive than Son. Part of what I love about Wed 21 is how creative it was with distortion and layers, and yet how much it is able to maintain its tango-influenced backbone at the same time. This is apparent in "Ferocísimo" (So Fierce), a track that balances loops with layers and slight distortion, yet keeps a tango beat present, subtly, in the background like a heartbeat.
"Lo Decidí Yo" feels like a break-up song for adults, both in its calm, cool detachment and in its minimalistic and profound lyrics ("¿quien decidió determinar qué es un adiós? Lo decidí yo", meaning "who decided to determine what's a goodbye? I decided") repeating in the background like a mantra. Molina's amazing use of wordplay too ("determinar" becomes "que terminar" turning the verb "to determine" into "to end things," as in a break-up) is so natural and fun that it never feels heavy-handed.
To be fair, the record does have one track that seems to be there breaking its natural flow, but its title seems to suggest that it's on purpose. It's called "Ay, No Se Ofendan", as in "Please, Don't Get Offended." And "El Oso De La Guarda" did need a slightly heavier editorial hand (at over six minutes, the track feels long). But even with those slight grievances, the record holds incredibly well and withstands the test of many, many consecutive listens. The songs overall (yes, even the less than ideal ones) still help a natural crescendo in a carefully crafted record that takes us smoothly through to "Final Feliz," a truly happy ending to one of Molina's best.
Wed 21 is available from Amazon and iTunes

Follow Sounds and Colours: Facebook / Twitter / Instagram / Mixcloud / Soundcloud / Bandcamp

Subscribe to the Sounds and Colours Newsletter for regular updates, news and competitions bringing the best of Latin American culture direct to your Inbox.
Share: